Happster's "How to mess up a perfectly good Bronco" Thread, featuring Triplesix's 89
Hey everyone! The Happster is back with a new Bronco!
I haven't been too active on the forum for the past year, but I have been lurking, and I figured one year of lurking is enough. Time to get back on the FSB build thread saddle!
A couple years ago, I sold my rusty 95 bronco after the e4OD gave out, and I sold it with the intention of never buying a bronco again. I figured 3 was enough for my lifetime. I got into motorcycles and photography, I did some cool road trips and things and I bought a '90 Trooper that is a lot of fun.
If y'all haven't figured it out yet, once you have a bronco it's really hard not to get another one.
when I saw Triplesix put his truck up for sale, I had to have it. Even if it meant taking a greyhound bus ride for 48 hours to go from Texas to Tennessee to get it.
A couple days before new years, My girlfriend (who had never been on a greyhound before and had no idea what she was in for) and I hopped on a bus and had a very exciting solid two days of transfers in the middle of the night, people who wouldn't shut the **** up, and drunk people who pass out and miss their stop. It was a true adventure.
Made it to TN, met John finally after knowing him over the web for almost 10 years, and drove off with The Beast!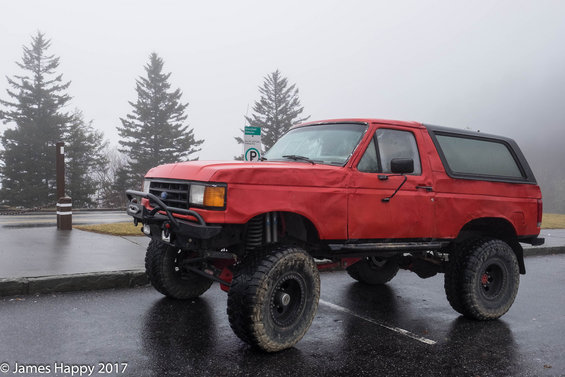 On our trip back we stayed at both 79F150's house as well as Red91XLT's, so great to see my bronco bros!
once I got it back, I drove it on the street a while. didn't really have any money for a wheeling trip, but honestly it was a great ride for around Austin. no one gets in your way, the traffic is so bad that you never have to go faster than 55, and the C6 laughed at sitting in traffic for hours!
for those who aren't familiar with the truck, here is a brief description with a few photos to show ya what the rig has. Triplesix hasn't been on the site for a while, but I used to drool over his rig all the time. for me it's like I own a little slice of bronco forum history.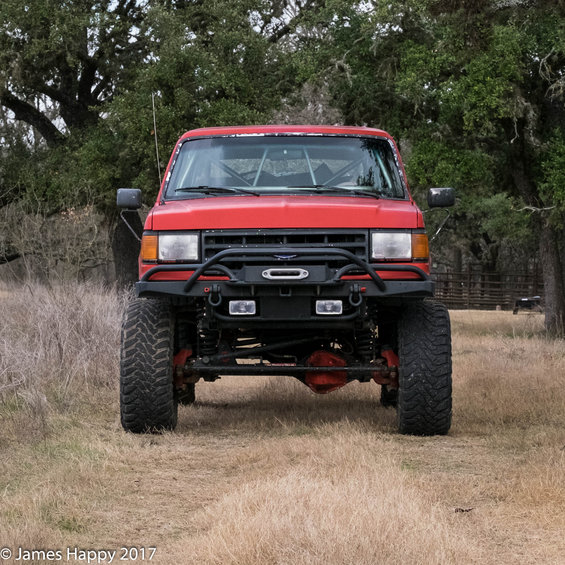 It's a 1 ton Dana 60 Kingpin SAS with cage radius arms and deaver coils. Hydro assist steering, hydroboost brakes, reid knuckles with 4 wheel disc and a 14 bolt rear. 1356 tcase, c6 auto trans, 351w Crate motor (warmed over with aluminum heads, MAF EFI Conversion, edelbrock intake, etc etc etc), boatsided with UHMW skids, and a full cage inside.
Triplesix did a really badass job building this truck. So naturally, leave it to me to tear into it and make it "mine," or whatever. This thread is just a way I am publicly showing my plans, hoping to get some input since I'm fairly new at this level of offroad stuff, and always looking for advice. So let's go into what i've done to it, and what i've done with it.
I had an impossible time finding fullsize bronco people willing to get out and go to the offroad park near Austin called Hidden Falls, so I went ahead and joined an active facebook group of toyota people, called Greater Austin Toyota Off-Road (GATOR.) they welcomed me with open arms and let me join them on their trips, and I've had a blast this year. the first trip I went on with them was in April, and it happened to be my first trip offroad in quite a while. It took my offroad experience to an entirely different level. I'll tell ya right now, it was a serious learning experience, and it made my addiction go from something like a person who says "I only smoke cigarettes when i'm drunk" to being a raging meth head that can just never stop never stopping.
before that first trip though, I changed a few things up. I cut the crossbrace out of the cage, because as a daily driver I needed to be able to get to the back. This is something I thought wouldn't be too big of a deal, but soon after realized it was a terrible mistake.
I haven't gotten in trouble enough to need the crossbrace yet, but i've gotten scary close as you will see soon.
As you can see, there was no shortage of Toyota folks willing to go get crazy with the big ol beast. It was great wheeling with people who didn't care that I was wheeling with them. I had dropped the tire pressure a little, not knowing what was optimum for the beast. put them at 20 psi. this was Noob mistake #1- Too much tire pressure!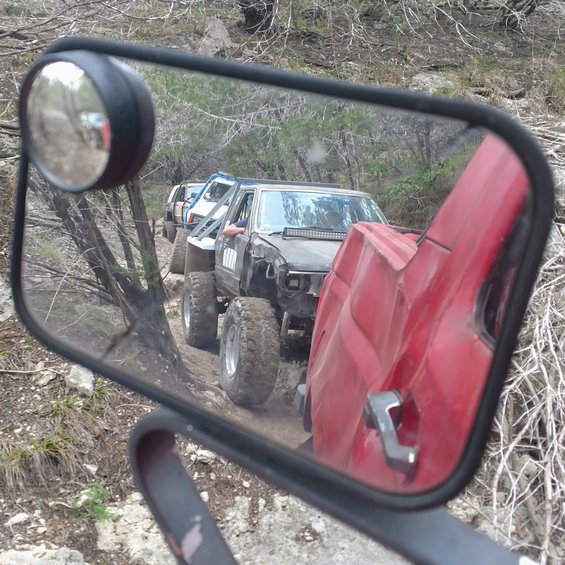 On this trip, I thought I would be okay in the bronco without undoing the sway bar... that was Noob mistake #2- wheel without disconnecting sway bar! it uninstalled itself shortly after this first trail. It's been ziptied out of the way ever since.
got the swaybar tidied up at the bottom of this bigass hill. had no idea what we were in for at the top. this was the point at which I had glided over every obstacle, and had started believing that throttle was good for everything, and that going slow is for people without v8 power. Noob mistake #3- Too much skinny pedal!
Then I hit babyback.
Babyback at hidden falls was a series of big rock ledges on a steep and tall hill. I didn't think it looked that bad. I thought maybe if I got some speed on it (dumb) that I could get the front up there and pull the rest of my ass up from there. these were some big ledges.
My friend Angie took a couple stabs at it after me, but this still gives you a better idea of the angle. Badass little 4runner!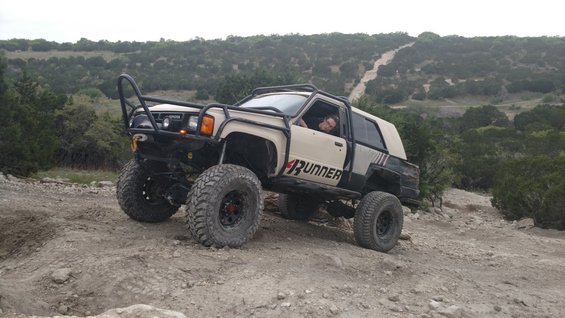 This is when the bronco went viral.
Short version:
Long version:

Video credit my buddy Mike!
mistakes were made, no one was hurt, and the bronco wasn't damaged other than a busted front air locker line. It's a real tough bastard. Never wanna do this again. My spare tire saved my life most likely. I hope y'all will look at this and learn from my mistakes... and also see another great reason to mount your tire on the back!
That wasn't the end of the day for me. after I cleaned my underwear in a puddle and made sure the brown blended into my eddie bauer seats, we went ahead and continued on. I was busy driving so I didn't get a lot of pics, but we had a lot of fun on some trails and I just had to be a little more technical without the front locker helping me. we actually all got stuck at the final obstacle at the end of a trail, and had to winch all but the bronco up to finish the day. that really showed me just how important having a good winch was. I drove her an hour home, without incident. Thing is tough as nails.
had the parts for the air locker ordered, and not long after had it fixed up. it was very limited damage, and I don't think it'll ever happen again. just a fluke thing from launching the nose into the air like that. easy fix.
I learned a lot on that first trip, one of which is the importance of a winch! sometimes there is just no way around it, you have to have a winch to get out of what you've gotten yourself into. I did a lot of shopping around, looked into getting an 8274 and rebuilding it, looked into the lower end Warns, but finally settled on a smittybilt X2O 12k winch. this winch is pretty awesome for a few reasons: it is waterproof, which means less troubles farther down the road, I got mine with a synthetic line which is a really great idea for anyone who uses their winch more than once a year (it's also a lot safer), and it has a wireless OR wired controller, which is just amazing. when I installed it I used a factor 55 locking winch bolt to keep it safe. It's a great tool especially for my winch since it's out in the open on the front. keeps it locked on there with a very special key.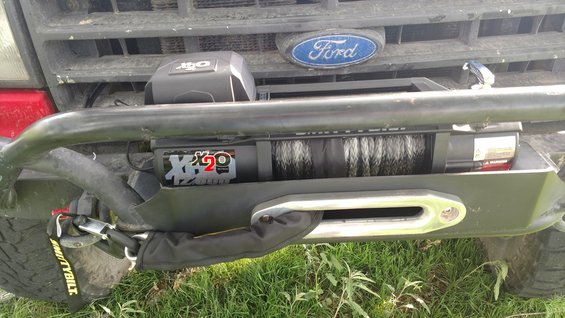 I pre-tensioned the line by tying to a tree and softly holding the brakes and winching in. For anyone reading this and thinking about getting a winch, this is a MUST! you have to put tension on the line before you try to go and use it! doesn't matter if it's steel or synthetic cable, whether i comes pre-spooled or not, you have to tension it first.
my current recovery kit isn't very impressive but it has the essentials: treesaver, tow strap, D rings, gloves. I wheel with folks with lots of winch gear so I have gotten away with less than I necessarily need for now, but I intend to get some snatch blocks and a good snatch strap in the not so distant future, as well as maybe another treesaver. shit's important.
Next excursion, I learned some more important lessons, and did some harder trails for vehicles like mine. a different group of toyota folks came out this time, and we really got into it. bronco kept up for the most part, but I was careful with it because I knew I would have to drive home. We still had a blast at Hidden Falls. It was easter, so no one was there. weather was perfect too. I didn't get a lot of photos of the bronco wheeling, but others did, the unfortunate thing is I can't seem to download the videos and post them here from facebook, so I'll just include this little video of my buddy flopping. a second after this video, he had an electrical fire but we got it put out before any real damage was done.
after the fire was out and the battery removed, we flipped him back over with my new winch. It's hard pulling a truck up a rock face but not only did I flip him over, I then repositioned and got him up out of the waterfall. had to wedge the bronco behind a tree to keep it from getting dragged forward. Winch pulled strong. Super easy!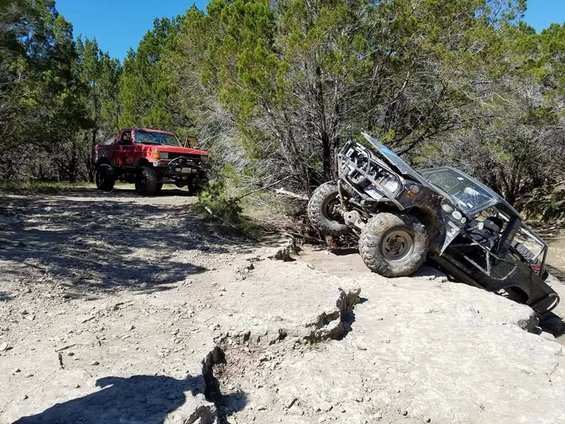 I am really into photography, so even though I didn't have my pro camera on this trip I tried to take a few good photos. my buddy stephen didn't seem to mind.
This trip, somehow I managed to bend my tie rod and **** up my fog light mounts. really smashed em, have no idea on what. Drove home ok though!
not much really changed on the bronco after that happened. I was in school so I was busy, and there wasn't anything terribly wrong with it. just drove it and drove it.
Last summer when it started to get hot, I moved back home from Austin to Kerrville to stay for the summer. I needed to get the top off, so I went and picked up a softopper for the beast. thanks so much to all of y'all that helped me pick it out! I got the tinted windows, and I love it! hasn't been off the truck since. Here in Texas the sun is the enemy. the softopper makes it so you can have the sides open but still have a canopy, or if you want you can take the whole thing down and stow it away in the back. They make them in Colorado, and boy, they make em out of some serious materials. I have had a few opportunities to scrape the heck out of mine, and it doesn't even have a mark. I also added some vinyls of my own and kept making it a bit more "mine." can y'all name the movie those are from? I also got the half doors on. they are great when you're wheeling in a rig this big! you can actually see what you're on!
the next trip was the real fun one. I drove out about an hour and a half to Stillwater Ranch, on one of their wheeling weekends with the GATOR crew again. This was my girlfriend's first wheeling trip, and of course was one of the less fortunate trips for the bronco!
we were headed in on the ranch road to go into the park, and I hit a bigass pothole. I must have done it just the wrong way, because I managed to really **** up my hydro assist and ended the bronco's weekend right there!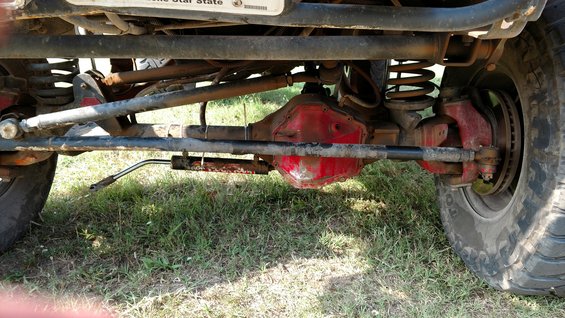 this was the first Steerco had ever seen like this. I sent it into them to have it rebuilt. it wasn't under warranty any more but they treated me well and replaced the whole ram for the cost of the rebuild. They didn't only give me a replacement, they gave me their new upgraded ram instead!
What happened is my tie rod end jam nuts loosened and the tie rod inverted itself. when I hit the pothole, the ram twisted itself around the tie rod, bending the crap out of it. my recommendation: check those jam nuts regularly folks! shit's important!
had a great weekend despite it though, went out and rode shotgun and had a blast. decided to head back home the next day in the morning. as you can see in the photo a detached the ram and let the stock steering do its job. about 10 miles down the road....some horrible noises started coming from the drivetrain! WHAT!?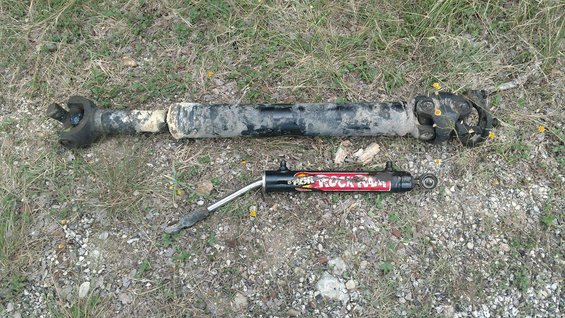 the double cardan on my rear driveshaft had given out! I had to get AAA to come out and tow me home. these things happen, I wasn't mad about it. I knew it would be down a while anyway with the ram like that. took it off, brought it to Austin and had a shop there put on a new double cardan. works great.
the summer was a bit boring for the bronco, not much was done other than normal maintenance and a few little things. a while back I hadn't shut the hood properly, and I ended up having the hood fly open and plaster itself against the windshield! :doh0715:
managed to track down a new hood and cowl, painted em safety red just like the truck, problem solved. no need for photos of a hood, looks the same. nothing fancy there.
finally got the bronco back on some trails in october at Wolf Caves, which is my new favorite place. what an amazing park. it's just a big pile of rocks. It was a very challenging place, but luckily I had my Toyota buddies there to help me. they even took a couple photos for me
I took some myself as well. this is the park i started realizing what I really needed was new tires. my Toyos were just worn out. out of balance too. they were great on the rock but terrible on anything slick or muddy. just not enough tread left in them.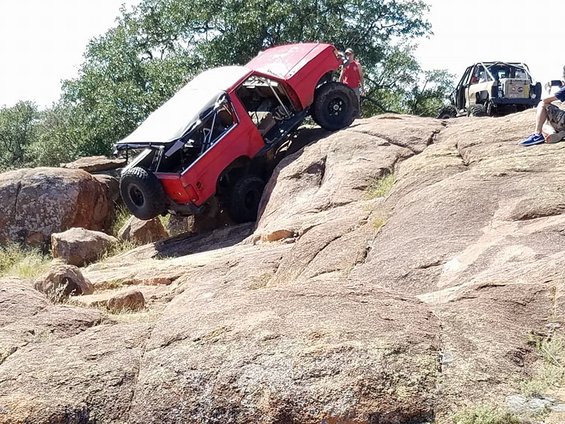 there was mud at the bottom and I just could not get enough traction to get up it. it was sorta steep too. had to take the easy way up. :toothless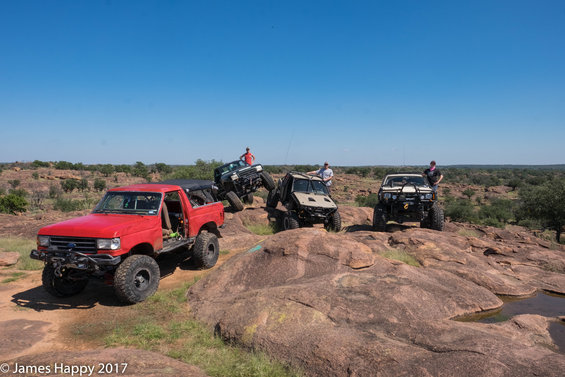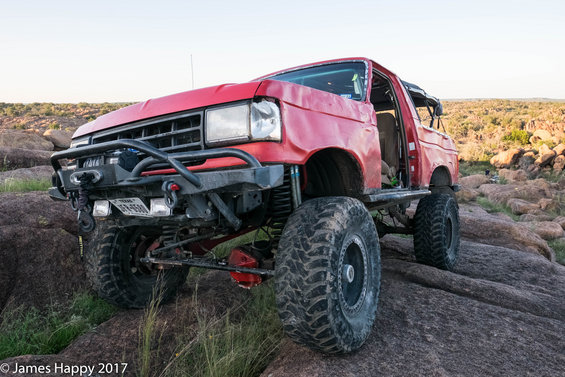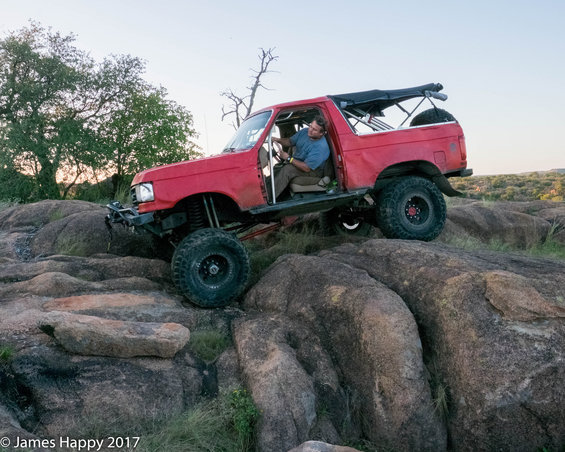 This was the trip I really felt I started getting the hang of how to wheel the bronco. very little throttle, lots of picking the best line not to hit the front or rear diff, and just staying relaxed. the previous runs I had done i came out a little jittery and mentally exhausted from feeling stressed. this run I finally settled down and just took it slow and enjoyed myself. managed to get home without any incident. truck was 100%!
got her home and just kept up on maintenance. had some problems with the stereo after taking the doors off, easy fix though, i think some wires had touched that weren't supposed to. once I got the stereo hooked up as it's supposed to, worked great. knew it was time for some tires though. started thinking about what to get.
Shortly after that october run, we had another run at Wolf Caves for thanksgiving weekend! on the way there I stopped for gas, and my dang starter just free spun when I tried to start it! one of my bolts had just fallen out! bought bolt, put it in, got back on the road. After that, that trip was nothing but fun. Really started to get the hang of the big girl. started hitting lots of reds with the toyota folks. took it easy as usual, just because I had a long way to get home, but I kept up with them most of the time!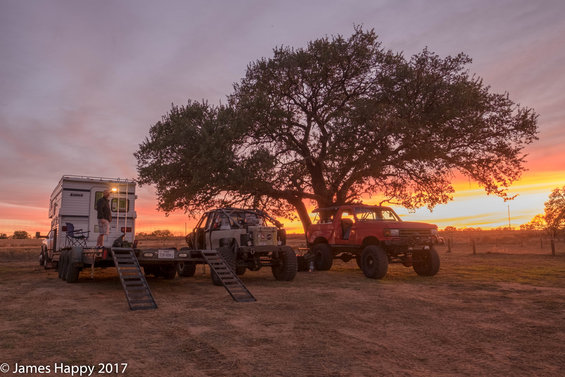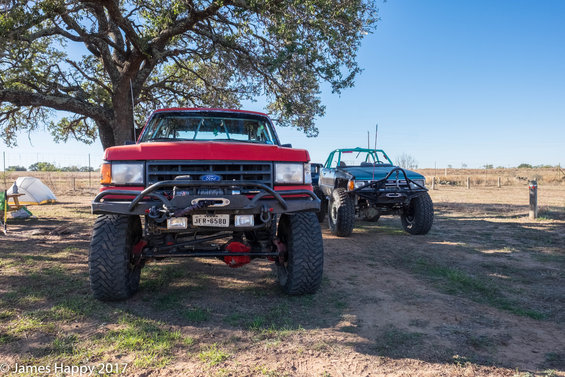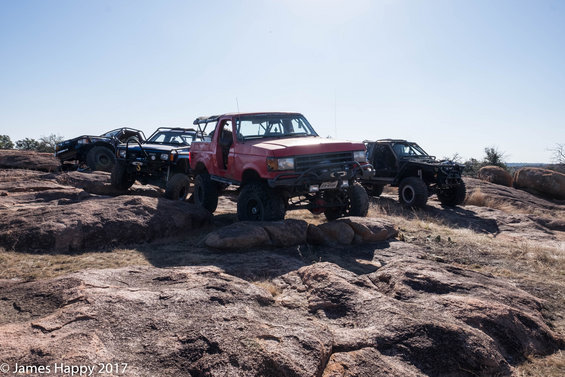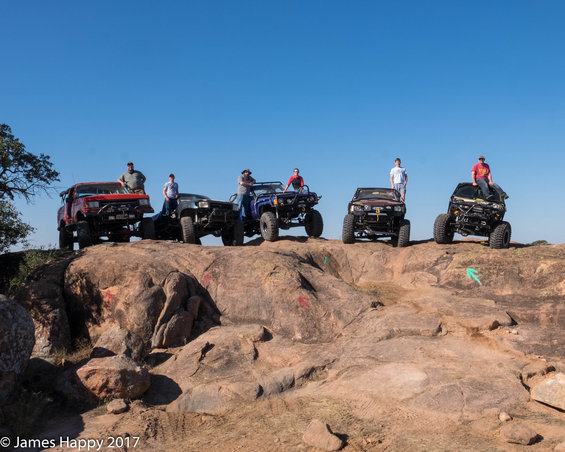 It was a great run! I was really getting into it and impressed with what I was doing with the bronco when I ran into a new obstacle: old truck-itis.
I had put the truck in park after an obstacle and shut it off to go watch my buddies, and when I got back in it to leave, the dang thing wouldn't turn over! the key felt weird, and I could tell I had broken that little actuator thing in the column! of course, this was the first time this had ever happened to me, so I had no idea what to do about it. I managed to get it started by just using a screwdriver on the solenoid, but that was getting pretty old... so I cut the day short, packed up and headed home. of all the things to break, I didn't see that one coming! came out of that weekend otherwise unscathed. the bronco was doing what it should. I did have the tie rod flip again, but I caught it when it happened and tightened it back up. all I could think about is TIRES TIRES TIRES.
the moment I got home I started formulating plans for what tires to go with. after a lot of exhaustive research, I sort of gave up on finding the "perfect tire" and realized that nowadays, there are a lot of tires that do an excellent job on and offroad. I had recently gotten accepted to go to school in CO next august, and so I wanted something that would be good in snow but also in the rocks and mud. instead of going with a review guide, I started asking some folks I knew through John from up in Washington that do a lot of snow wheeling and bad weather driving in their rigs. My friend Rob told me about a smokin' holiday deal on some Nitto Trail grappler 40s, and he said they were great. after all that research, and some more following that recommendation, I put the tires on layaway!
Changing tires on a rig like this is no easy task though, and going to a 40" tire requires some real thought into what will need to change. I am fairly certain I have enough clearance for the 40s, but I may need to make some more room, we will see. I figured though, if i'm going 40s it is probably time to go beadlocks too, right? and this being my daily, I needed something that no cop would look twice at, and that would handle road driving just as well as offroad. last week I ordered a set of Inner Air Locks for my steel 17s. they are already set up for an internal beadlock, so it isn't only cost effective, it is relatively easy as well! my plan is to mount them with the beadlocks myself, and balance the tires with dynabeads. this should be fun! now it's just the waiting game. tires should be paid off and in the mail in february.
after driving the truck regularly, I knew I would end up having some more normal auto maintenance type problems. for me, those all cropped up right around the holidays, and I've sort of been putting together what I'll need to get the bronco back to 100%. First, one of my shorty headers cracked. lucky for me these headers are pretty affordable from summit, and hook up to factory egr and everything. I haven't taken them out of the box yet, but they came painted with low temp paint. I was thinking about hitting them with some of that flameproof paint, and also thought about wrapping them, but seeing as these headers had made it without any prep for 12 years, I think they will be fine just as they are. I did see an interesting article about flame treating headers with ATF to keep them from rusting, but i'm not sure i'm willing to bother with that. pretty cool little article though. anyone done this?
Rust Proofing - Burn Your Headers - Hot Rod Network
I also noticed my transmission linkage started moving up and down as I drive. first thought it would be a transmission mount, but looked more closely to find a motor mount has broken! I guess it was overdue for it. the stock ones just aren't made for the abuse this truck has been through. I went ahead and ordered what I found to be the best available, the poly ones from Bronco Graveyard. got them in the mail a couple days ago, and they look pretty stout!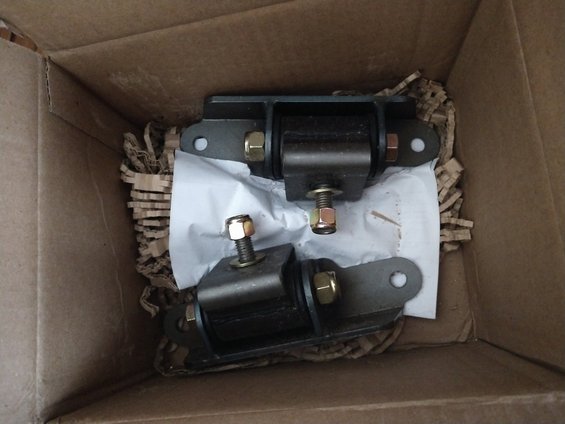 I also had some help from some friends in getting a back seat back in the bronco. not a huge task usually, but when you don't even have the mounts any more it becomes a pretty big pain in the ass. luckily I had my bench seat out of my old 95 eddie bauer, and since the seat is primarily for my dog I will just go without the seatbelts for now. there is a middle seatbelt though, and so soon the bronco will be a 3-seater!
I didn't have any of the factory hardware. not the pins, not the striker, not the brackets, nothing. one of my toyota friends (Angie, with the 4runner up there) headed to the junkyard, and they had a bronco there! it took her a breaker bar and more effort than I probably would have put into it if I had been doing it for someone else, but she got the brackets out for me! At that point all I needed were the pins. These pins are discontinued by even the aftermarket suppliers, so it was not easy tracking down a pair. This is where it helps to have friends in the bronco community!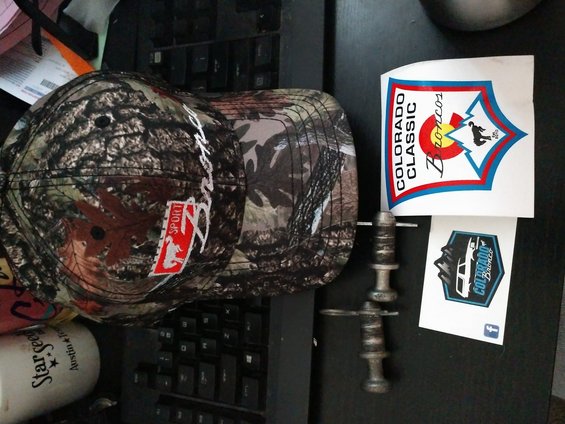 my buddy Tom from colorado sent the pins to me, and refused to even let me pay him for the ride. He threw in this awesome hat and sticker as well. really stand up guy. I keep trying to get him on the site, but I think he is sticking with the facebook community for now. Thank you Tom and Angie! I owe y'all! :beer:beer
I also want to put a folding bench seat in the front. I'll miss the storage box in the middle, but it has become more of a black hole than anything useful. I am looking for seats out of a 90s extended cab, with the fold down center armrest. just will have to wait til I get all this other stuff fixed. I also have managed to tear up one of my bucket seat mounts (rear outside drivers') and that is super annoying, it isn't the first time it's happened either. probably going to have to put in a plate and weld it all together into one big steel sandwich. I figure the bench seat will take some of the stress off that corner though. that's a fight for another day.
Thanks y'all for reading, I know it's long, but it's a whole year of information! I hope I can help some folks, and I hope some folks can help me too. Happy wheeling, y'all! :rockon