'92 Custom w/ '95 MAF 5.0 M/T, 33's, 4.10 LSD
After letting them sit 75% finished for the better part of a year, I finally wrapped up porting my GT40 heads and collecting the supporting parts needed for the upgrade. I had a machine shop do a basic cleaning, inspection, and pressure test of them initially, and they gave them a thumbs up on everything except deck flatness and one valve's seal. I believe I now have everything addressed with the heads... I've been somewhat fearful of diving into this project, if I'm being honest, as it's by far the deepest I've gotten into engine work. That's largely why I was dragging my feet on finishing up the porting. It's too bad my neighbor moved out of state last year. He's a Chevy guy, but he knows engines inside and out...literally.
Please take a look over the below list and let me know if I need to acquire, or change direction on, anything:
Purchased:
Comp Cams 35-512-8 cam
Comp Cams 942-16 valve springs
Comp Cams 7905-1 pushrod length checker (6.125"-7.5")
ARP 154-3601 head bolts
stainless steel lower manifold bolts
FEL-PRO 9333PT1 head gaskets
FEL-PRO VS13264T valve cover gaskets (current ones leak)
Autolite 104 spark plugs (longer length than Autolite 25's, for GT40's)
Pioneer DA3021 harmonic balancer (50 oz) ... garbage
Dayco PB1084ST Street harmonic balancer (50 oz)
MAHLE T27802 timing cover gasket
Ford M-9439-G50 intake-head gaskets (regular ones too narrow for GT40 ports)
rocker shims
cam degree kit, includes checking springs
assembly lube, cam/lifter installation lube
Still needed / Uncertain:
proper length pushrods (once determined)
harmonic balancer
timing chain set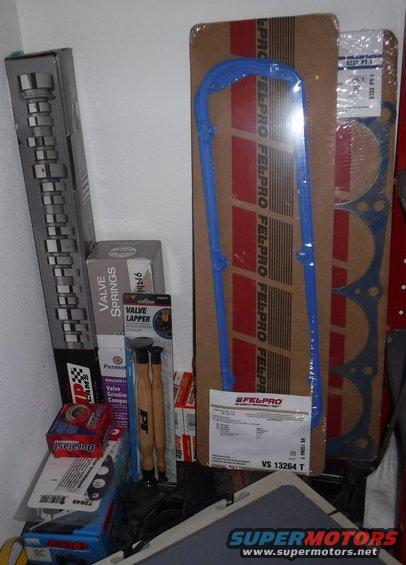 Answered below.
I held off on purchasing a new timing chain set and hydraulic roller lifters. The engine was likely rebuilt shortly before I bought it <5000 miles ago, so I'm assuming the timing chain isn't stretched. I'll know when I disassemble... I haven't been able to confirm it, but I believe I have hydraulic roller lifters already with my '95 block, and
this
indicates any roller lifters should be okay to re-use unless obviously worn. Some say stock is roller lifters, others say they're hydraulic lifters, but none that I've found specifically refer to them having hydraulic roller lifters from the factory.
Answered below.
Do I need softer checking springs for pushrod measurement? Opinions seem to vary widely on that. At ~6.3", I'll be near the bottom of the 7905-1 checker's range, so it should be less prone to bending than in many reviews. Could I just use my weak GT40 springs for that?? I think I saw somewhere the GT40 springs are around 80 lb seat pressure, while the Comp 942 springs are 115 lb. Comp Cams recommends the 942 springs for the 35-512-8 cam, but Mustang guys say more spring is better. (That leads me to believe I won't stress the pushrod checker as much as people running stronger springs, who are likely the ones recommending checking springs.) I suspect I won't be revving high enough (north of 5k RPM) for that to be an issue. The Comp 4758-2 "low tension" checking springs have no rating that I can find anywhere.
I also have a Felpro MS 94951 gasket kit from RockAuto. Summit and the parts stores say it's a 5.8L set, but RockAuto lists it for all Bronco, obviously including my 5.0L. Is there a difference in the lower manifold seals, or am I fine using those on mine if there is indeed an engine-kit disparity?
I was able to open the exhaust valve throats to 1.30" to 1.31", which is ~85% of the 1.54" valve diameter. The general rule of thumb is 90%, and I was using 87-89% as my goal for a street-driven vehicle, per a hot rod article. But, 89% is exactly the inner diameter of the exhaust valve's wide seat and barely less than the intake's. I didn't want to risk grinding/sanding that close to the seat and knicking it, so I left a tiny margin all the way around. The exhaust valves started at 1.26" to 1.27" (82%). I got halfway from starting point to ideal... (The intakes started at 1.56" to 1.59" = 85.5%, so I left them basically as-is for consistency with the exhausts.)
The machine shop told me the decks were 0.007" warpage, with a max allowable of 0.004". However, they conveniently overlooked the gasket remnant at the edges effect on that. I got my own precision straight edge (+/- 0.001" per foot, so 0.0015" over the ~20" span), cleaned the surfaces up much better, and measured both at 0.003" to 0.0035" (my feeler gauge's closest increments). Only a sliver of daylight is visible below the straight edge, which from what I've seen in videos, is consistent with decks in the 0.003" neighborhood. Would people agree that I'm okay at that reading, or should I consider something much more time consuming like
this method
? I still have the head gasket texture imprinted in the metal, unlike a machined deck.
BTW, the machine shop was recommended to me by a couple people as the best in town, but I wasn't impressed by the work or service. I've since talked to two other people, one of which who owned a performance shop at the time, who say none of the shops in town are to be trusted, including that one. (One shop was caught putting used parts back into a performance build.) They both send all their work 1-2 hrs away. So, doing everything myself without leaning on a machine shop is the goal. I did manage to get the one broken and badly seized lower manifold bolt extracted during my resumption of porting activities this fall -- the machine shop neglected to perform that requested task. I hope to never deal with that again (!), thus the SS bolts for at least the four corners by the coolant passages. I'm leaning toward using the stock bolts for the inner locations, since SS doesn't really have a torque rating, but I'm open to feedback on that.
The bulk of the below pictures were taken prior to lapping the valves. One of the seats never got smooth and shiny like the others (looks pitted, but doesn't really feel like it), but all of them are sealing well now, including the one intake valve that the machine shop highlighted as leaking. Each of the chambers holds water for several minutes, with the sacrificial old spark plugs threaded in to plug the holes. Some of the valves keep the runners below them bone dry, while others allow a drip out of the port every 1-5 seconds. Seems like that should be good to go, from what I've read, but I could lap them a bit more if people think that's wise.
The timing cover gasket was only a buck and change with other stuff, so I ordered it just in case. That was the only one RockAuto had listed. My water pump is nearly new, having been purchased at the time the '95 engine was installed. I'll be putting in a new thermostat. I suspect my current harmonic balancer has slipped, but I haven't verified distributor position and piston #1 TDC to rule those out, but I'll be replacing it with the Pioneer, anyway.
Tuning-wise, I got sniped on a Quarterhorse/BE package...still need to acquire something there. I have a new AEM wideband I bought several years ago for another project. I may go ahead and weld an extra bung on my Magnaflow y-pipe for it, so I can at least get some air:fuel monitoring going as a baseline. I have the MAF setup in place already.
Here's a sampling of the state of the heads:

Intake ports done. I didn't get super aggressive with the pushrod bulges, opting instead to just level (vertically) the wall's contour through there.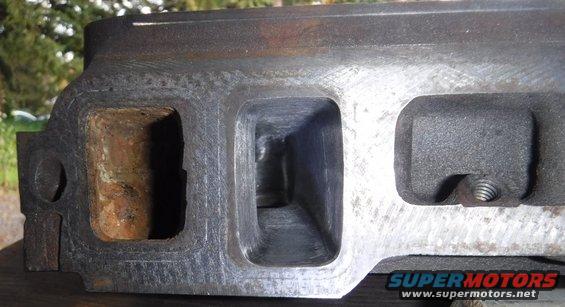 Close-up of one of the intake ports. You can see the walls aren't perfectly flat, but I didn't want to take off too much material in trying to reach that point that's mostly for aesthetics, anyway.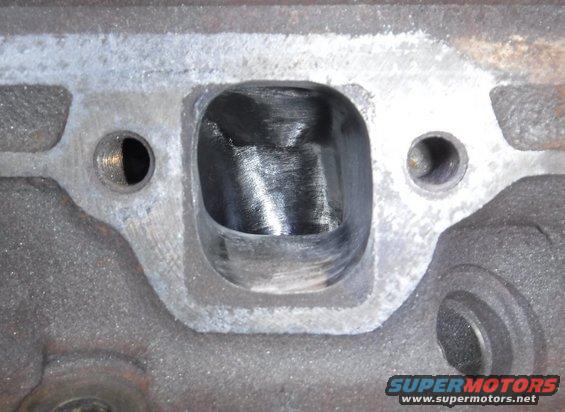 Close-up of one of the exhaust ports.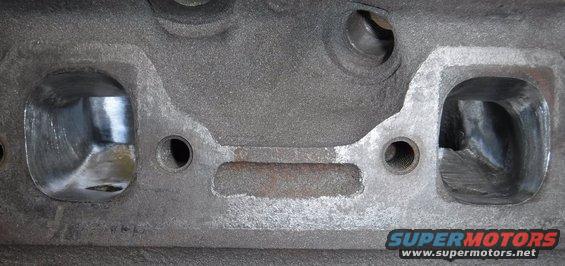 Exhaust ports.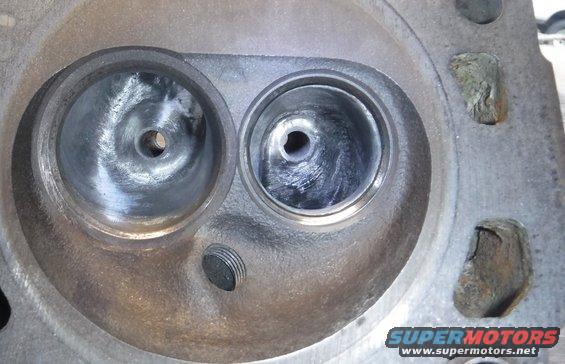 Intake/exhaust bowls ported. The valve throat has been opened up as far as I dared go on the exhaust side, reaching 85% of valve diameter.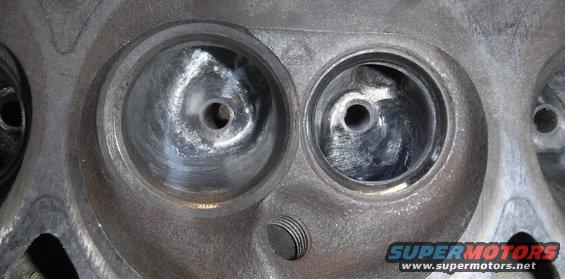 I also smoothed out the EGR passage's transition on each head.

Valves lapped ... plus a little flash rust from the water leak test. They all seem to seal well enough at this point.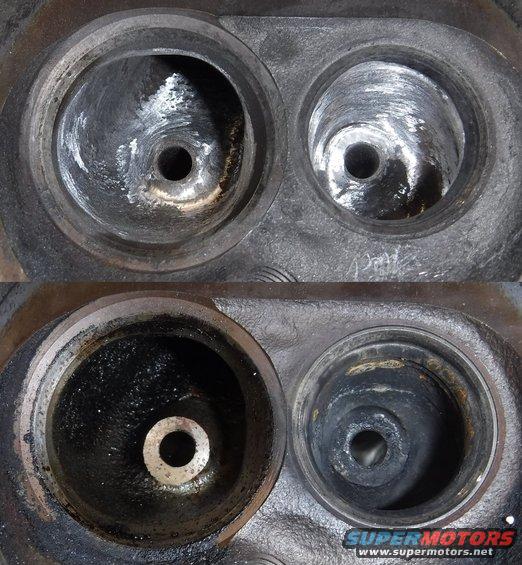 Intake/exhaust bowls, before and not-quite-after porting. Most notable is how needlessly thick the valve guides are, and how restricted the exhaust throat is.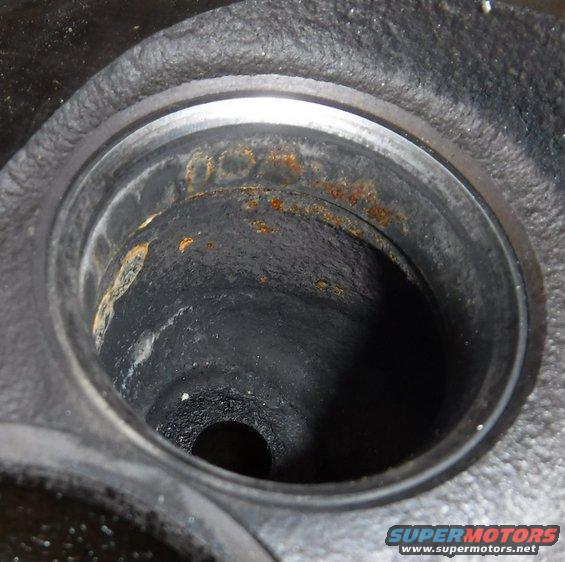 Lots of casting slop for carbon to grab hold of.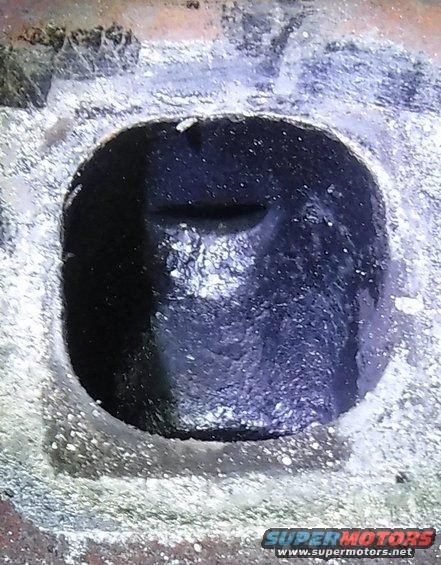 The infamous exhaust port thermactor bump.
Full-size pictures at:
1992 Ford Bronco GT40 Heads pictures, videos, and sounds | SuperMotors.net
The last thing I need to do is get the heads cleaned, to rid them of all the grinding and sanding gunk. A friend's dad has a workshop with that equipment, but who knows how long it'll take for schedules to align. I figure I'll fiddle with semi-polishing the exhaust ports in the meantime.