Discussion Starter
•
#1
•
I'm a first time Bronco owner. Just bought my first Bronco, a '95 XLT, two days ago. It is white with a 5.8 and grey leather interior. It has a lot of miles, about 187,000, but supposedly the engine has about 30,000. It runs very smooth and clean, so hopefully the story on the engine is accurate.
I referred to this site when I was deciding to buy. I must thank everybody for the great info available on this site. I initially was going to buy an older Bronco, as there are some pretty good deals to be had. However, after reading this site I found a '92 and newer was the right choice, since I have two young daughters. One of my daughters uses a booster seat, and that requires a shoulder belt in the rear seat.
Anyway, I have owned several 4x4s over the years, mostly Fords. I just sold my '89 F-250 diesel a month ago, and I started to realize I still needed something with 4x4 and to tow. I thought that the Bronco would be a good compromise. I didn't expect to like the Bronco as much as my trucks, since that is what I was really wanting. I must say after just two days of ownership, I love this thing. It has plenty of room for the Wife, kids, and even the dog. There is adequate power, and parking in any lot is a breeze compared to some of my trucks I have owned.
As I said, I didn't think I would like the Bronco this well. But now I am already thinking of installing a small lift and bigger tires, probably a 4 inch with 33's.
Well, I just wanted to say high, and thanks for all the great info and people on this site. I'm going to try and attach a couple pics of my Bronco; sorry for the poor quality pics, they were just some quick ones so I can see my starting point for after I do some mods.
I plan on removing the running boards as soon as I get a chance.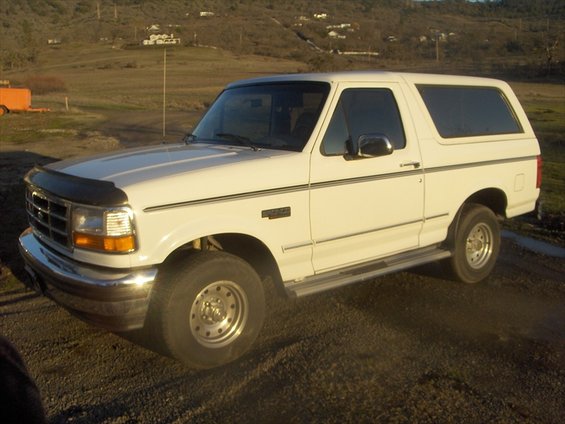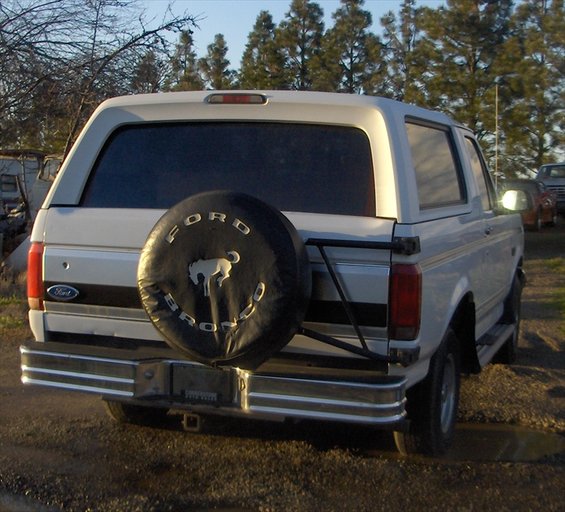 And the car lot had a sense of humor when it came to the color of the Bronco.