Discussion Starter
•
#1
•
I just happened upon the Alltrails web sight it's free!
I have been searching for off road 4x4 trails close to me and in my search discovered Alltrails web sight. I gave it a look a couple of days ago and thought it might be cool. This evening I took a little more time familiarizing my self with how their sight is payed out. I can say I am impressed and was able to look at all the hundreds of trails near me that I never knew existed. I found Dear Valley & the Rubicon trails both of which I would like to visit sometime here in the not so distant future. Have a look for trails near you by zooming out and in on the map near you. Then click on the upside down tear drops for trail information or click on the round numbered circles to open up more trails clustered near each other. You can create custom maps, save several maps on a trip planner and so on. The standard membership is free and they have a pro version I have not looked into yet. I am still learning how it works. If you upgrade to the pro version you get topi maps and other goodies. Sign up is painlessly quick. Give it a shot and let FSB know what you think about it. They have apps for your phones etc as well. Enjoy.
https://www.alltrails.com/signup
I like to select the trail difficulty first.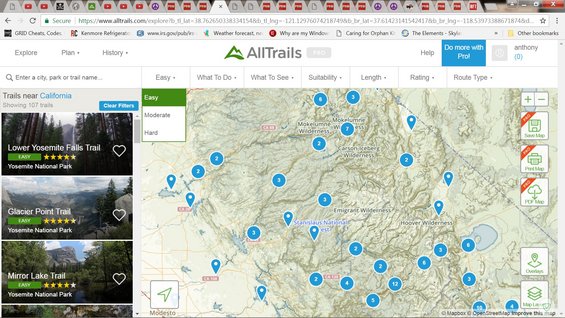 Followed by selcting what I want to do on the trail or type of trail usage.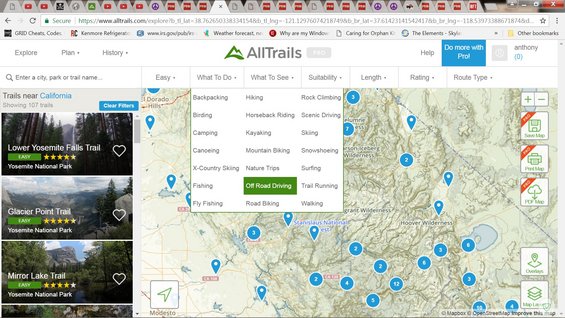 Then finally I scroll through the trails in the Trails near California or what ever destination you choose" and click on them for the trail details.
I like looking at the charted trails like this for trail details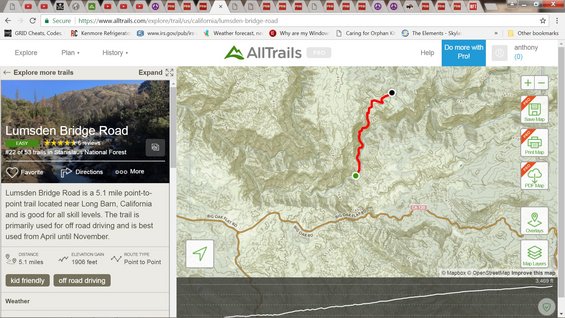 Then I can change the type of map by clicking on the Map Layers tab and selecting the type of map I want to view.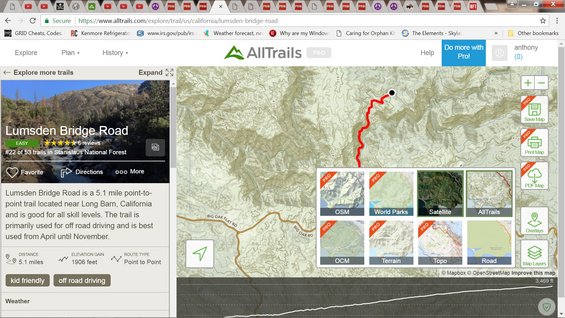 This is how a Google map looks slightly zoomed in.