·
Premium 4 Lyfe - Way Back Staff
'95 XLT: 5.8, MAF, E4OD, 4.56's, 6" on 33's
Discussion Starter
•
#1
•
OK...
1. I'm in here because this rig isn't a Bronco, it's my '73 F250 Plow Beast.
2. I've searched around a bit and come up blank. 79F150 did an awesome writeup to try and help me ahead of time, but here I am in the thick of it and his pics are pretty tight and I can't find what I'm looking for.
3. I still haven't located a Chilton book for the 73... :banghead
So I got this setup for the 3G from RJM Injection, our good buddy Ryan. Great deal for the 3G alt, with support wiring, monster fuse and extra sidewall "hot" stud. As recommended by the man. Scoring the whole gig for less than $200.
First problem I had was removing the old one. Didn't expect it... but guess I should have. Plow rigs seem to eat all the road crap and my beast is no exception. Over the years the corrosion "welded" the mounting bolt to the alt. casing. Thank god for the spacer or I might have never got that bitch off after I busted the bolt head clean off.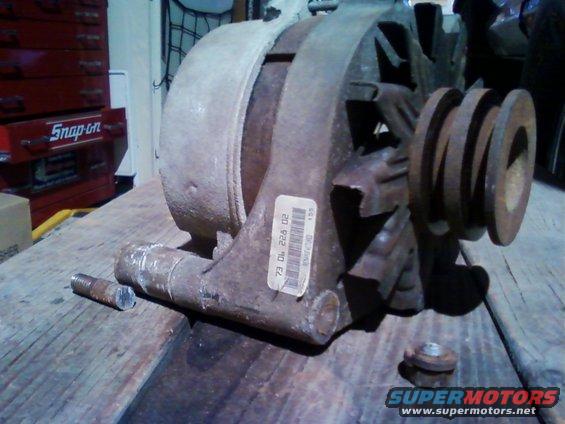 It was another adventure altogether trying to find another spacer. Hitting all the auto places in my area... made me feel like I was shopping for a unicorn horn. So I finally hit the local fab guy to have a piece of aluminum cut to size (1 5/8"). Bastard charged me $5 for it but i have no idea what the bar he cut off is worth... whatever.
So I've got it mounted up and trying to match the wiring has left me in a total state of confusion... and yes, apparently I'm mentally challenged. :toothless
The 3G installation instructions are simple and to the point but my setup doesn't match the instructions, at all.
Instructions say that you should find the Red/Green wire that Ford's been using for 50 years. Well... I have one, but it's not the one that the old alternator was connected too. Instead, there's an orange one that went to the old alt... that goes up into a small electrical housing that the Red/Green wire comes back out of. In addition to that... the charge wire is spliced off a few others, so I'm not quite sure where to go with it... and if that wasn't enough, the damn elec. choke on the carb was mounted to the old alt. for some reason, beyond me. That's 3 wires off the old alt... In/Out/Choke. I'm clueless as to how these should go now. I have some idea after going through dale's but not all of these questions are addressed because his setup was no where as mucked up as my wiring is. :banghead
Pics are worth 1000 words, so here...
Here I am, holding out the wire that should be charging up the batteries (out?) and you can see it's integrated into some other wiring, a fusable link and god knows what... maybe someone else knows, but I sure as hell don't. :brownbag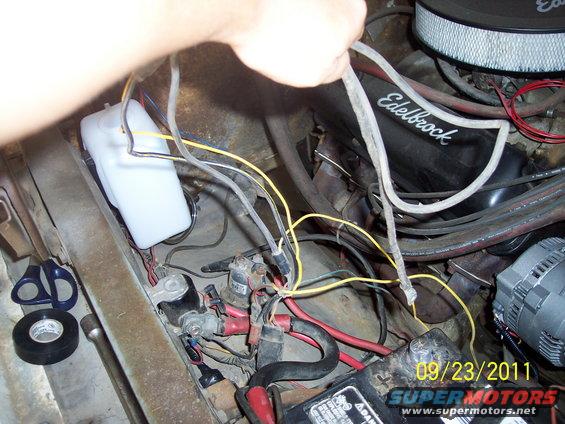 Here's the wire that came off the electric choke on the carb. Not sure what it needs to do exactly but I'm pretty sure I need to find it a new home so it will work properly. I cleaned it up from the original, just need to know where it should live now.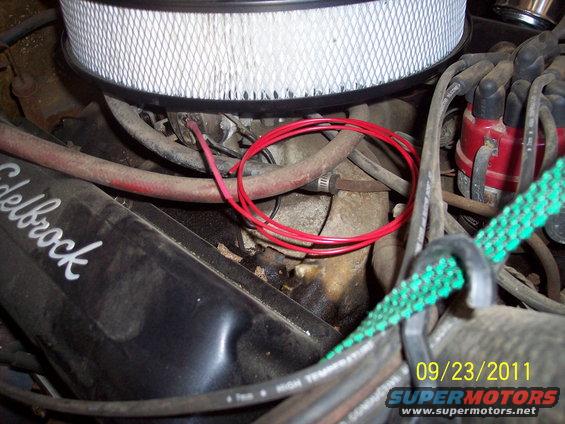 This one came out blurry as hell... but you can get the idea. The orange wire at my thumb is the one that mounted to the original alt. (in?) I would assume it's the one I should be hooking up to the new alt. setup, instead of the Red/Green the instructions are calling for?!? You can also see the electrical housing I spoke of earlier and the actual Red/Green wire... but if I should use it instead, where is it going now and where would i cut it to run it into the new 3G alt.?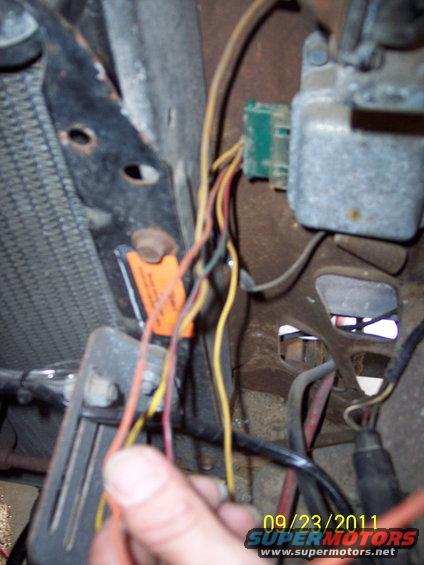 Pretty new 3G Alt. Mounted and waiting to show me how bad-ass it really is, if I can ever get it hooked up right. :tinfoil
Some of the wiring bundle/mess I'm looking at to deal with this. Not much fender-well space left for mounting pretty new stuff too. Key here is... you can see the solenoid and a second similar unit that's setup to run directly to the plow. No battery isolator yet... still not sure what to do on that one, but I'd like to get this setup working and running before I worry about the next phase.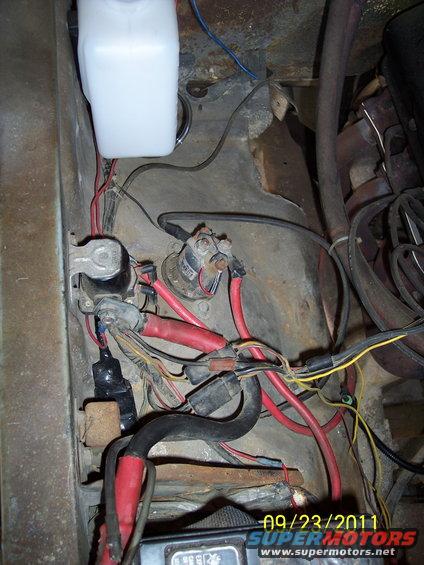 closeup of that strange little solenoid or whatever it actually is, controlling the power routed to the plow...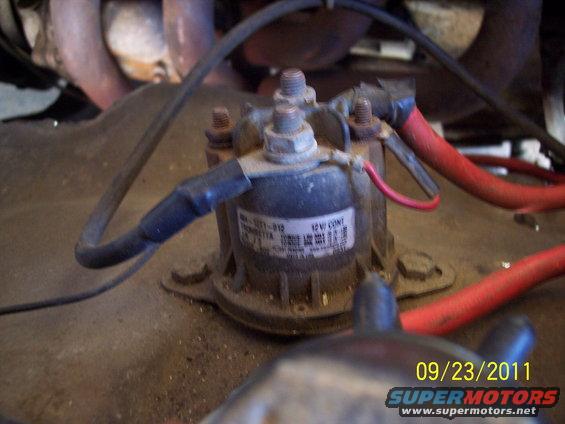 HELP?
One final question I'm almost afraid to hear an answer too. I noticed when I removed the fan belts, the water pump pulley spins a little off. I considered getting a replacement and then it occurred to me that it could be the water pump shaft and not the pulley that's messed up. Water pump has been working just fine and the pulley is only off a couple hairs. Will it kill me to leave it just a little wobbly (bolted tight, just not perfectly straight anymore)? There's no fan mounted anymore, the rig uses an electric fan... so that's not an issue.
Thanks folks. Don't know what I'd do without this place but after wasting $1200 on the yota just recently to fix some trivial crap and finding I don't have a decent mechanic shop within' 40 minutes of my place... well, I'm realizing that my work and the knowledge I can get here are my best options to fix this and have it setup strong and reliable for working this winter. :beer