Discussion Starter
•
#1
•
alrighty...dealing with a 1996 bronco here...i've had some symptoms that made me think my u-joints were bad. it was a clicking / rotational sound ... not the vibrating while coasting feel i've experience before with u-joint failure. regardless, i did some research and decided that may be the issue. spoiler alert: it wasn't. the problem is still unsolved. that's ok and a story for another thread.
on to the parts. the napa autos in the DFW area have a 30% off every second saturday of the month from 7-9am. i think they do 20% the rest of the weekend, too. combined with the fact they sell SKF parts, i decided to give this a shot with the SKF u-joints. i've used their wheel bearings in my wife's escape and have been extremely pleased with them compared to other brands such as motorcraft, timken, and national.
for u-joints i know the gold standard is spicer 4 life...or whatever it is. but a couple factors were at play.
1) i wanted non-greasable joints
2) spicer does not list non-greaseable joints for the rear driveshaft.
3) i didn't think to check with my local independent driveshaft shop for parts to find a USA made brand. (ultimately, i found out they had some neapco's for ~$35 each which is out of my budget)
4) i needed them quickly, so ordering online wasn't an option
5) i have a budget here, and i can't drop $150+ on u-joints CONSIDERING i put less than 10k miles a year and this bronco doesn't get a lot of off-road action.
part numbers:
u-joints - UJ254 (brute force - high performance line, non-greaseable) - regular price $25.99
https://www.napaonline.com/en/p/UJQUJ254
double cardan CV Ball kit - UJ617 - regular price $59.99
https://www.napaonline.com/en/p/UJQUJ617
links to official SFK site about the u-joints
http://www.skf.com/us/products/vehicle-aftermarket/automotive/drivetrain/u-joints/index.html
http://www.skf.com/us/products/vehicle-aftermarket/ujoints/index.html?alias=www.skfusa.com/ujoints
that said, on to the review...
i marked my driveshaft with a yellow paint marker so i knew how to put it back. i have a ton of pics below of the parts. the u-joints all came in a plastic bag to protect it from the elements (according to SKF's website). overall, i was pleased with the parts. look, they're chinese made u-joints. the ball kit came from our amigos south of the border. if you can handle that the vast majority of u-joints are imported, then you may consider these. if you're "USA or bust" then obviously you need to keep looking.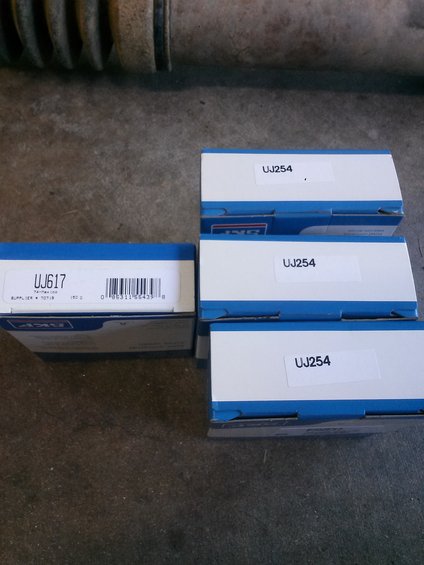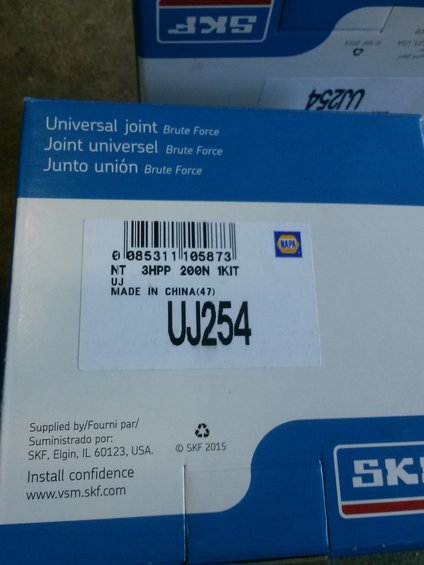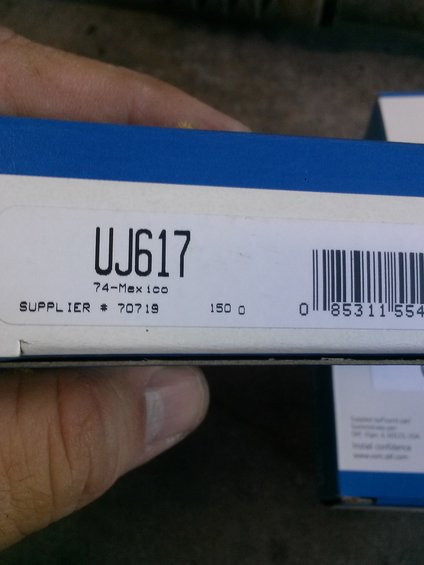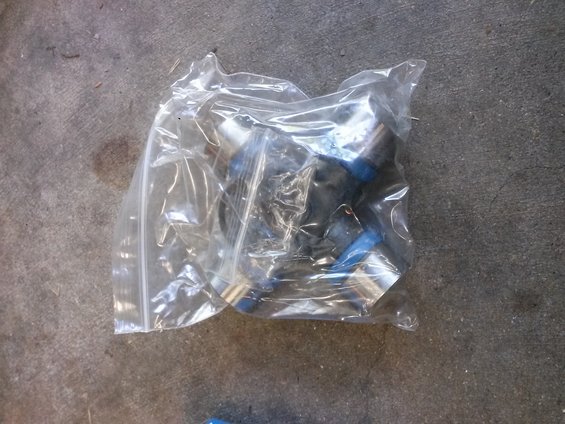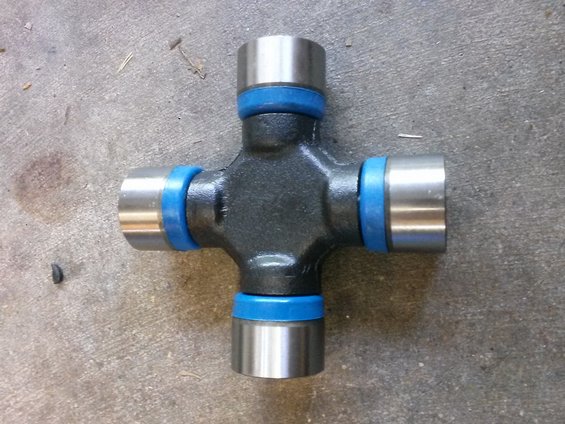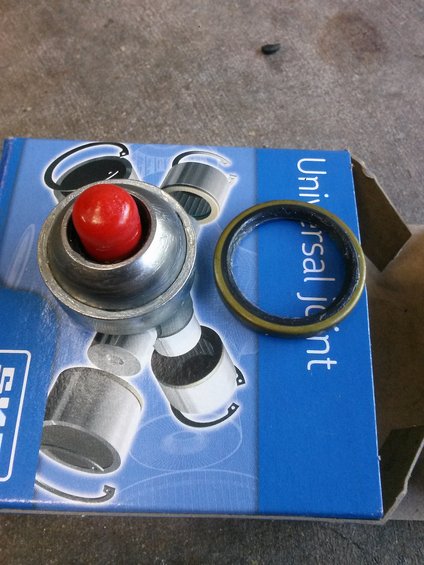 you can see that my bronco is one of the newest broncos available. the driveshaft is date-stamped 4-29-1996
here are the u-joints i removed. they were spicer. they very well may have been original, i don't know.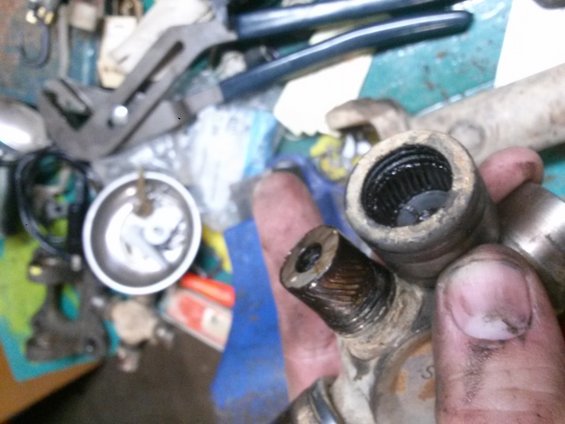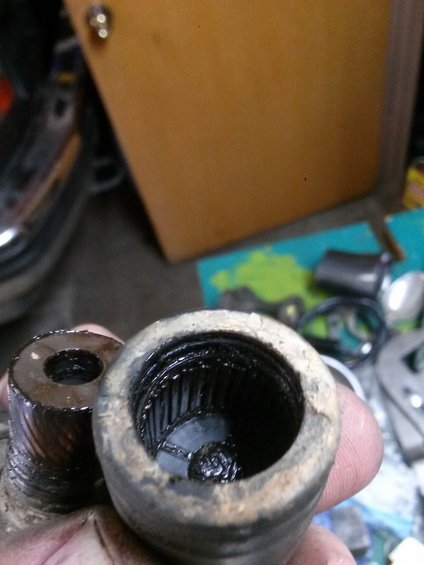 when i got to the last u-joint, i discovered i could not remove the u-joint in position #5
ultimately, i took it to my local driveshaft shop. he warned me of the perils of buying any drive line component from any auto part store. but he also said he would finish the job for $50 so i took him up on it. i dropped off the parts and left. he called me a few hours later and said it was done. and he had "cleaned it up" and put a fresh coat of paint on it. i'll save you the gore, but he didn't clean it. he simply spray painted the dirt...AND MY DANG FACTORY STICKER.
here's a pic of the installed joint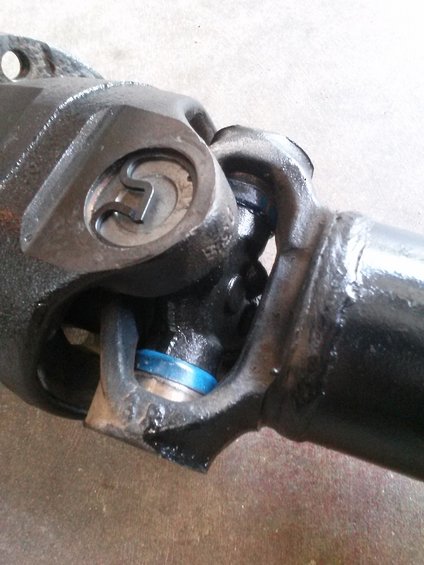 and this is the ball joint press i was using from autozone. it was bent\warped and didn't work well. that was part of why i was willing to pay to have everything re-installed. i was a little afraid that the press wouldn't work and i'd be stuck having to pay someone in the end or at least drive around to multiple parts stores until i found a press that wasn't warped.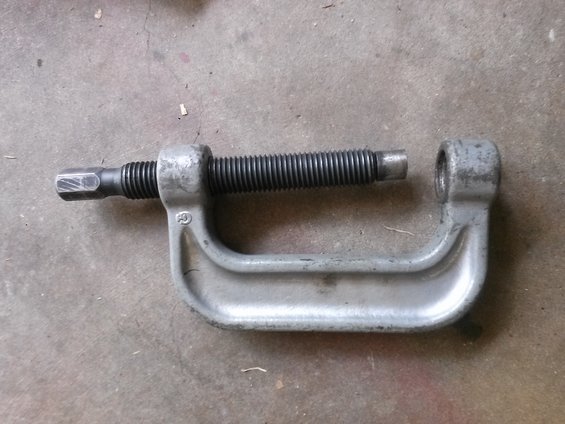 hopefully in a few months or years i'll be able to update this and give a status on whether or not these chinese u-joints from SKF are worth a damn or not.