I have had a vibration problem with my truck since I bought it. I always thought it was my tires out of balance and later, a bent rim. Well after a lot of screwing around I determined it was my rear end (yoke) not in line with my drive shaft. It was only out by 2 1/2* plus a C hair. It doesn't sound like much, but apparently it is enough to cause a vibration. First thing you do is determine if your yoke is not in line with your drive shaft.
I used an angle finder, some people eye ball it, or you could be inventive and use a carpenter square with a piece of string and a weight on the end of the string.
For more accuracy remove the drive shaft from the yoke and place your angle finder directly onto the yoke. In this case I had checked it at an earlier date and established that the rib on my pumpkin was square off the yoke.
Next, or first, doesn't matter place your angle finder on your drive shaft.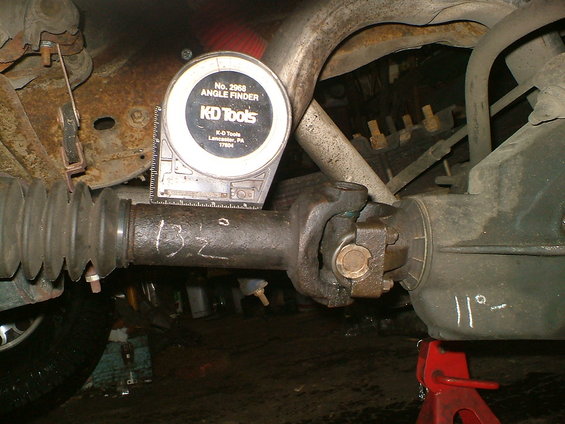 So now you know what size shim to buy, go buy it and then raise your vehicle and place jack stands under your rear dif. Remove the wheels.
This is the shim I will be installing.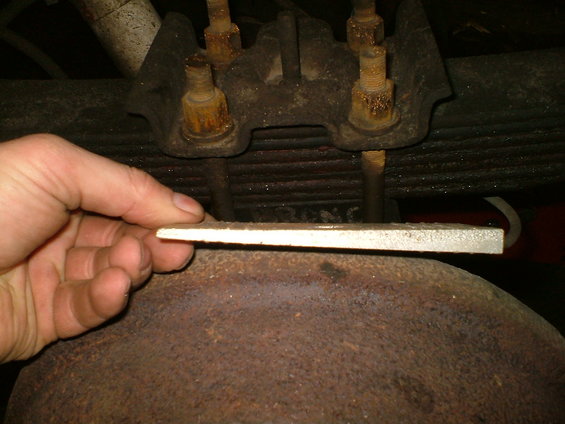 I find the best way to go about this is by doing one side at a time. If you remove the u-bolts from both sides you may have a problem lining everything up later. I ended up using a come-along last time.
What I did here was get some blocks of wood and put my hydraulic jack on it in order to raise the springs enough to remove the stock block.
NOTE: i DID NOT FULLY REMOVE THE NUTS FROM THE U-BOLTS BECAUSE SOMETIMES PUTTING THE BOLTS BACK ON CAN BE A HEADACHE OR SOMETIMES IT JUST WONT HAPPEN. SO DON'T REMOVE THEM IF YOU DON'T HAVE TO.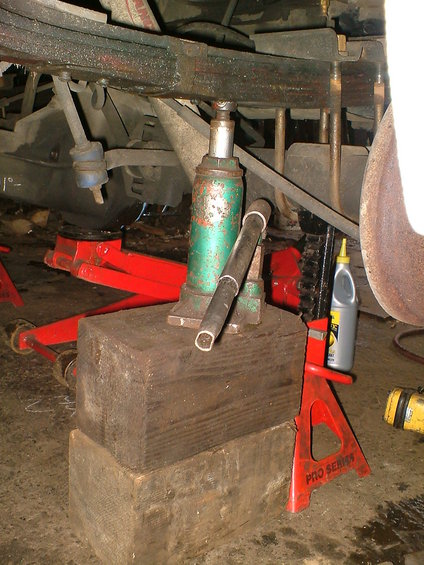 This is my factory block
This is the block with the shim on it. Notice the, for lack of a better word, nipple is barely beyond the shim. This could cause some problems, especially if you do any off roading and any serious articulation. Basically it could come apart on you. This of course is not something you want to happen no matter where you are driving. I have a piece of 5/8" round bar to the left, which I will be using to remedy this problem.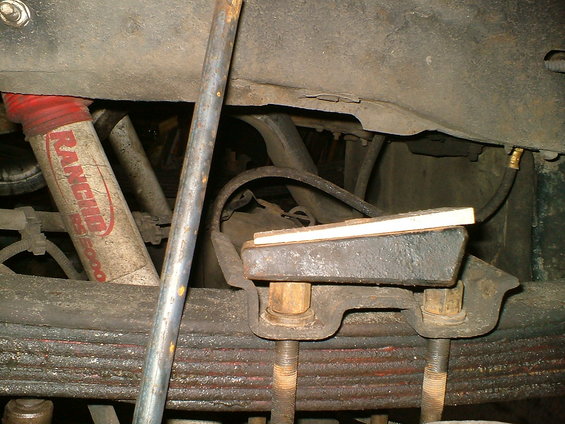 First thing you do now, is center punch the center of this nipple and then drill a pilot hole followed by a 5/8" hole. I wanted to drill a hole 1/64 smaller than 5/8" and then I was going to put the 5/8" round bar in the freezer and heat up the block so that it would have been more permanent when I put it together, but I didn't have a smaller drill, so never mind, the 5/8" drill worked fine.
I ended up cutting the 5/8" round bar to 1 1/8" long. Here it is with the round bar in the hole and the shim on top. You can clearly see this is going to work out better.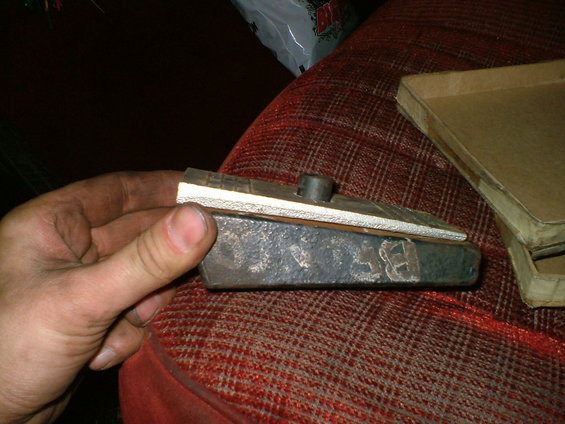 So now installation is in reverse order of how you removed it. Here it is back together with the shim in place.
Whatever you do, when you drill the pilot hole, don't break the drill bit, like I did on the second one. :banghead :banghead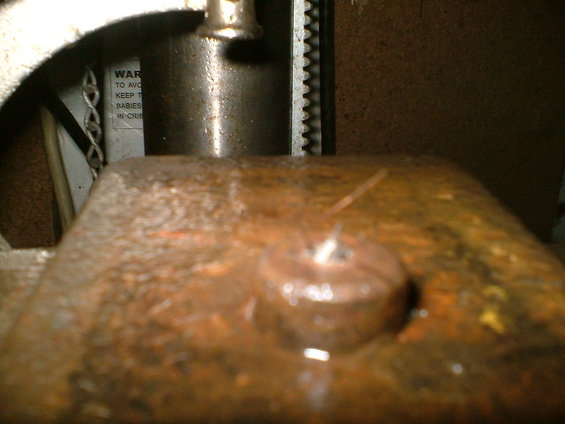 Once you have completed the other side, re torque your u-bolts to 100 foot lbs. and don't forget to re-torque them in a few hundred miles. I'm not sure how many miles exactly, maybe someone could post it.
Now while you are here at the rear end, you may as well check your fluid level. First locate the plug.
Remove it, using a 3/8" drive ratchet.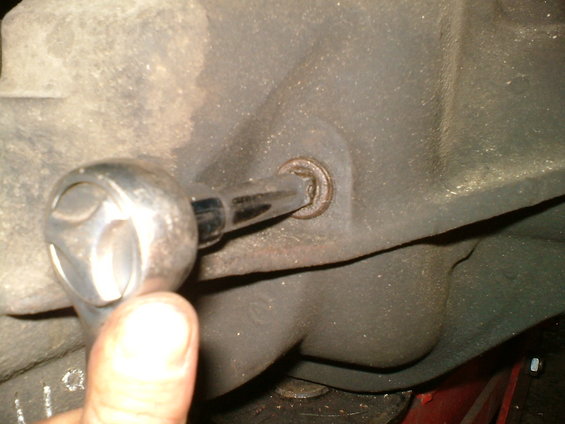 Top it up if needed.
May as well grease your u-joints while you are here too. When you are finished go on to the power drinking.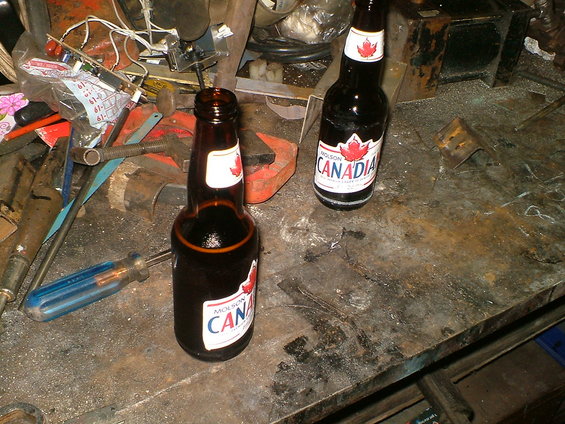 So there you go, I hope this makes sense and will help anyone who is thinking of installing a shim.
*NOTE:
I HAD THESE U-BOLTS MADE UP FOR ME A FEW WEEKS AGO. IF YOU DON'T KNOW WHEN YOUR U-BOLTS WERE INSTALLED, IT IS RECOMMENDED THAT YOU INSTALL NEW ONES.