Discussion Starter
·
#1
·
Okay, so I have been wanting to liven things up on my sluggish, 144,000 mile 5.0L "OJ" Bronco, so I have acquired a gaggle of parts that I thought might just pep things up a bit.
Here is the short list:
1. Kenne Bell 1.5L Twin Screw Supercharger (incomplete kit)
2. Ported E5TE iron heads with large valves, dual springs and serious bowl work. The dreaded thermactor bumps are history.
3. 1.7:1 Crane Roller Rockers (pedestal mount)
4. Flowtech shorty headers (into existing true dual exhaust)
5. Lightning 90mm MAF
6. 30# injectors
7. Kirban fuel pressure regulator
8. Walbro 255lph in-tank fuel pump ****used a Kenne Bell Boost-A-Pump instead-****
There are some other ancilllaries not listed that will be described in the process of this log. The truck will be "chip tuned" on the rollers after the install of these parts.
Heads
Here are the worked E5TE's. These will lower compression a bit; perfect for my application. Note the larger valves and no Thermactor bumps.
Tear-down
Nothing exciting here, just tore everything down to a bare deck and then cleaned the gasket surface with a razor blade. The cylinder walls were super clean, the tops of the pistons were lightly coated with carbon deposition (which I removed with a rag and brake cleaner), and the lifter valley was spotless. I've seen quite a few "Pennzoil motors" with massive carbon deposits in the lifter valley, but this 5.0 was extremely clean. I could see some crosshatching pattern left in the cylinder walls, and pouring oil into each cylinder resulted in no fluid drain after several hours. I suctioned out the oil and wiped out each cylinder completely, moving on to the heads.
Installing the Cylinder Heads, Valvetrain & Headers
I sourced some used ARP head bolts and Fel-Pro gaskets for the heads. Here they are, fully torqued to spec. The 1.7:1 Crane rockers and Crane chrome-moly pushrods are also installed and fully set up, and the Flowtech shorties are on and connected to the existing true dual exhaust.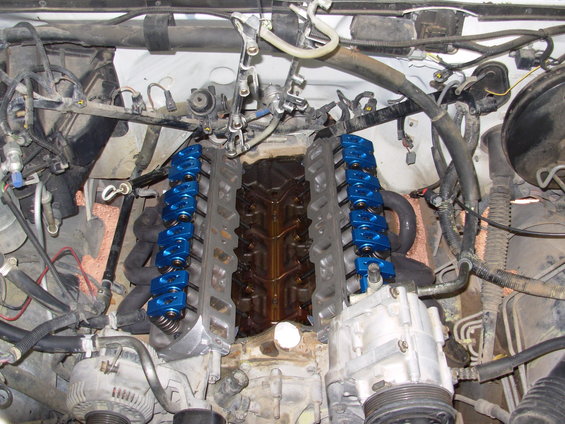 To Be Continued...