I have decided to post up my build here starting from today. I have several things in the works including a SAS, engine modifications and other bits and pieces.
My main goal is to have a truck that is not only streetable, but can tackle most trails, rock crawling and other adventures - the main idea here is to maintain drivability on and offroad.
I'm going to start with
Engine Improvements:
I have been unhappy with the performance of the 302 hauling my large truck around above 7000 feet. I know the altitude takes it's toll on everything at that altitude, especially a heavy truck with large tires and taller gears. However with a truck approaching 6000 lbs and having a 5.0 liter about to tick off 100K miles I have been looking at ways to improve the current engine without having to source and build a 351..
I think the 302 has allot of life in it and would like to do what I can to it to make it all it can be with minimum down time.
A few things I have done already to improve performance:
Six liter tune up
Replaced the exhaust (From heads back)
Dropped in a K&N (The air intake currently takes air from the drivers side fender as I have a York attached to the AC… future plans are to cut a small hole in the front outside fender and add a very small scoop to get a bit of cold air from the outside into the fenderwell)
New 19lb injectors
New IAT
Cleaned Throttle body and MAF
I have my mind set on a set of heads and a mild cam as well as refreshing the top end of the engine (water pump, timing chain etc etc...)
The heads I have in mind are the
AFR-165 (165cc Street Cylinder Head)
I think I have settled on a Cam from
CompCam - Xtreme Energy, XE270HR
(Still trying to make sure this will fit my goals)
Again, I want to make sure that the modifications I do to the 302 today will last me for the foreseeable future so I decided to test my current engine before I start purchasing.
I have 99,250 miles on the current engine.
First thing I did was replace all my vacuum lines. It was actually pretty straight forward and when it was all said and done pretty easy! I just took it slow and did one at a time like many have said. Tested the vacuum at the manifold and got 17. Tested almost all the vacuum lines and got 17.. so no more leaks and my air ducts now actually switch when i tell them
Next thing I did was do a compression test. The following are the results of doing 3 tests on each cylinder.
115, 119, 119
119, 120, 119
120, 125, 130
130, 125, 132
120, 120, 125
125, 125, 125
115, 120, 120
120, 120, 120
I threw out the lowest and highest and took the middle number for an average.
119
119
125
130
120
125
120
120
I was going to do a leak down test next, however with the results of the dyno run about 2 months ago and the compression test, i felt the engine was running the best it could be for 99k.
So, my next step will be purchasing the heads, cam, and other things that I want to replace on the engine and get those installed in the next 30 days or so.
I have a thread already started on the SAS here
Landshark's Solid Axle Saga
I will update this thread with pics as i take them.. the only one i Really have right now is the picture of the whiteboard with the compression test numbers. I know how you all are so here it is! you can't complain of all talk and no pics! :goodfinge
and a few more of the axles waiting for love...
Dana 44 ready to be welded and painted.
Dana 60 before it was stripped down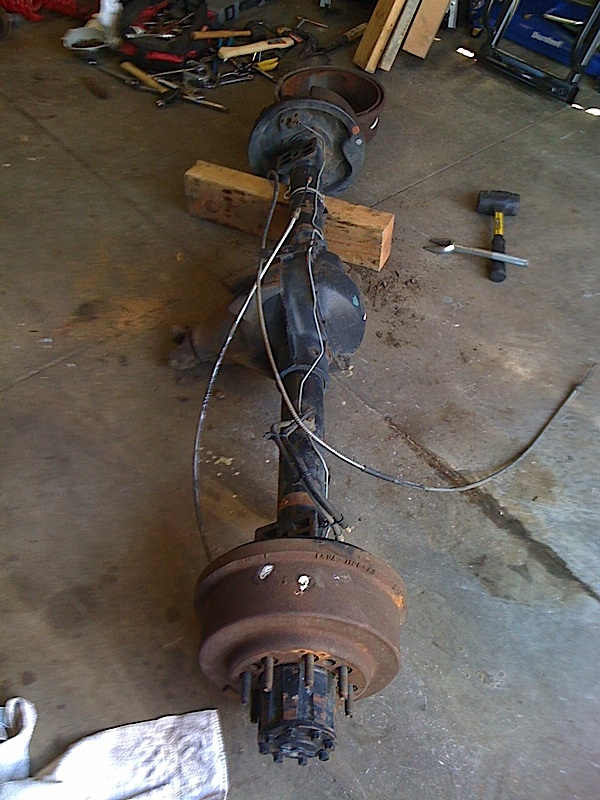 Ready for 35 spline axles.. oh yea