So, you put on a body lift and realized there are no brackets to lift the rear bumper up to match the body. Here is a fairly simple way to correct this
WARNING
This method is not recommended for step bumpers that are actually used to tow with. It is for smoothie bumpers or step bumpers that are not used to tow. If you tow with your step bumper use a different method to raise your rear bumper. This method is strong enough to meet the 5mph impact rating the factory bumpers where designed to take.
1.
Unbolt bumper brackets from frame, there are three bolts per bracket.
2.
Unbolt the bumper from the brackets. The bumper is held on by ornamental carriage bolts; you are going to destroy several if not all of them removing them. Replacements are sold at most parts stores.

(You can skip this step and go strait to step 4, but if you do you will wish you had not)
3.
Bolt brackets back to bumper using new or refurbished hardware that is easily removed. Tighten bolts enough to firmly hold the brackets to the bumper, no need to torque them down just yet.
4.
Align the bumper and brackets so that the bottom bolt hole in the bracket is lined up to the top bolt hole on the frame. Bolt the bracket to the frame using these holes. (See photo-A)
5.
Align the bumper exactly how you want it to be when this process is done. Tighten the single bolt per bracket enough to hold the bumper in place for alignment.
6.
Without letting the bumper move, torque the holly heck out of the single bolt holding each bracket on. This needs to be very tight!
7.
Unbolt the bumper from the brackets
(This is where you will be glad you did step 2 and 3)
8.
Acquire a piece of 3"x3" -1/4" angled steel. You can find this at Home-Depot or Lowes. Cut off two 3" sections and chamfer one corner to create a bracket like the one in Detail-1 (see below). Place one of the brackets on top of the frame with it's back towards the raised bumper bracket.


At this point it should be strikingly obvious what we are doing.
(See Photo-B)
9.
Mark where the upper bumper bracket hole is on the angled iron. If there is a hole in the top of the frame mark where it is on the bottom of the angled steel. If there is not a hole already in the top of your frame drill a ½" hole in the top of the frame that roughly corresponds with the hole in the top of the bumper bracket.
10.
Drill ½" holes in the angled steel that corresponds to the marks you maid on it in step 9.
11.
Using ½" grade-8 Hardware, bolt the angled steel to both the upper bumper bracket and the top of the frame.
12.
Bolt bumper to bumper brackets.
Photo-A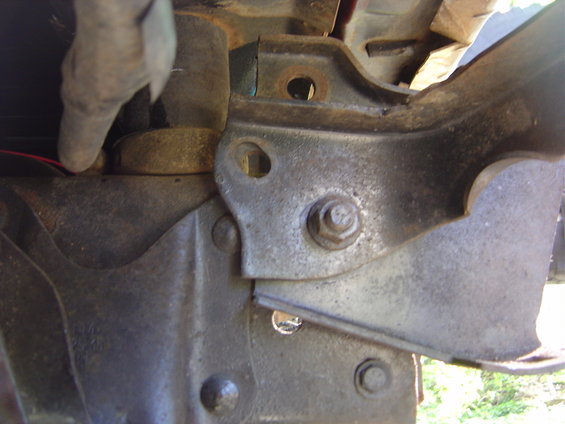 Photo-B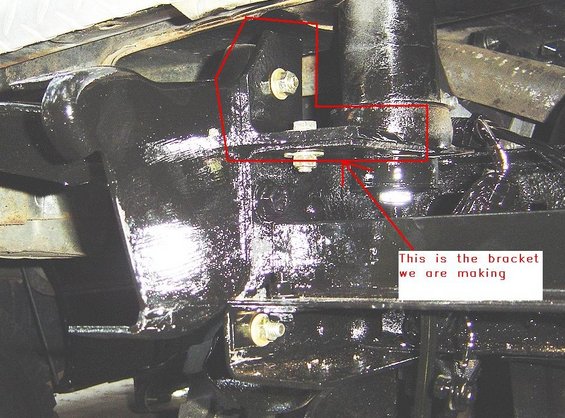 Detail-1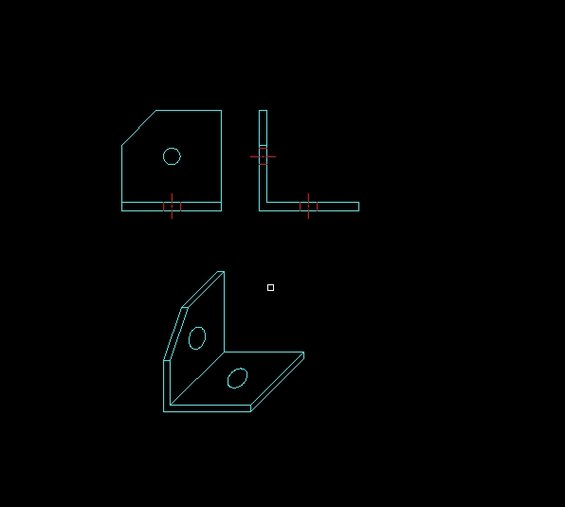 Here is the finished lifted bumper.