Discussion Starter
•
#1
•
After searching for an hour or so, and not finding jack on long tube header installment, I figured I would go ahead and tell everyone how I did it.
THIS WAS INSTALLED ON MY 88 F150 302, 4 INCH SUSPENSION LIFT.
First off, make sure you give yourself enough time to install them. I am a fulltime sudent and have been working 10 hour shifts this week leaving me with intallment on friday and exhaust done on saturday.
My trucks 302 only has about 40,000 miles on it, and I replaced the exhaust gasket previously on the drivers side so the bolts werent hard this time. The passanger side was a pain. The last bolt in the back holds on the smog pump tube. Luckily Ford made cheap brackets that connects to that bolt, along with 20 other things that connect to those bolts. I guess there isnt any room to connect this anywhere else:doh0715: That mount ended up twisting with the bolt making it a one hour job to get that damn bolt off. Just get pissed off and you'll find a way for it to come off.
Cut the stock exhaust off. I have true duals already and still had the stock Y pipe right up to the stock resonator. I cut the two pipes after the o2 sensor and the H pipe in half. They will come out with little effort.
I bought my Heddman headers from a member on here, which he included Mrgasket exhaust and flange gaskets and all the bolts. From what Mike2 said, and a lot of other posts about the flange hitting the driveshaft, I went ahead and bent the DRIVERS side to the passanger side 1". I went ahead and painted them with High temp silione spray, which also seals exhaust wraps. It cures at 400 degrees so I thought I might as well try it out.
The Drivers Side
The first time I slid the headers up, I thought it was F'ed when i seen the oil dipstick was in the way. What do you know, haynes manual has nothing about this. So i took the header off. Just twist the tube and it will come right out. It just slides inside the block. When you go to install it again, put a ring of high temp RTV around the stop ring to seal it.
Remember this is on an 88 f150 302.
loosen the clip on the feul filter so you can move it away. I just took the clip off. I dont see what everyone is whining about. As long as you dont have turrets and can think 3 seconds ahead, the headers was like a 5th grade puzzle. From under the truck, slide the block flange up first and bring it up. The fuel filter was the hardest part for the header to get around. Again, its a $5 part, just get pissed off and move it away. I took one of the stock studs and bolted it on so I could still pull it out enough to see the gasket.
Once everything was bolted up, I looked under and seen there was PLENTY of clearance for the driveshaft. Actually I wish it was closer, because its very close to the tranny. I dont think these were bent before as it still had the orginal paint on them, and yes, there were only bent one inch.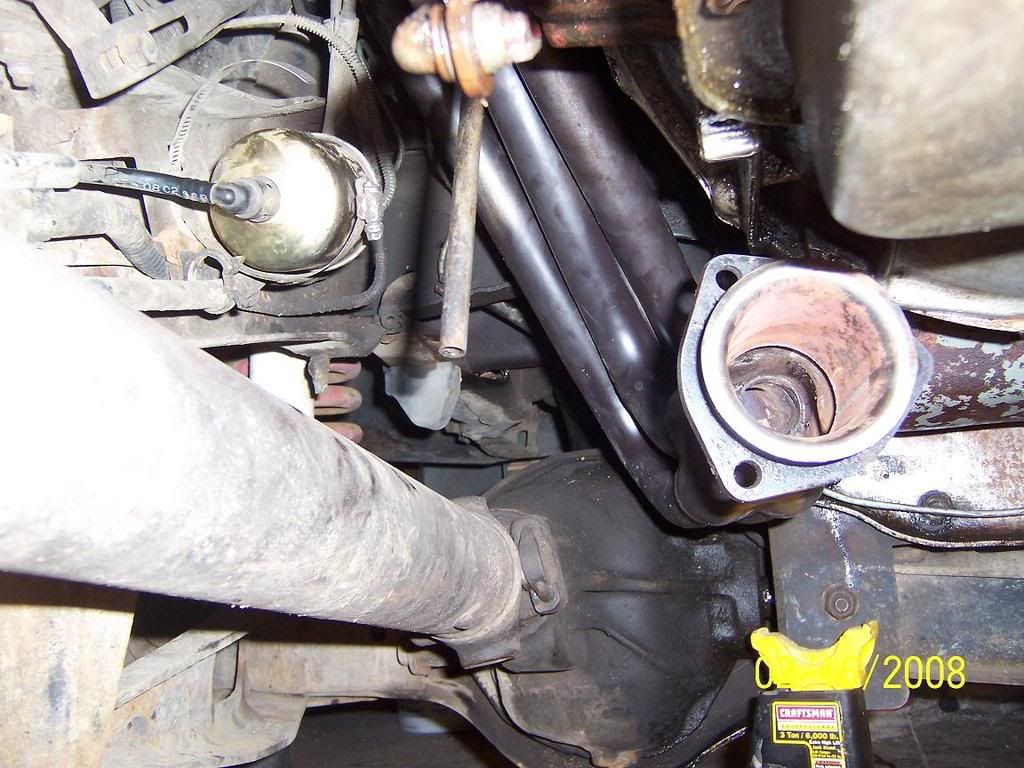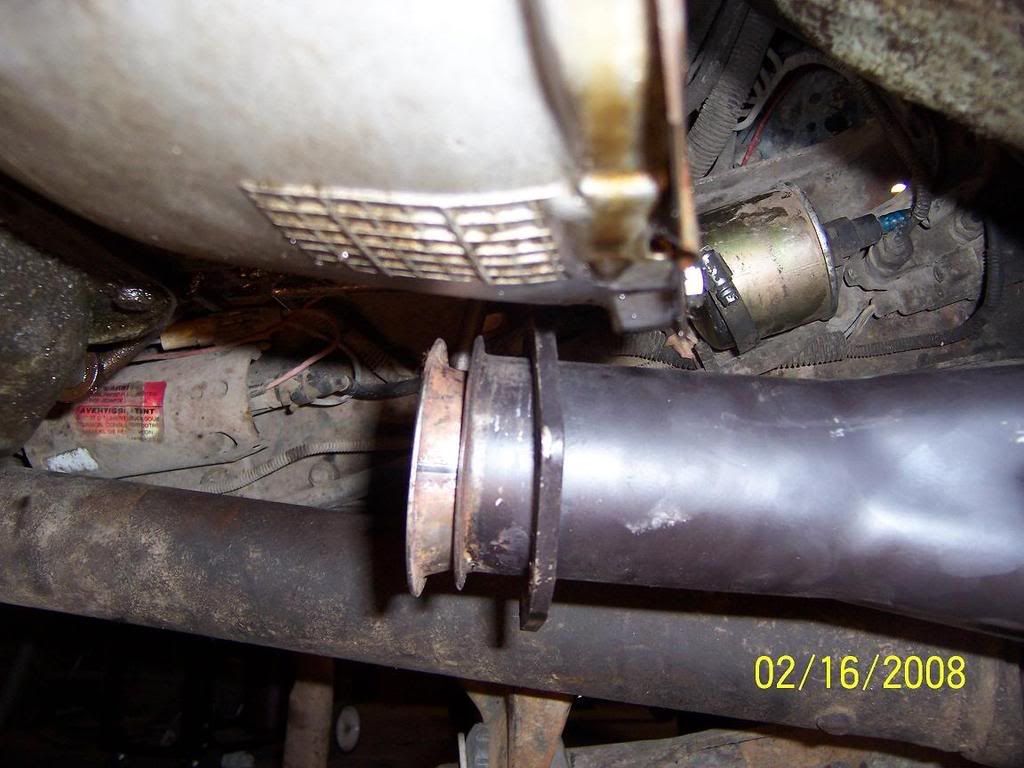 THE PASSANGER SIDE
This side is the same, go from under. It was actually easier then the driver side. Then again, I said the hell with it and gave it a good hit and it popped right up. I had trouble with the last bolt. It look me another hour get get that in because theres NO space for a wrench, let alone a crows foot. Dont do what I did and go from the front to back. Do the back ones first, then when you go to get them tight, and tourqed, do the back, front, back middle, front middle. My headers just BARELY touch the starter. I turned the worklight off and hit the header sideways and seen light when I did, so I wasnt concerned too much about that. I think i will be able to get the starter out without taking the header off. I will just have to bring it around the feul lines. I had the exhaust guy to make it so I would be able to clear the other pipe it I did have to take the header off. Also, I had him work around the tranny pan to I can get, and take that off.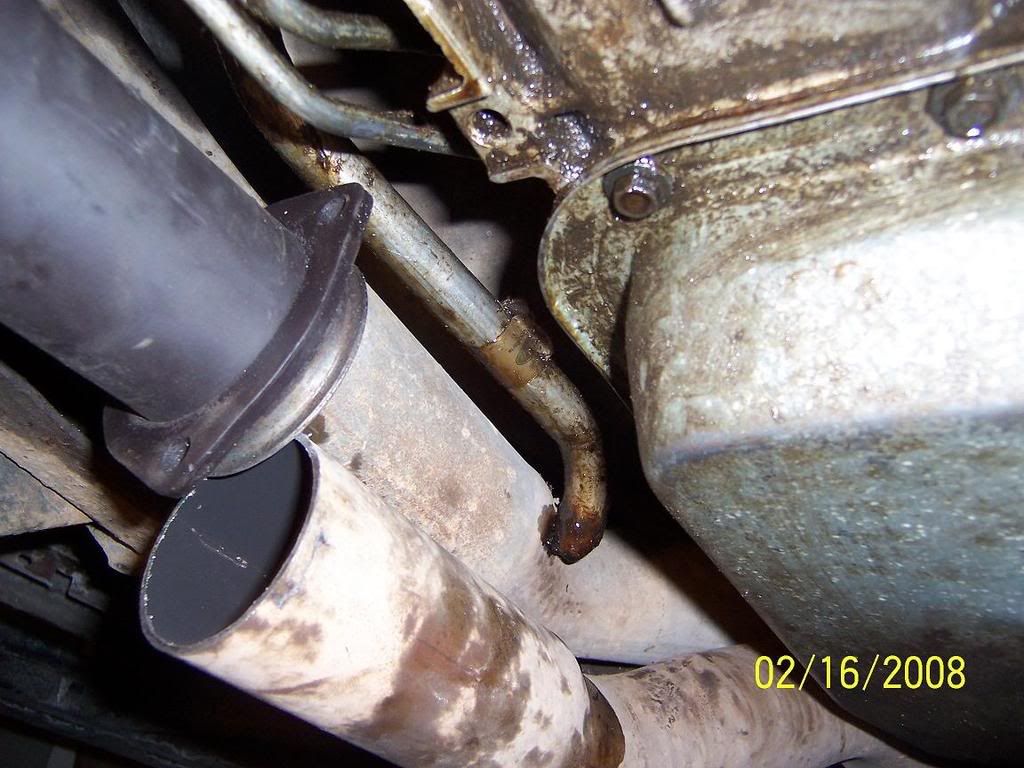 Exhaust guy did a good job. I am satisfied with his work, being the tight space and peicing it together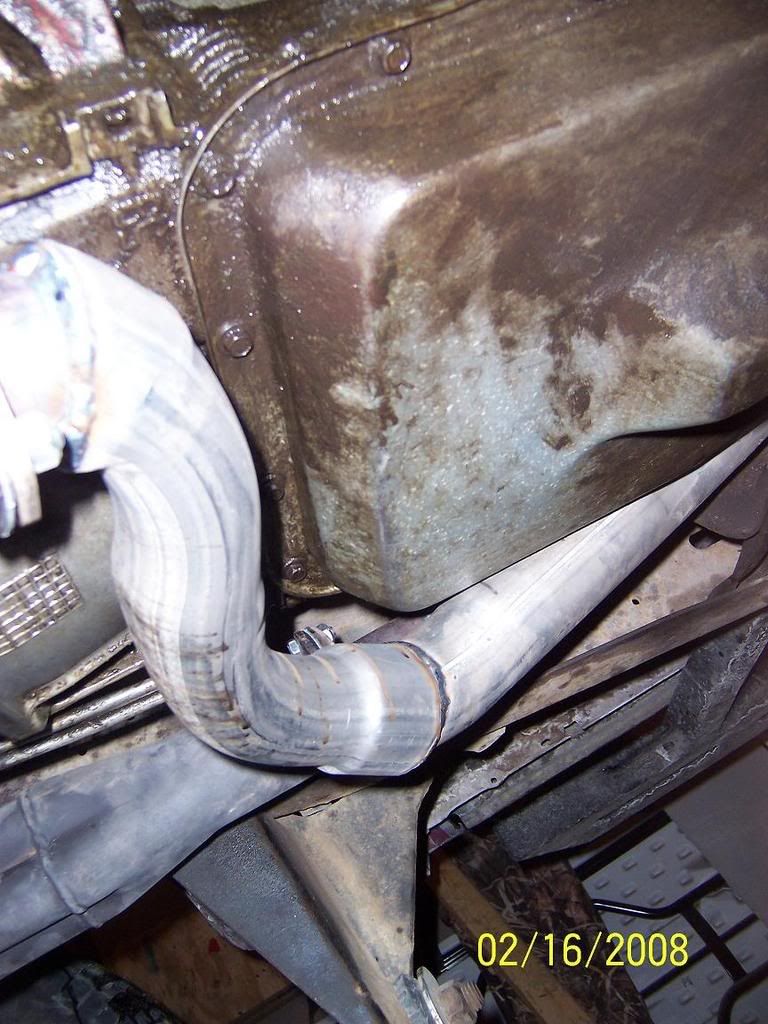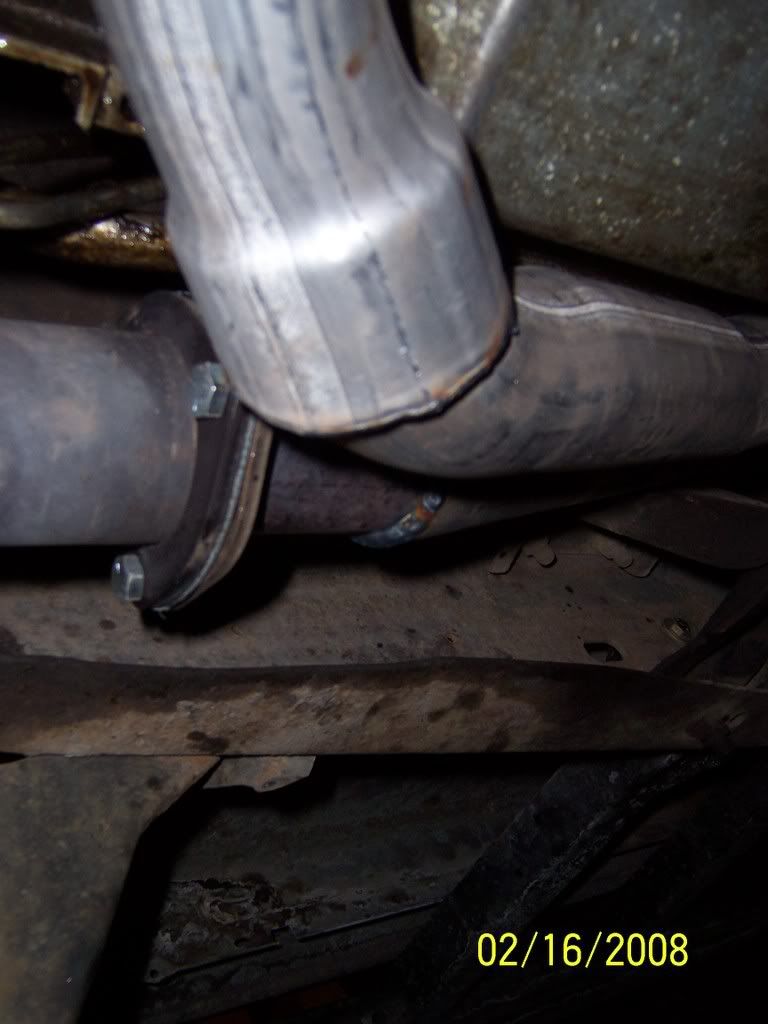 I now have Heddman headers, True duals, X pipe and two dynomax ultral flo wleded mufflers. Tailpipes kicked out at 90 degrees. It got a little louder, but nothing beyond belief. Its a really good sound. For people who actually know a thing or two about exhaust and what the sounds are, its a pretty good sound. High flow, soft cackles, not hi backpressured cackles.
Post up some questions, I am sure I missed something. Going off little hours of sleepy
-Josh