'92 Custom w/ '95 MAF 5.0, 33's, 4.10 LSD
I decided last week to start collecting parts for a M/T swap, having been on the fence for a while. (My main concern is shifter rear travel clearance for my custom center console / jump seat. I may need to get some measurements...) I've researched it enough at this point to have answered most of my questions, but I'm sure some will pop up as I move further along, so I might as well start a thread on the topic.
In the meantime, here's something I came up with that may help others. While pulling my M/T pedal set, one of the first things I noticed is how fragile the bushing is that holds the master cylinder arm to the pivot rod...mine was 25% broken. When I got home and read up on related topics, I learned it's a common failure point, resulting in sloppy shifting and difficult clutch engagement, and the pivot rod gets eaten away at when the bushing fails. The heim joint mod is a popular solution, and I planned on going with one of the $15-20 kits until running across this post:
1994.5 - 1997 7.3L Power Stroke Diesel - Ignition Intermittent Problem - I've got a 1996 F250, 7.3L, 4x4, manual transmission. My problem is that my truck will have times where it will start right up and times where I have to release the clutch, turn back the ignition and try again for many...
That struck me as a better solution if your, like mine, bushing hasn't failed to the point of damaging the pivot. No need to disassemble (my bushings look and feel perfect, with no play) or grind the pivot off the linkage or worry about what length to cut the MC rod to and how to clock the pivot arm's splines, and quite a bit cheaper. I picked up a stop/shaft collar at Ace for $2. Finding a suitable bushing was significantly more difficult, so I'm reusing the stock one now with the tabs clipped off. I'll probably order a new one for $5 and do the same.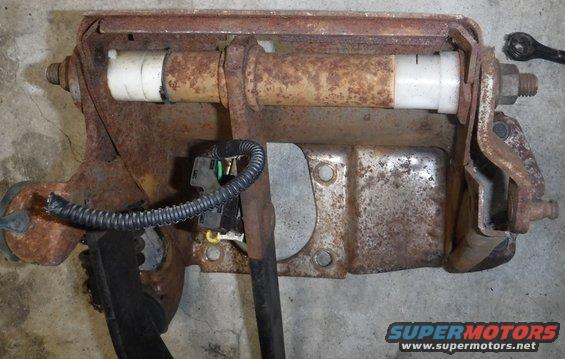 M/T pedal set, exhibiting the typical surface rust. Pay attention to the tip of the master cylinder's pivot rod attachment at the far right... The eye of the rod is visible at the top right, along with the very fragile plastic bushing that clips on.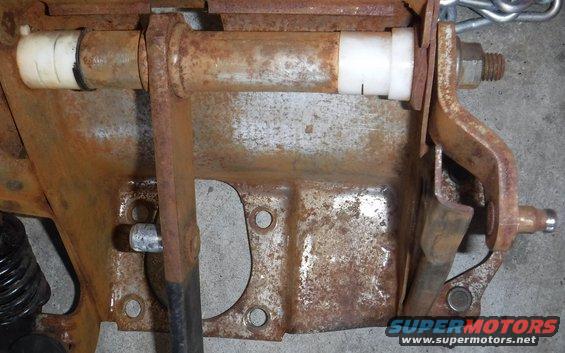 Heim Joint Mod alternative: I could have gone with a 7/16" stop collar, but it fit slightly loose and was bulkier than I wanted for that narrow space, so I shaved the tip down ever so slightly to allow a thinner 3/8" collar to fit. That also lines the set screw up better with the valley, while still leaving enough room for the MC rod's eye.
(Pivot is 0.408" @ tip; 7/16" = 0.4375", 3/8" = 0.375"; pivot pretty much splits the difference.)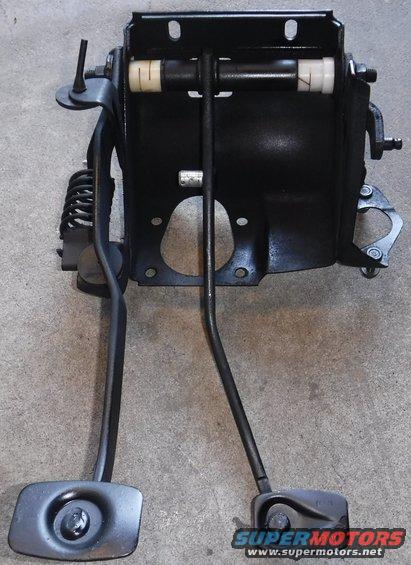 Surface rust cleaned up, fresh coat of paint applied.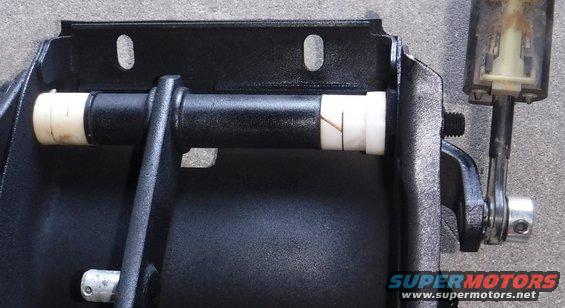 3/8" shaft/stop collar and the plastic lock tabs of the bushing trimmed to act only as a sleeve.
p.s. I figured worst case scenario if the shaft collar shave didn't work, is cutting the pivot off and doing the heim joint mod after all.