Discussion Starter
•
#1
•
Back from my Moab trip. It was my first trip where I experienced an issue on the trail, but I will report on that in a minute. I decided to cut my trip a day short due to the rain, but all in all it was an awesome trip. I did my first night trip on Fins and Things, and it was awesome, but I really see the need for rock lights, which I am adding to my list of things to do. On the way down we went to go in the west entrance of Arches, but it was closed. So I decided to go in in the main entrance and see if the trail to Tower arch was open from Balance Rock, which is was. I made it back to the first obstacle on the trail back to the arch and ran into some other rigs going the other way, so I decided to go up the rock on the left side but did not have it in four wheel drive as I started up it and had to get out in lock in the hubs. Well this is where I learned a big lesson. I set the parking brake as to not roll back in the rock wall behind me, put it in 4 Low when I got back in the Bronco and proceeded up the rock. Well after moving for 3 to 4 feet I heard a really loud bang and felt the Bronco shudder. After getting on top of the rock I go out and looked to see if my frame had broke, only to discover there was brake fluid running out of the left rear brake drum. I thought is my be just a blown wheel cylinder so I got back in and headed down the trail to see if I could make it out, only to discover that it was making some really bad noise so I pulled off the trail, jacked it up and pulled the drum off. This is what I discovered.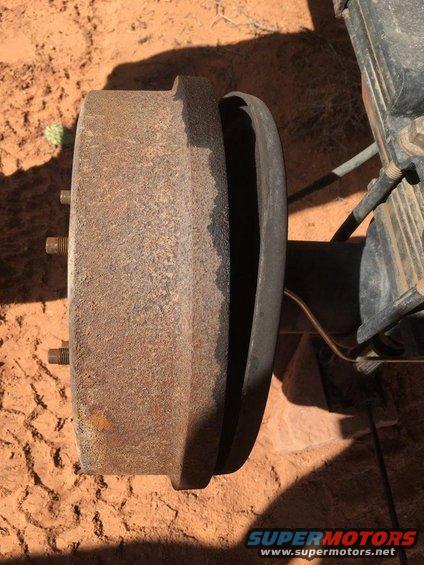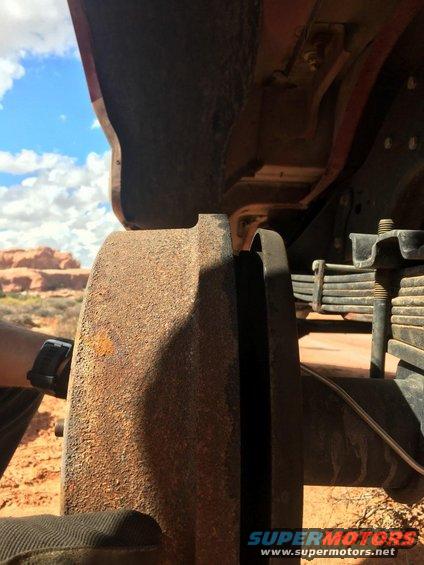 This is what happened when I pulled the drum off, every thing fell out on the ground.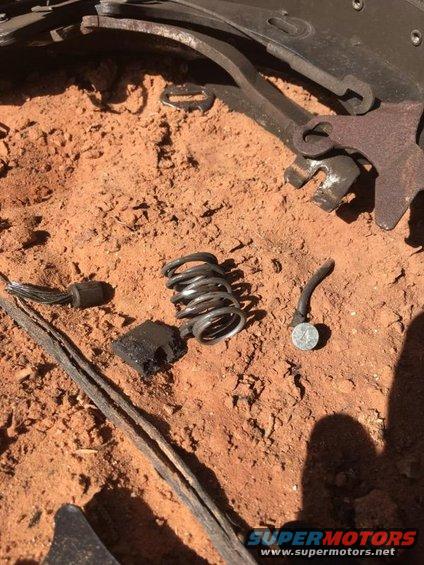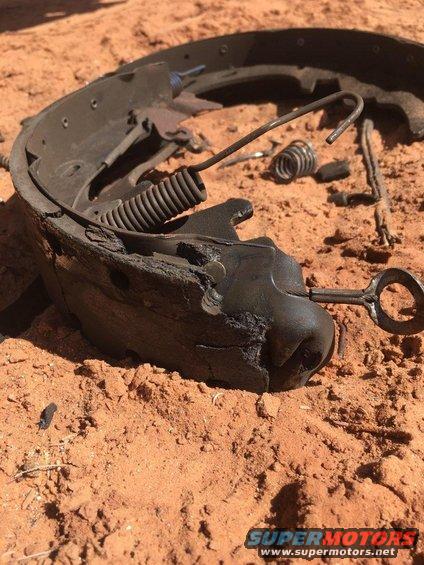 I don't have a picture of the backing plate after I pulled it to replace it, but the 4 mounting hole for the axle were actually ob-longed by more than an eight inch, the mount for the shoes and springs had been sheered off and the parking brake cable snapped. I ended up cutting a piece of rubber off an electrical cord I had and created barrier between the brake line and the wheel cylinder in order to finish me trek to the arch for my friend.
Needless to say I learned a big lesson. Anyone that thinks there are wrecking yards in Moab is mistaken, there is not a single one left, they have all closed. I found a replacement for it at a mechanic shop, offered him $100 for it and he countered my offer at $150. I said screw that and rented a car for $60 and took a 4 hour round trip to Grand Junction Colorado and picked up a complete backing plate with a parking brake cable for $41, and $25 in gas. Still came out ahead of being ripped off at $150. Anyways I spend Thursday going to Colorado for parts and doing repairs. Was able to finish and get in a night run on Fins and Things.
Friday we ran the Trifecta and took the alternate route on Where Eagles Dare. Met some really great people on the trail and go to see an 800HP buggy in action. Guys name is Tom, owns his own race team, sponsored by Tonka at one point, now VP racing fuels. Super nice guy, he even lost a bet to others in his group, he was betting them that my Bronco had the IFS in it. He should not have made that bet, as the others in his group had been at the Golden crack when I crossed it, be he had been 2 hours waiting for his group to catch up. I had to laugh. Any ways, we ended up packing up the tents Saturday morning while it was dry, then headed off to find some off the beaten path trails like 4 Arches, and another trail below Metal Masher. We then headed for home just as the hard rain started.
I also took my youngest son that is 18 and got him hooked. I let him drive some of the Trifecta, including the V crack you have to straddle, as well as some other mildly technical obstacles and he did a great job. He is hooked finally on something other than video games.