Discussion Starter
•
#1
•
OK, first off thanks to everyone who helped out with pointers, insight and info. Miesk, Abandoned, and many others. Thank You.
OK, I've known I needed a new exhaust system for a little while after crawling under and seeing black sooty residue along the exhaust.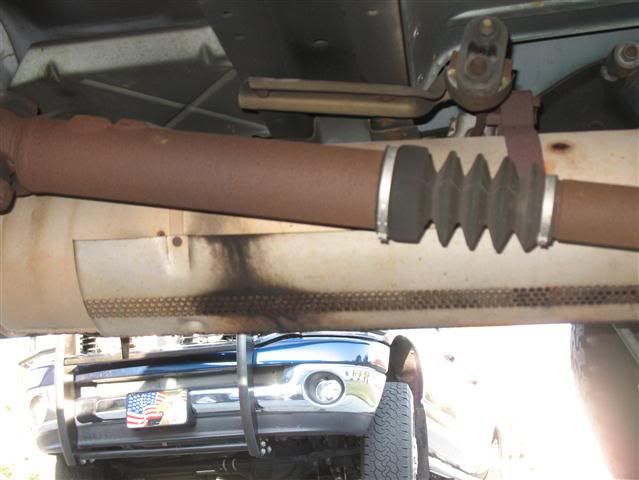 So I asked a ton of questions, started a few threads, searched here and FTE, asked even more questions, Shopped online, found good deals, planned, planned, planned. Finally figured out what I needed and ordered the parts as money and time allowed. Along the line, there were different specials and discounts on the items I needed so I bought when the buying was good.
Started off getting the Dynomax Cat Back Exhaust Part # 17410. It's a 2 1/2 exhaust which is up from the factory 2 1/4. I decided to go ahead and install it as is and get the rest of the system later as money allowed.
Problem #1 I discovered that the Cat Back system is about 5 inched too long between the hanger locations and the factory Catalytic Converters. There was some other sales going on with Catalytic converters and other items I needed so I went ahead and bought them also. I bought the Walker Catalytic Converter #15042 and the Walker YPipe #45166. I also got a new Bosch O2 Sensor while I was doing this.
Now Problem #2: The YPipe. Built by Walker, the quality isn't that great, but, it's not a $2-300 Mandrel bent pipe either. Around $50 with a discount from Advance Auto and it was shipped from the main warehouse in Tennessee. Once it arrives I see this on the rear exhaust tube.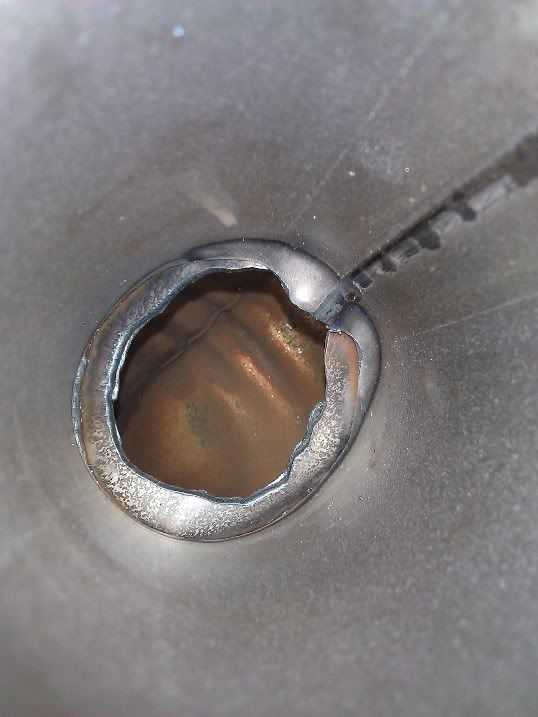 Looks like they knocked a hole in it and then welded the pipe over the hole. A few minutes with a Drill, some oil and a 1 3/4" Hole say and it now looks like this.
I don't have it installed yet. That will come on my next weekend off. I will take more photos and walk through the install as I go. I'm using Band Clamps for the install instead of welding. So far after a rough test fit, everything is lap joint fitted except for the connection between the Muffler and Catalytic Converter. That'll be a Butt Joint. Here's the components so far on my messy table in the Garage.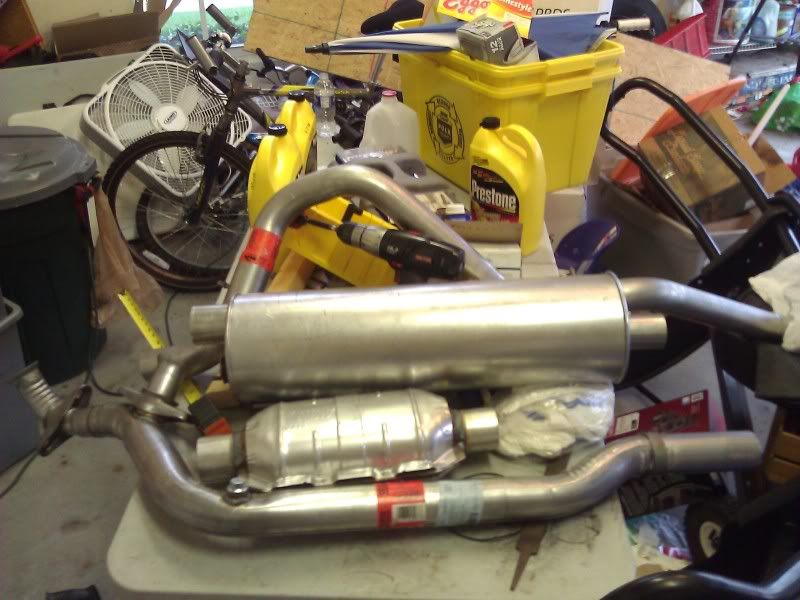 More to come. Here's the current parts list.
DynoMax 17410 Cat Back Exhaust system
Walker 15042 Catalytic Converter
Walker 45166 Y Pipe
Bosch O2 Sensor 15718
Preformed 2 ½ Strap Band Clamp SS BK7333220
Flat 2 ½ Strap Band Clamp SS BK7333958