Discussion Starter
•
#1
•
Hey everyone.... I thought I would share with you all another passion that was (is) near and dear to me. Since I was about 13 years old, I have had an aqaurium of one type or another. At one time, I had about 15 aquariums in one room and was breeding all kinds of different fish, mostly fresh water fish. Just for fun I would work at fish stores (The Fish Store for all your Seattle/Bellvue guys) and would learn new stuff all the time.
My obsession eventually developed into keeping and breeding a freshwater fish commonly called a "discus"... one of the harder freshwater fish to keep and breed. At the same time, I began keeping fresh water plants... that developed into a full scale bad ass freshwater planted tank that had a top that was hooked to a pulley system so I could raise and lower it to allow plants to grow out of the top and flower. It was one of my nicest tanks....
In the meantime, I had been keeping some limited saltwater aquariums as well with mostly fish but some invertebrates (animals with no spines). When I moved from Seattle, I sold all of my tanks and freshwater stuff but kept my main display tank. A 70 gallon rectangular tank. It was my first big tank. I had spent hours building tops (hoods) and stands for by hand.
When I moved to Phoenix, the tank sat in storage for a while and I almost sold it. I had a little 29 gallon tank running in my apartment that I decided to set up as a saltwater tank and keep a couple clownfish in it.... well, I decided instead of selling the 70 gallon, I would set it up as a saltwater reef tank.
I dont really know how to accuratly explain what that means to those of you who do not already know. All I can say is, by the time I was done with this tank, I had "invested" as much time and money into it as I have my Bronco, if not more (including the cost of the Bronco itself). It truly is an addiction/obsession. I had metal halide lights, moon cylce lights, giant pumps, wave makers, 250 lbs of live rock (at 8 bucks a lb), bad ass protien skimmers, refugiums, a central control device that controlled temp, lights, water flow... you name it. Not to mention hundreds and hundreds of dollars worth of corals.
I had read about every book on there was about reef keeping. Became pretty well known on some of the reef keeping listserves. To toot my own horn, I knew more than most "hobbyists" about keeping a reef aquarium. I gave some lectures at local aquarium clubs and was published in one of the aqaurium mags. I had even gotten to the point that I was doing private research on the effects high non-directional flow on different types of invertebrate in the aquarium as well as multi-directional lighting patterns. You see, for most of the corals we keep in aquariums, flow and light are two of the most important things to consider and they are two of the hardest things to properly provide. Mimicing the ocean is tough as hell....
Anyways.... enough about that crap. Unfortunately, with all the aquariums I have kept and all I have done, I only took pictures of one. My last reef aquarium. The following pictures are of my 70 gallon aquarium. In that I kept a variety of corals and other invertebrate. Including Small Polyped Stonies (SPS) and Large Polyped Stonies (LPS). These corals require different lighting and water flow and are hard to keep together in a small aquarium like I had. I also kept some clams, and some fish among other things... so, below are the pictures of my tank. I will try and describe some of the stuff in them as they go along. Oh, and.... I dont own the tank anymore. When I moved from the ex, I couldnt take the tank and she wasnt going to try to take care of it. I had to sell it, and did so at pennies on the dollar. Total into the tank was probly.... 5-7 grand and I sold it for 750 bucks. Ouch....
Anyways, here you go...
This is a shot of the front of the tank. Its a 36 inch long tank, 24 inches front to back and I think it was... like 20 inches tall.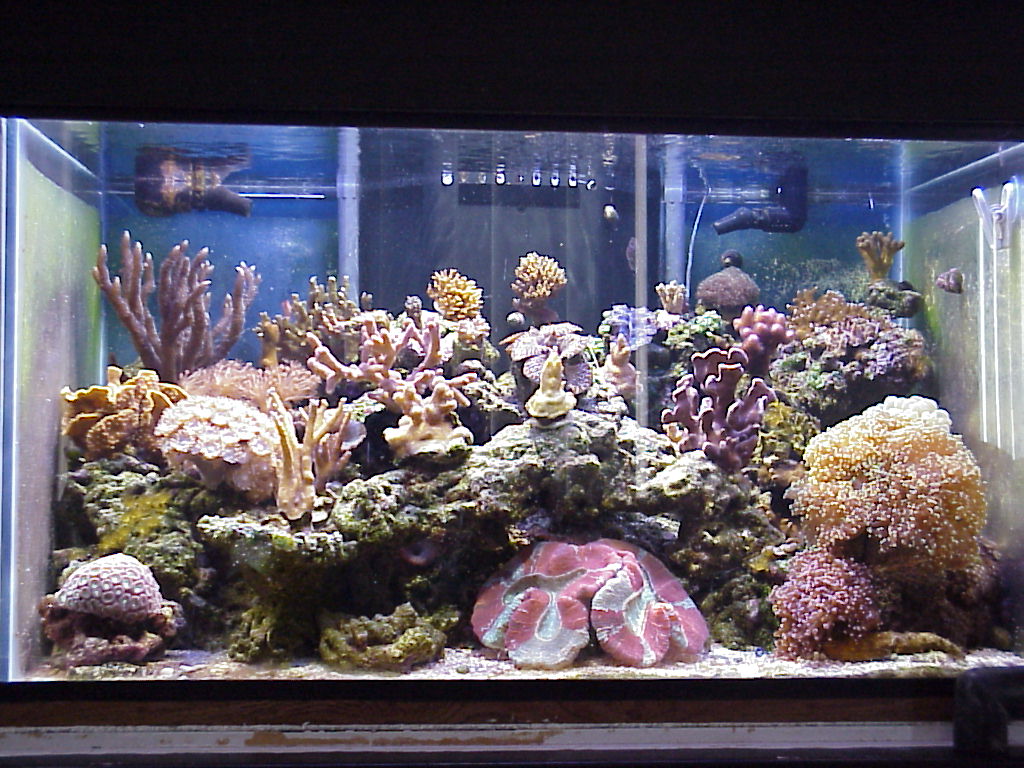 Here is a close up of the front of the tank.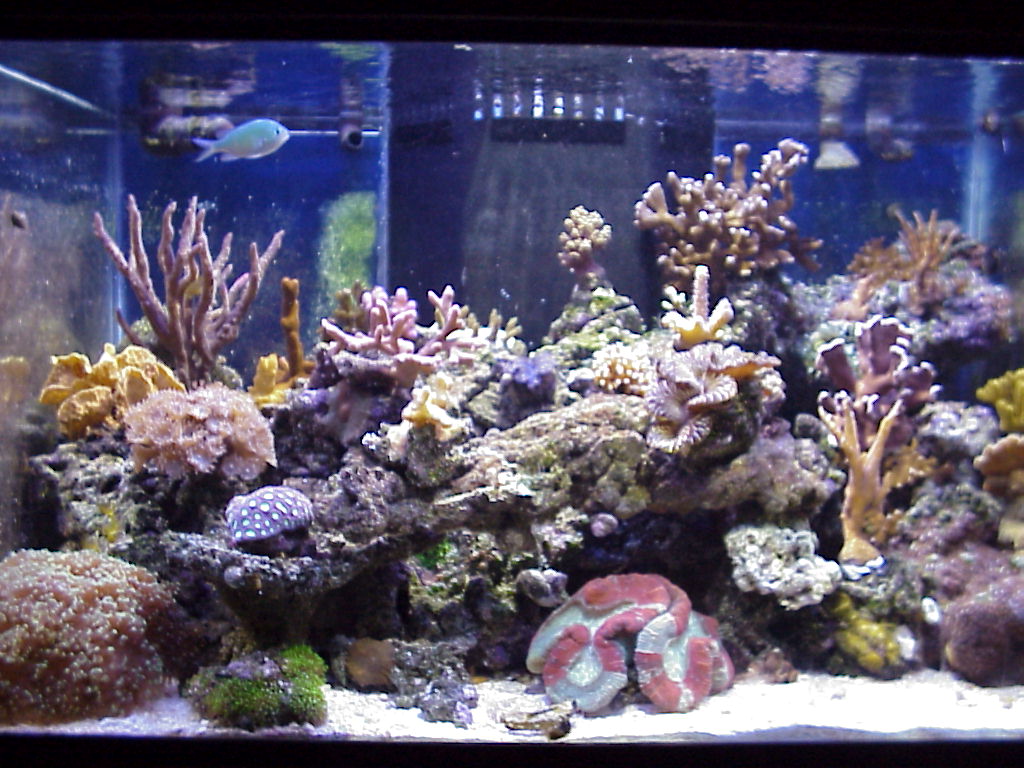 Heres a left side shot.
And a right side shot. NOTE: Alot of these pics are early into the development of the aquarium. If you look at the top, you can see a bunch of little coral frags sticking up out of some epoxy. That eventually grew into a huge piece of coral.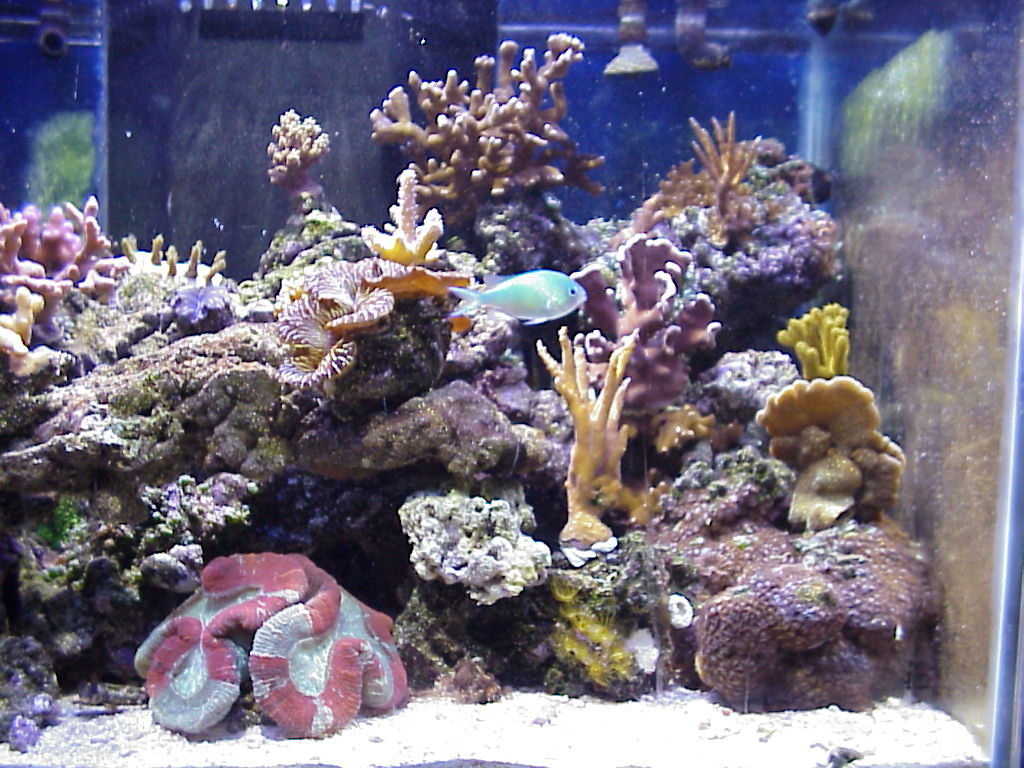 Here is another left side. Another note: You may notice that some corals are not in the same place in each photo. Thats because as time went on, I had to move some corals to different locations either because they would grow into each other or werent in the best spot in the tank at the time of the photo.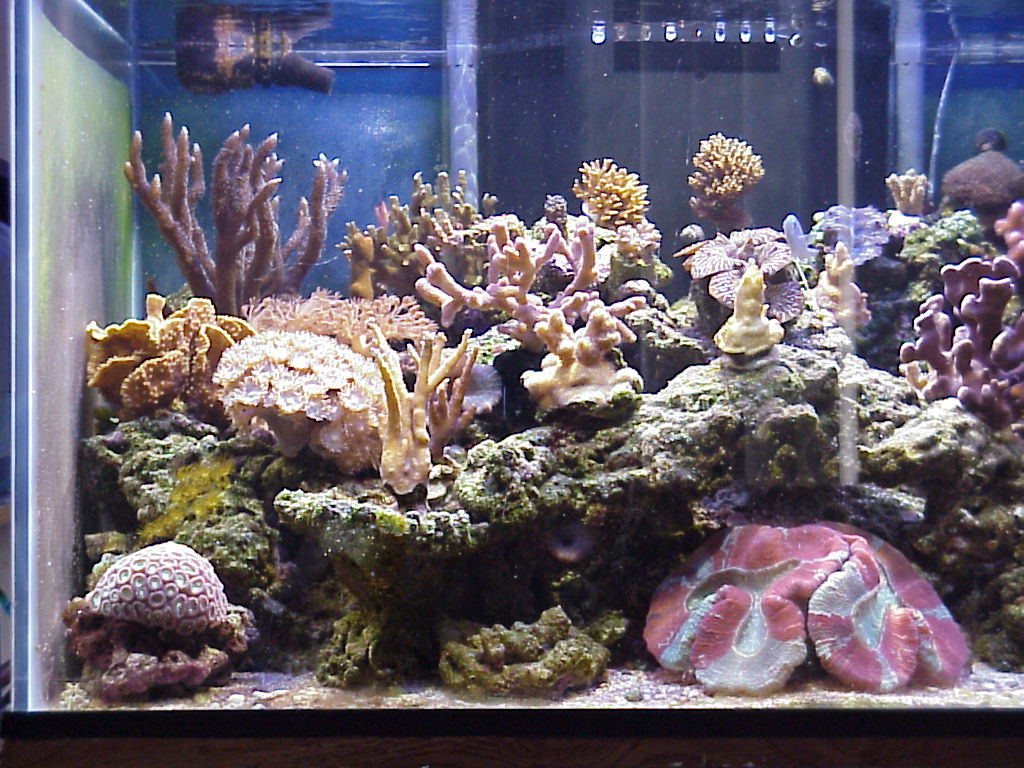 Another right side.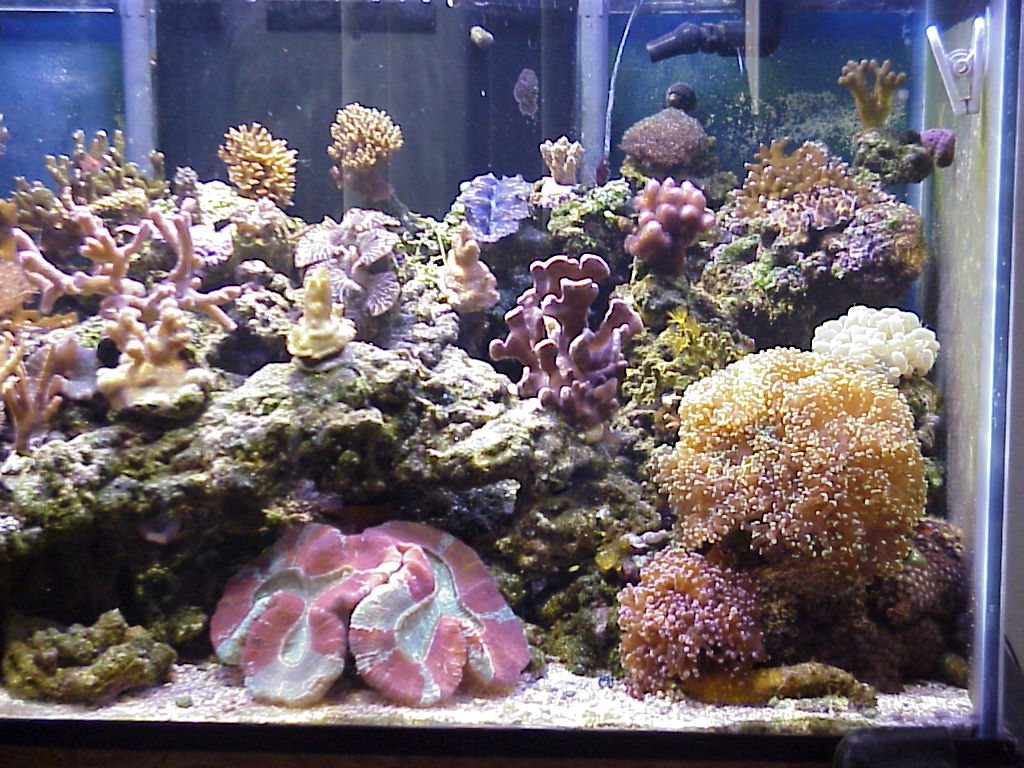 Here is the tank with a light called an actinic light. Its made to mimic the blue spectrum of light that is seen by corals in the ocean. This light came on in the morning before the metal halides and off at night after the metal halides. I then had some green/blue moon lights that came on to mimic the moon. It was cool.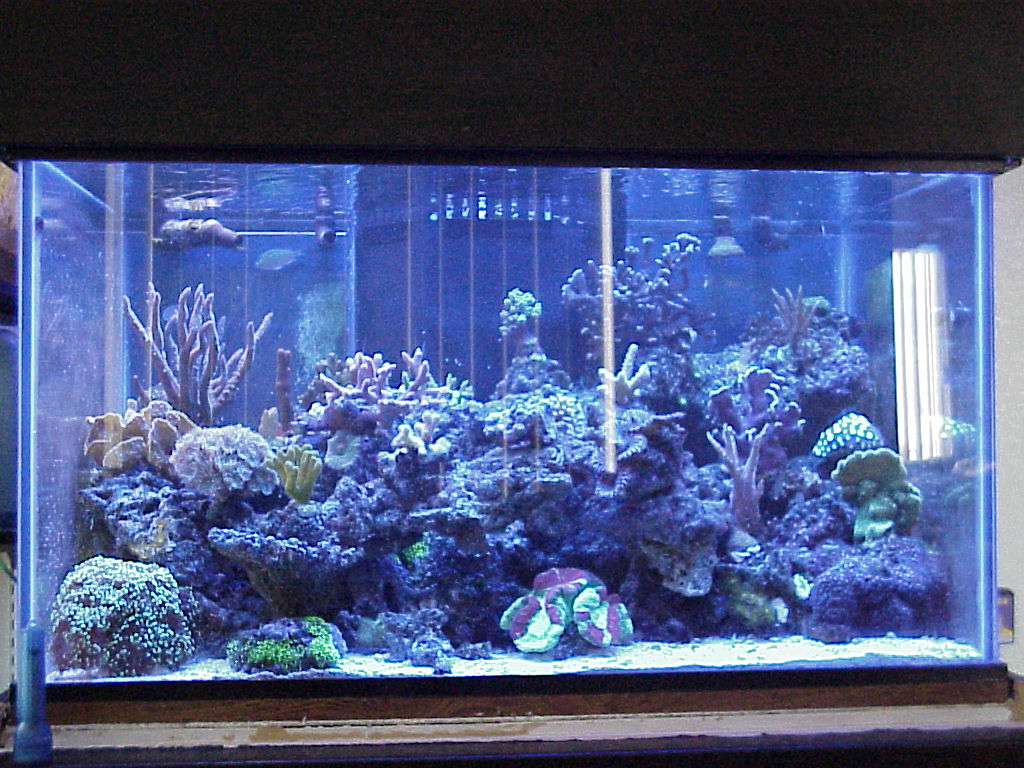 Here are some of the fish I had in there. Some I kept, some I had to catch and give away. Mostly because they would pick at the corals and that would lead to the corals death. This one is of a clown goby I had sitting on top of one of my first stony corals called an Acropora. He was sooo cool, but unfortunately, he loved to pick at the corals. I kept him for about month or so and then he had to go.....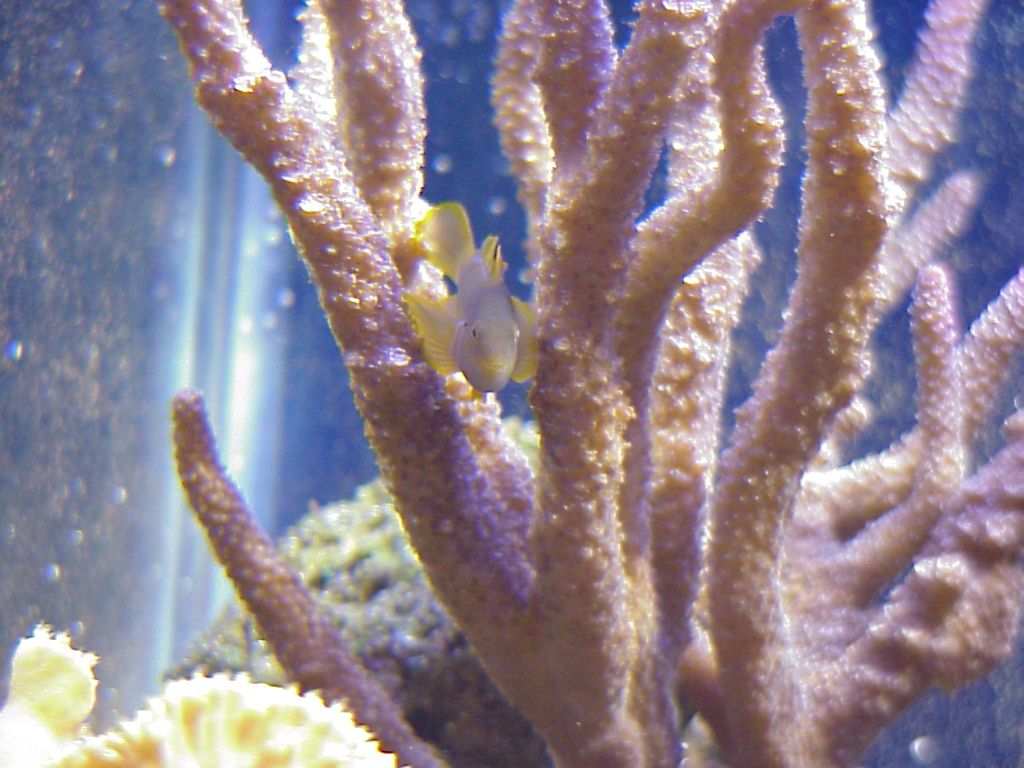 Another of the clown goby. This time he is sitting in front of a "moon coral".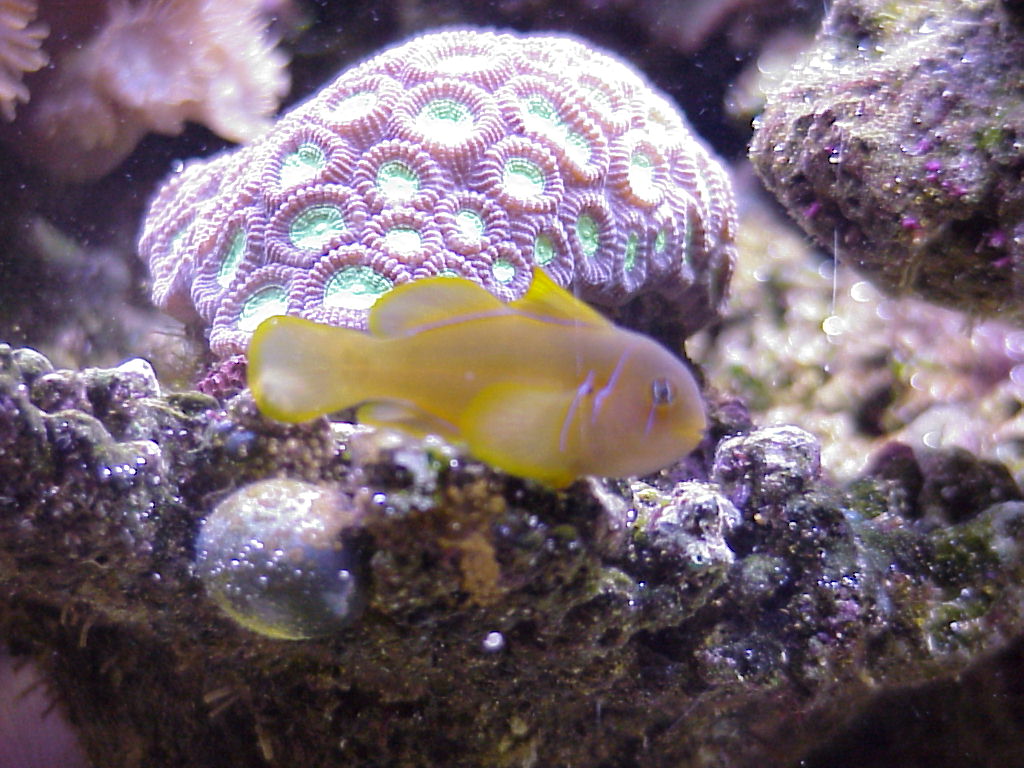 This one is of a Royal Gramma. Cool fish. Didnt take shit from no one. Not even scared of me, but he wasnt overly aggresive either.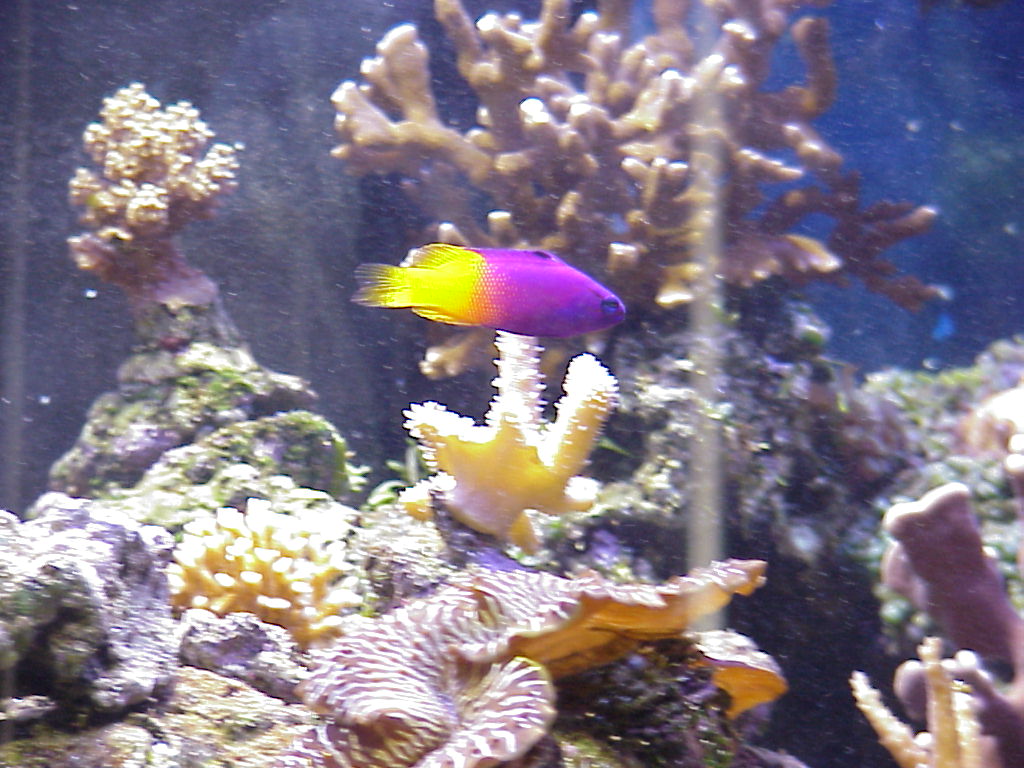 This one is of a sixline wrasse. He was a little prick. Picked on everyone, even fish 5 times his size. He eventually had to go.
Here is one of the Royal Gramma telling the sixline to F off. They had regular little turf wars.... til the sixline found a new home.
Here is one of a yellow tang. You see giant schools of these guys in some of the nature shows.... cool fish. He is over a blue ridge coral which although it was not very colorful, was one of my favorite corals. It was a tiny little eraser sized coral when I got it and it was about the size of my hand when I let it go. The blue ridge corals are "collected" a lot for tourists... next time you are at the beach and you see a dead coral skeleton in a store and it is blue, this is what those look like when they are alive.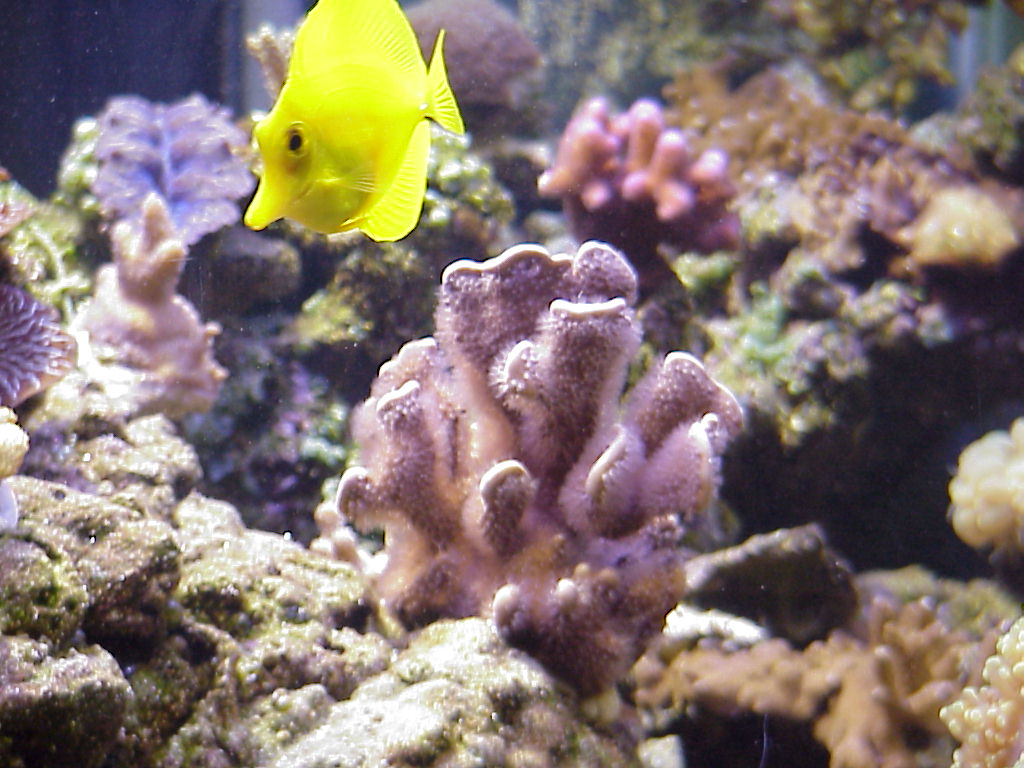 This one is of a funny little fish called a foxface. I dont name my fish, but I did name him. Flick was his name cuz he would swim around all day "flicking" his fins out at all the other fish so he would look big and tough. Really, he was harmless. Again, in front of the blue ridge. Also, if you look towards the back, you see a blue clam. Its a Tridacna Maxima. It was a really cool blue/purple/green. I never got a real good pic of that....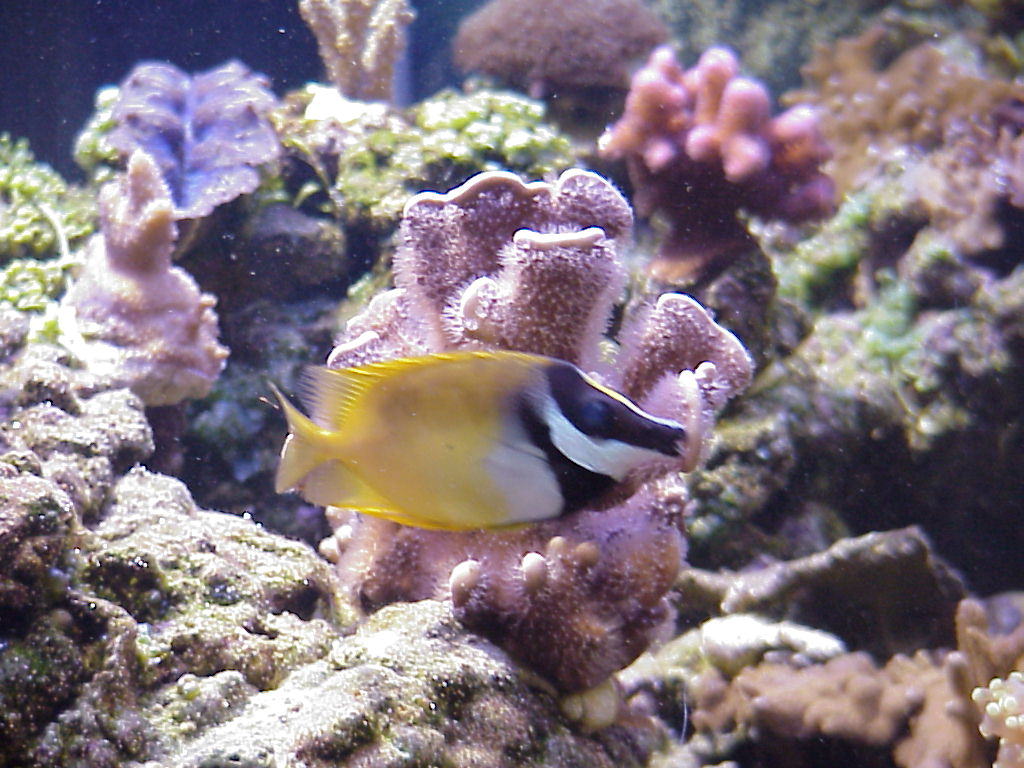 This is one of my favorite fish. A scooter blenny. Very hard to keep alive long term in an aquarium. They dont generally eat prepared foods and instead feed on live, nearly microscopic critters in your tank called copepods and amphripods. These are one type of fish (among many) that should not be sold in fish stores. 99% of them die in a few months of captivity because they starve. Not a problem for this guy. I had what is called a refugium which was a seperate tank that was set up with rocks and such. Water would pump from my main tank into the refugium and then oveflow back into the main tank. Is what this did was set up a predator free area for the "bugs" that the blenny liked to eat to reproduce in. The free swimming bugs would overflow into the main tank and so he had a constant source of food. Fat and happy. Here is is showing us how tough he is.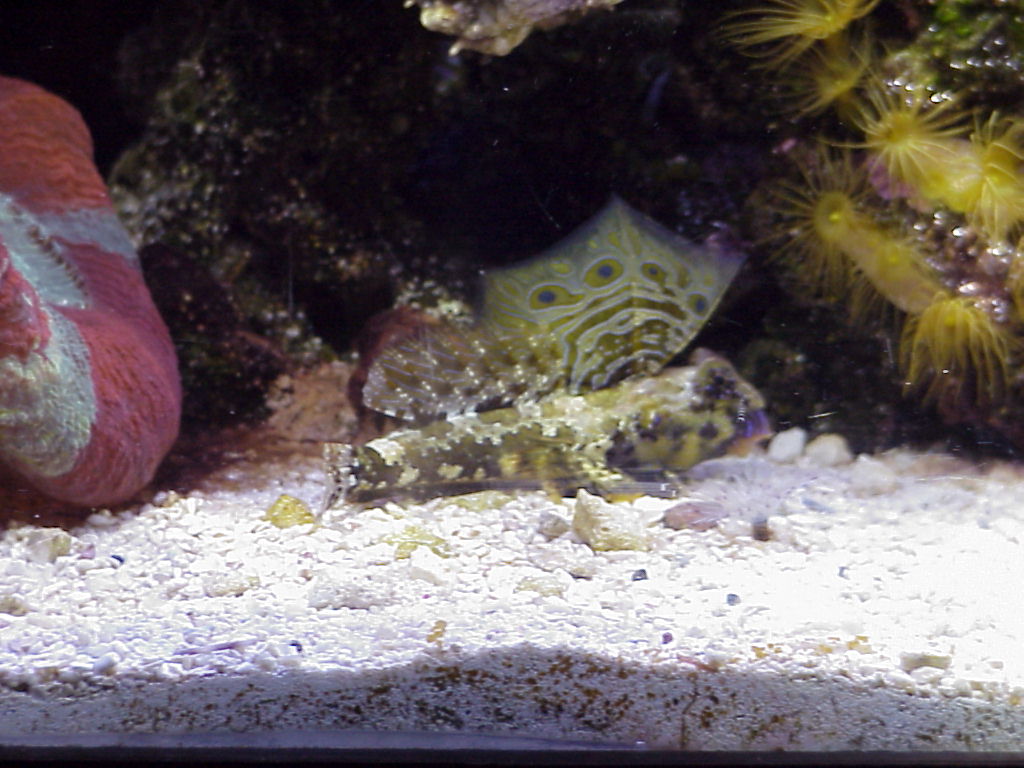 Here go some corals. This is an Acropora - Purple tipped. It is an SPS.
A red fuzzy Acropora (pissed off in this pic). SPS.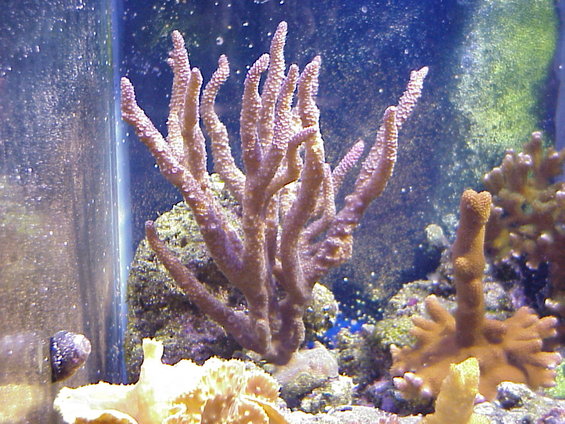 An orange Acropora - SPS. This is a tiny fragement that will grow into a large coral. Beside it is some pulsing Xenia. Cool stuff. If you take your hand and turn it palm up and relax your fingers, thats how this stuff looks. But, if you rythmiclly pull your fingers and thumbs towards the center of your palm, then relax, that is what this stuff does. It pulses. Very cool stuff. Sad part is, this stuff also dies off overnight. An entire colonly can just up an die. Some suspect low iodine levels in the aquarium but that has never been confirmed that I am aware of....
Oh, and to the right of that is a clear looking anemone. Its an aptasia. Those are nasty horrible little bastards that will sting and kill other corals. Very hard to erradicate the aquarium of those if they take hold. I got lucky and got this one out of there succesfully before it reproduced.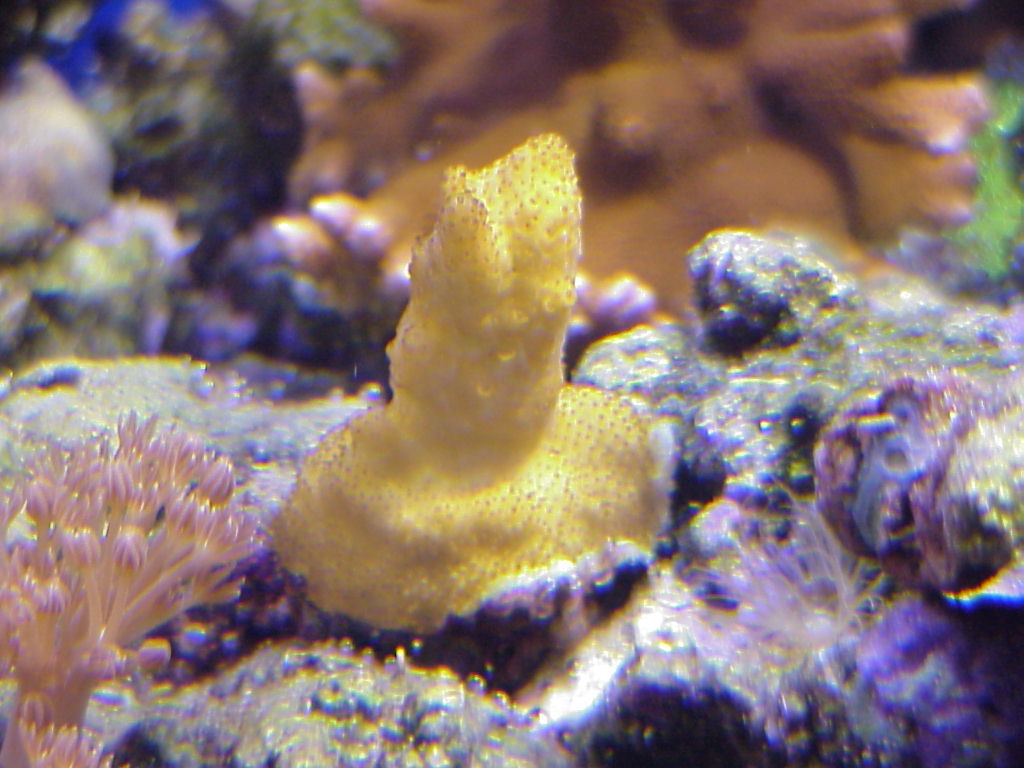 Here is one of the blue ridge again. This is what they look like when they are not all fuzzy.
Here is one of a bubble anemone that was about to die in the store. I brought it home hoping to save it. It is white because it has "bleached" itself out. Not good. These guys usually have a pretty rose or green type of color. Unfortunately, it did not make it as hard as I tried to save it.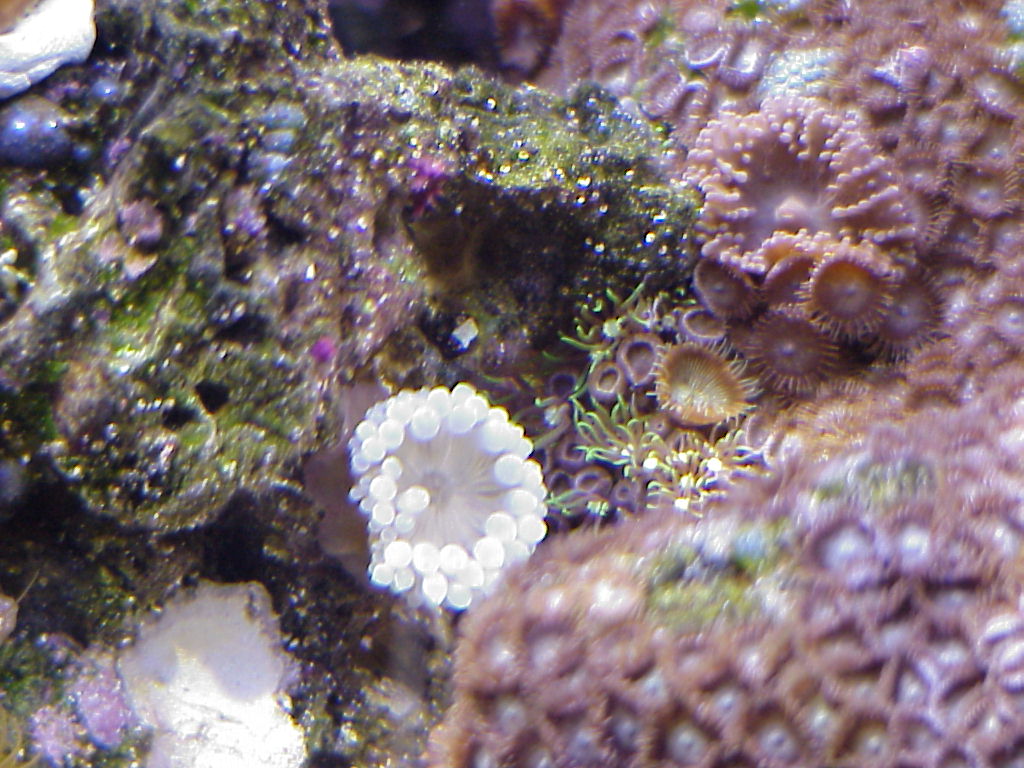 This is one of a Large Polyped Stony (LPS) called a frogspawn. Very very cool. This pic is when its on the left size of the tank. LPS corals eat. Seriously. They eat small pieces of fish, shrimp, scallop, clam, cats, dogs, small children. I fed all my LPS about 2-3 times a week. You can feel them sting/grab you when you touch them. It doesnt hurt but can irritate your skin. These and all other coral have the capabilities to sting you, food and eachother and often do. They will actually sting and kill eachother to compete for space on the reef. Very cool stuff.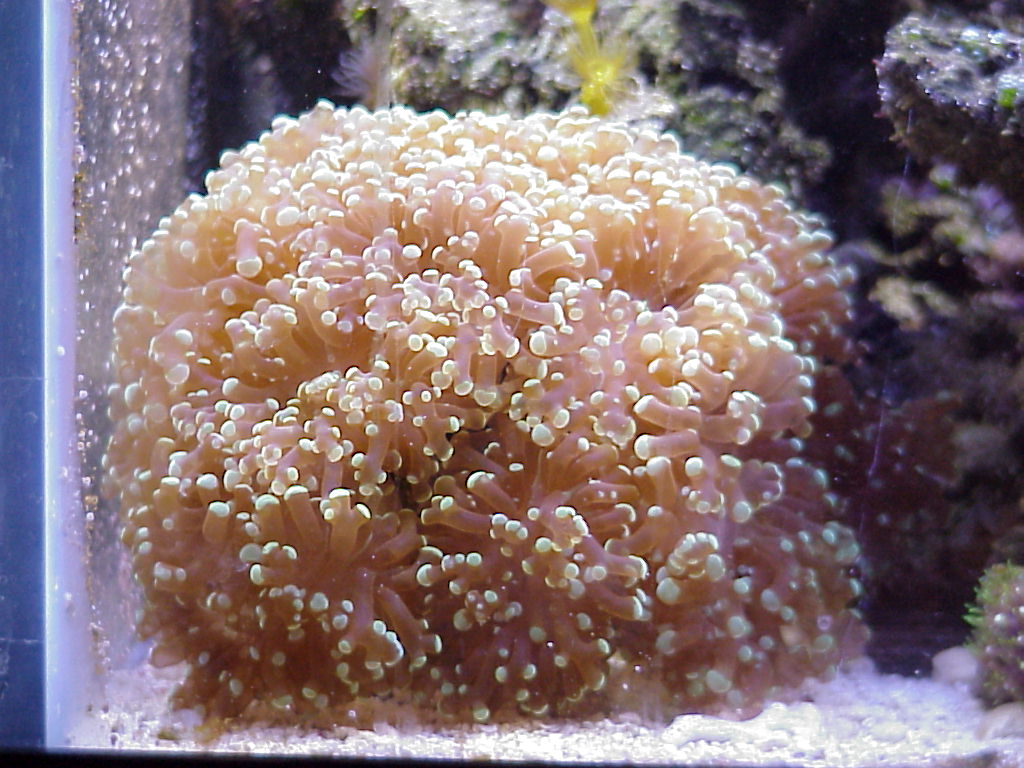 This is one of the same green frogspawn on the right hand side of the tank and I have mixed it with a purple frogspawn. Very cool pic. Interestingly enough, you can mix LPS corals of the same species together without them killing eachother... you can see that white coral in the background. Its a bubble coral. Another LPS. That thing could eat. Small whole fish. It got huge in my aquarium and I ended up giving it to a friend who had a bigger tank to take care of it.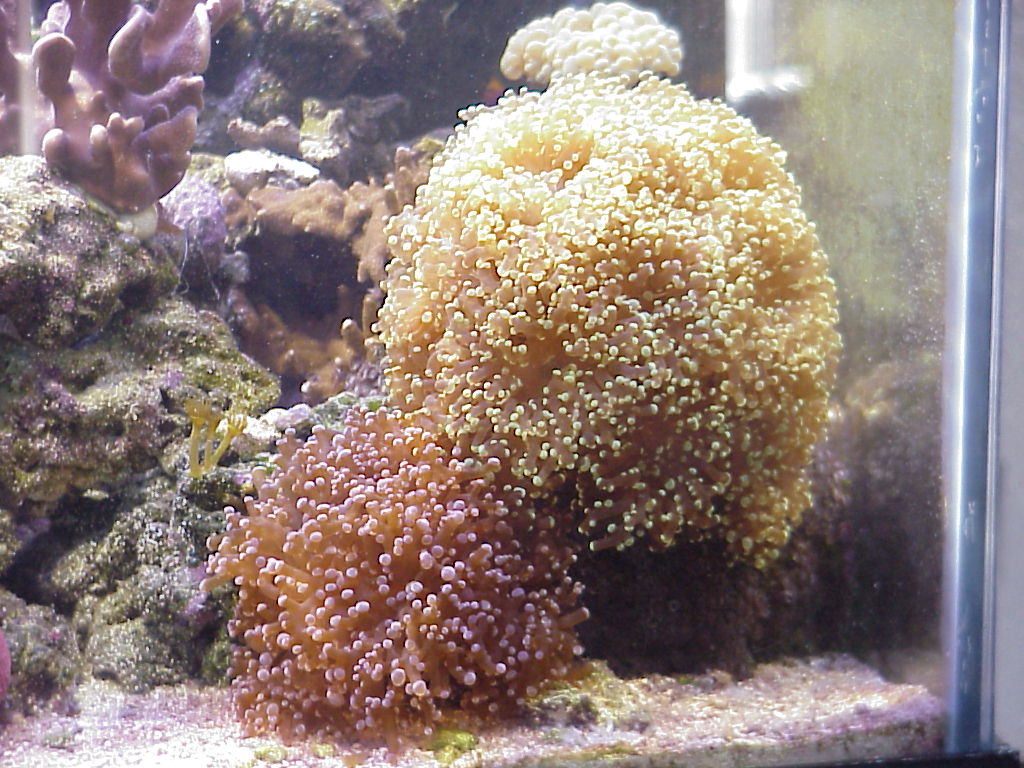 In the back you see that little brown fuzzy mound. That is actually a green coral but the pic didnt turn out good. Its a galaxia. Another LPS. That sucker would extend sweeper tenacles for about 6-8 inches around it and would kill any other corals it could touch. Very mean and aggresive coral.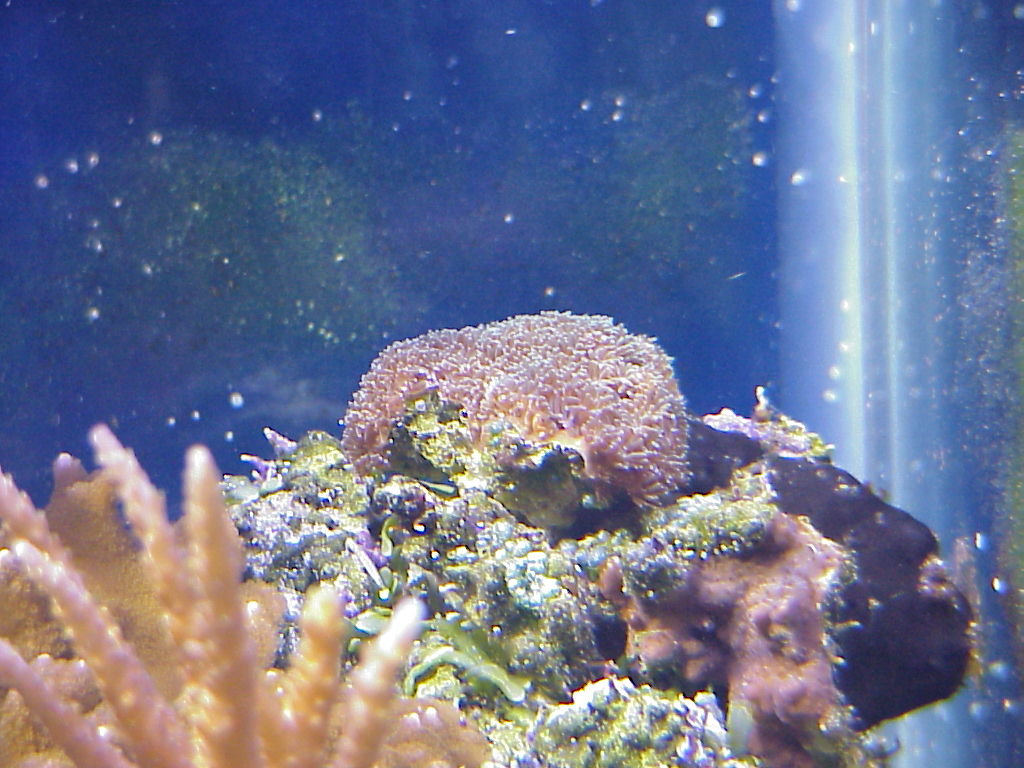 The following pics are of a variety of SPS corals called Montipora. Pics dont do them justice. They had purple, orange and pink colors to them. Very fast growing and required lots of caclium.
You can see the white tips on this one.... thats new growth.
Purple variety.
This is the moon coral from before.
Here it is at "sunset" with just the actinics on.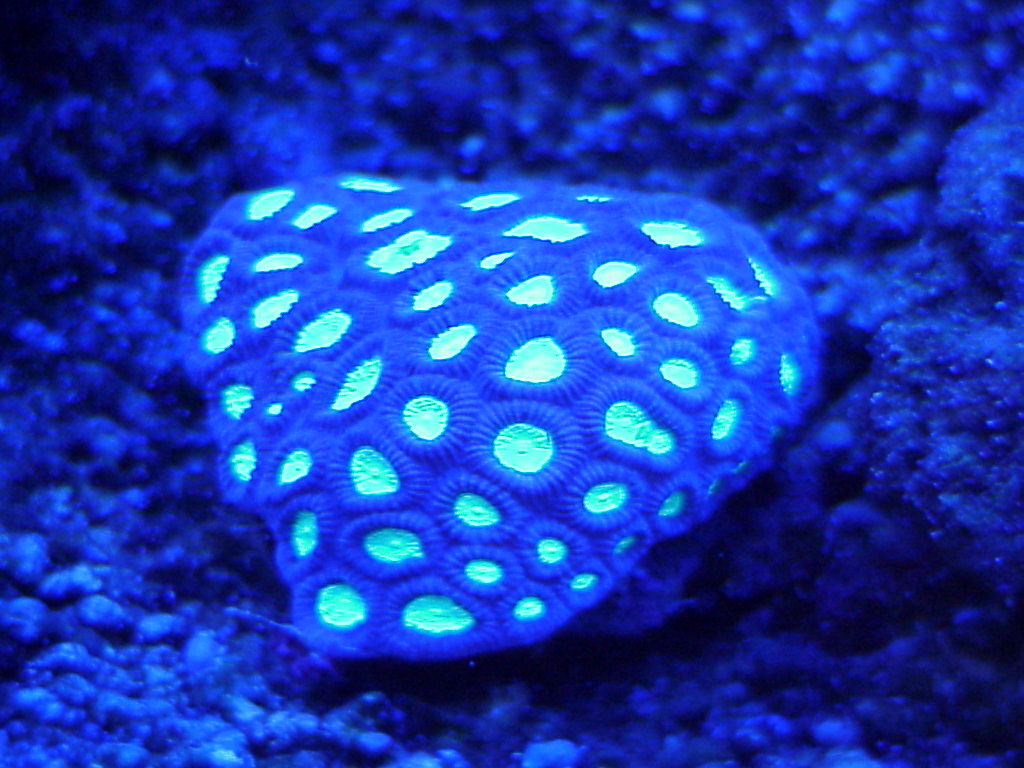 Here is an olive green acropora. You can see the shadow at the base of this coral. Thats bad. If it does not get the light it needs, that base dies and eventually, the entire coral can die as well. In the ocean, the light reflects from the waves (like the bottom of a swimming pool) and bounces all over, lighting the corals at all angles. That is very very difficult to do in an aqaurium. This coral did not make it.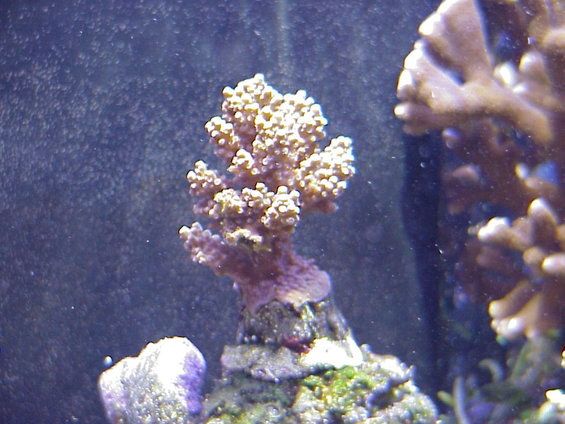 This is a pic of my all time favorite coral. This is commonly called an "open brain" coral. Its and LPS and LOVES to eat. If you could call a piece of coral a "pet", this was as close as it gets for me. Whenever something would come up missing in the house, I would tell the ex that the open brain probly snuck out at night and ate it... It was my first coral and was with me til I sold the tank (had this piece probly 5-6 years). I hope its still alive.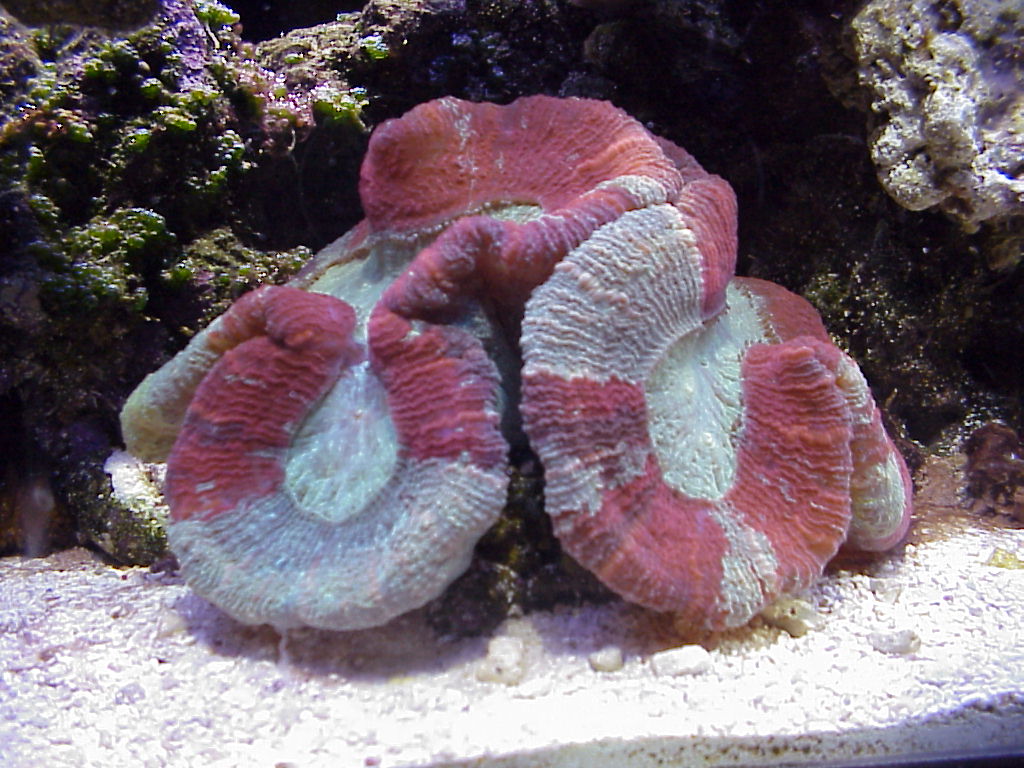 Here is an SPS called a green pavona. Cool little piece. Can be difficult to keep alive.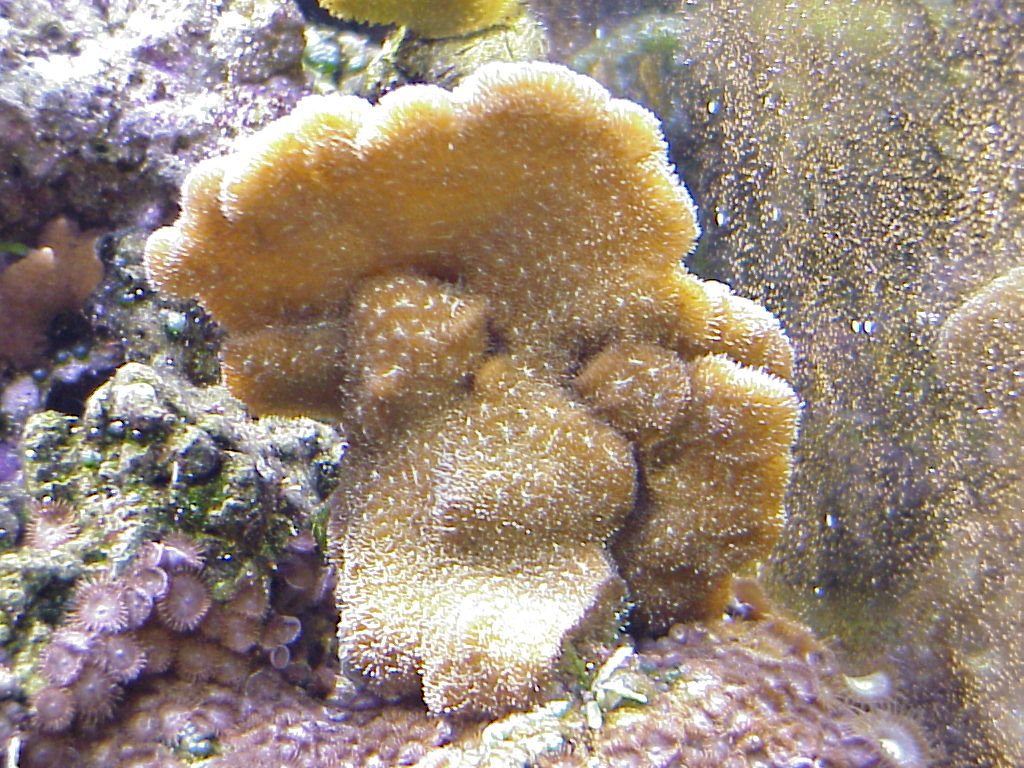 Here are a couple of Pocillaporas.... very cool corals. They grow thin and are fragile....
Purple.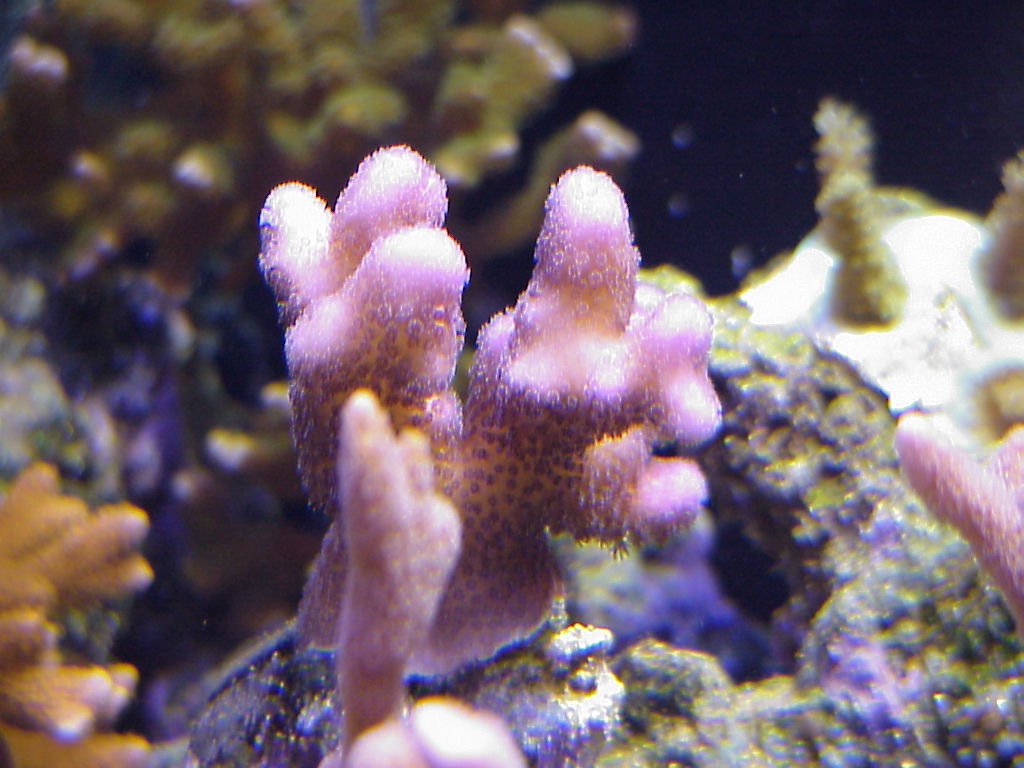 Golden brown.
Here is a yellow stylophora. Another cool but sometimes hard to keep coral.
Here are a couple species of tubinaria. The Orange one was a tiny piece when I got it (actually, all of the SPS were fragements).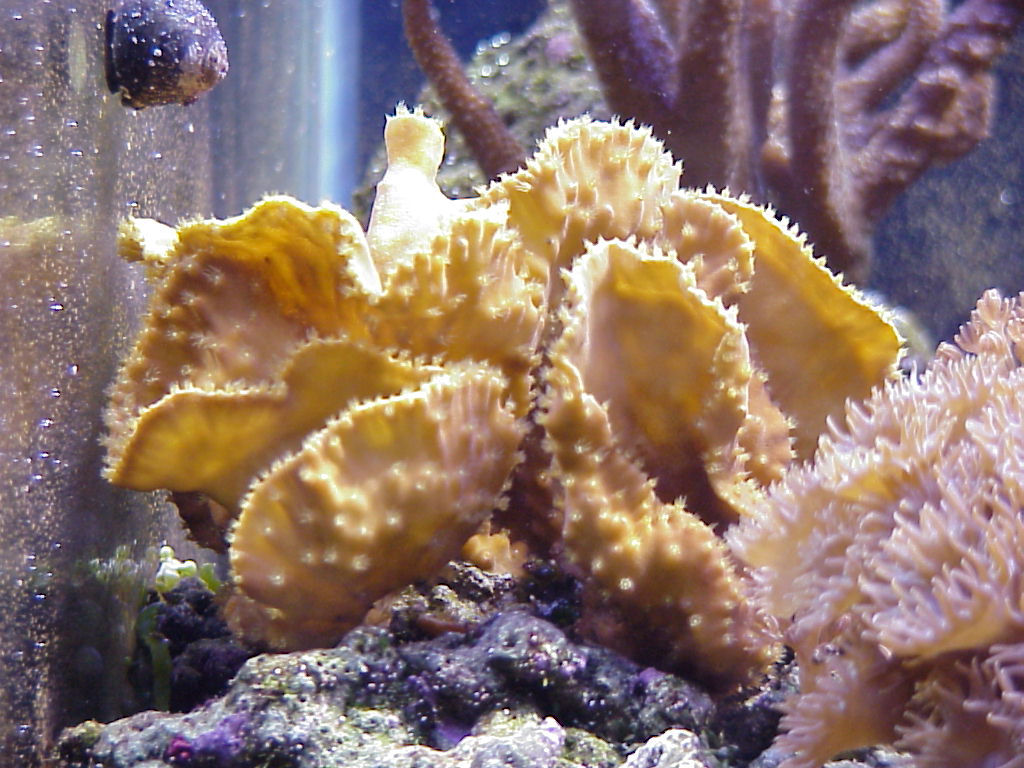 Green. Note the difference in appearance of the green one... it would eat like an LPS but if I recall correctly, was classified as an SPS.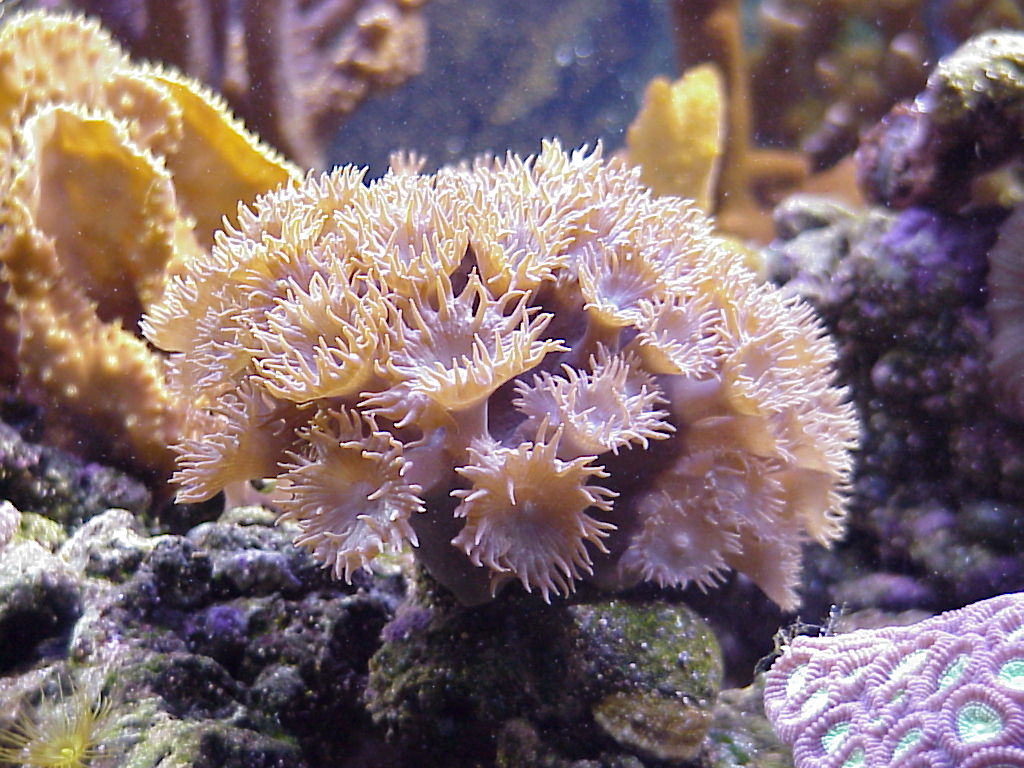 Here is one of my faves... one of my Tridacna Maximas. Awesome looking in person. Some species of these clams grow big enough for a person to fit in their shell.... note the pocillapora to the left. That is the same one that was just a fragement a few pics ago. Above the clam is the only "leather" coral I kept in the aquarium. These corals grow rapidly and emit toxins which can kill other species of corals.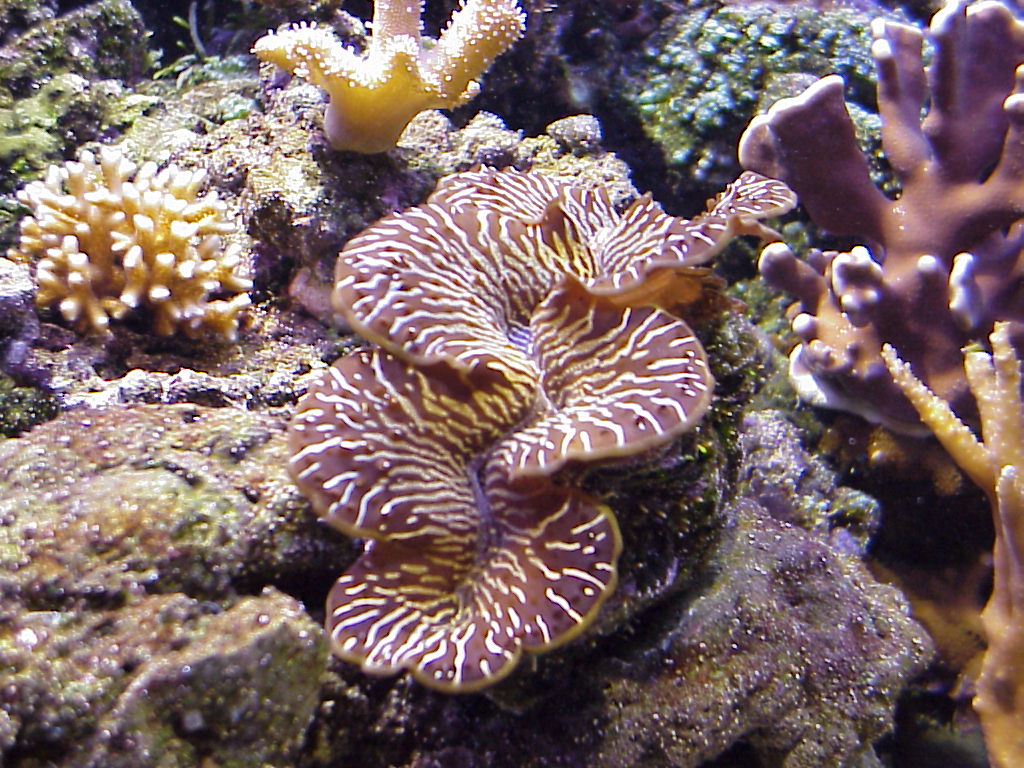 Thats about it. Here is one cool random shot from the top....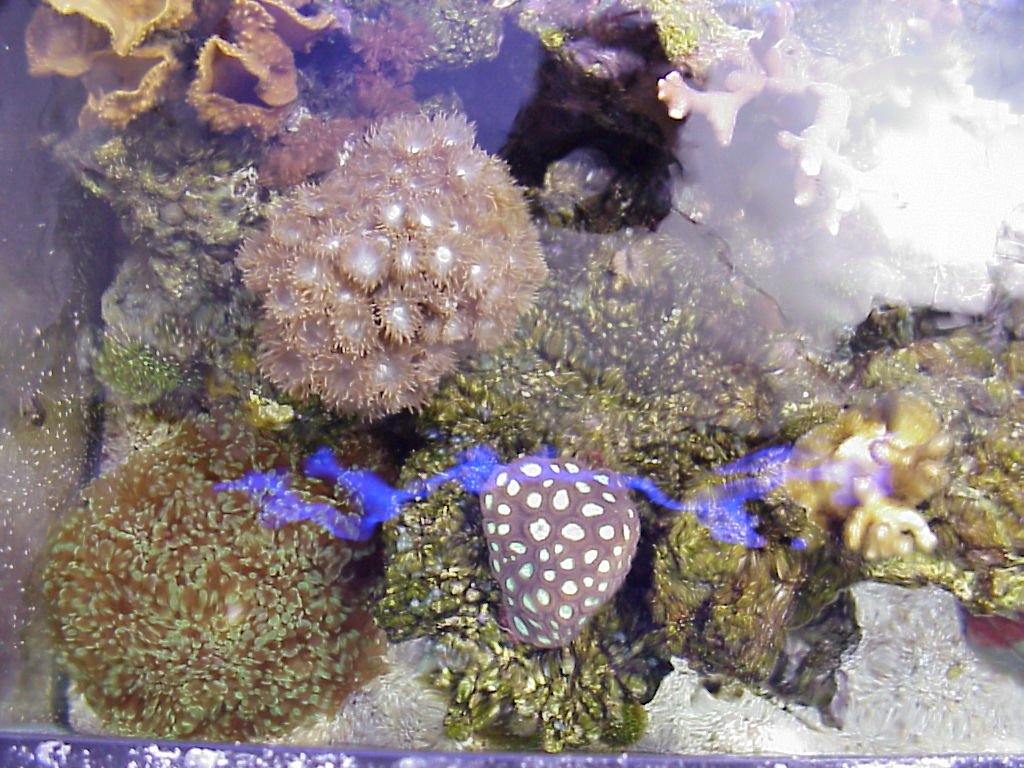 Thats about it. Hope you all enjoyed the show!! If anyone has any questions, feel free to post or PM me, or throw up shots of your own aquarium. I have been out of the reef hobby now for about 5 years and if I had an extra 10k laying around and didnt own a Bronco, I would probly get back into it.... I have forgotten some stuff but it was funny while posting this, a lot of it was coming back to me....
Couple of quick notes.... all of the SPS corals in this tank were from fragements of larger mother colonies, except a few like the olive green acro and stylophora. Those I bought because I felt I had about the best chance of keeping them alive. Sometimes it works, sometimes it doesnt. Thats what drove me to starting up some private research on lighting and flow... but divorce and lack of $$ ended all that.... maybe someday huh???