Discussion Starter
•
#1
•
I have been looking at getting a cheap project truck for a few weeks. I have a part time job that I have to drive on a hilly gravel road to get to. My current DD is a lowered 85 Mustang GT vert. I would like to retire the Mustang from DD duty and restore it. I perused Craig's list for a while to see if I could find something cheap with a bad motor. I have a few V-8s sitting around. Then while looking at some of the Broncos that were around. I remembered that my Bro-in law had a Eddie Bauer just sitting over at my cousins farm. Back in 2003 he had put a new motor in it and left it for his girlfriend at the time (not my sister) to drive when he went to basic training. The girlfriend didn't bother to break it in properly and proceeded to drive the snot out of it killing the new motor.:smilie_slap He then put another new engine in it but didn't get it running before deploying to the Persian Gulf with the Navy. After his return he joined the Air National guard , started dating my sister, got married, and then volunteered to go to Iraq. So he had never gotten around to doing anything with the Bronco. When I asked him about it he said go ahead and take it. I was willing to pay a few hundred for it, but he just let me have it.:rockon So I owe him a big THANK YOU. Adam, you're a great American and a great Bro.
I have probably rambled on long enough for now so here are some pics.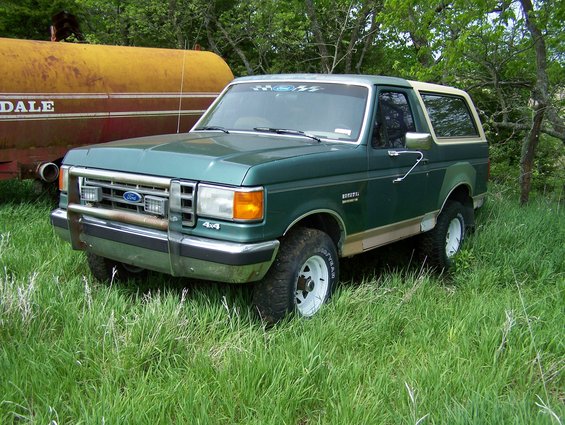 It has had some poor rust repair done on the left side.
normal tailgate rust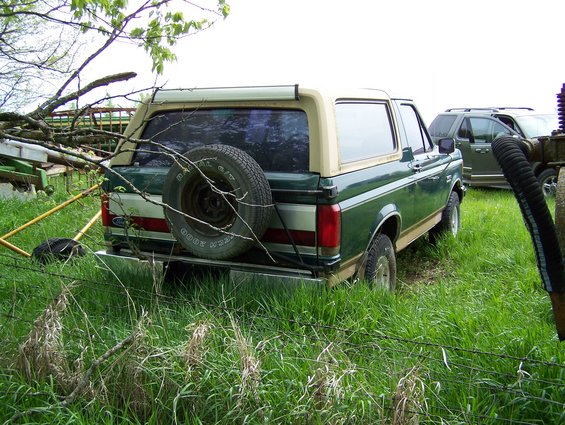 mouse house