Discussion Starter
•
#1
•
Ok....I signed up in 12/08. I had a 95 white bronco that looked good, however, mechanically....it was a mess! I sold it in 1/09 and went back to jeeps. 25 jeeps later.....I have recently stumbled on a 1990 bronco and figured I would check back in. This one is more rough on the eyes, but runs and works awesome!!! I couldnt be happier right now....well when its lifted I will be! Here is a pic of new toy.
here is a pic of the old one.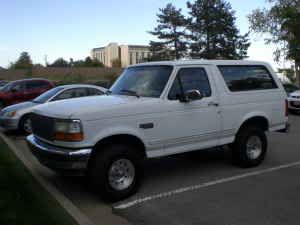 the new one has the manual 4wd shifter (which makes me allwarm and fuzzy) and has the 351 which is sooooo much nicer than the 302. small lift and 35's are the first step. Then maybe paint. well anyhoo....just wanted to check back in and say "whats up!?!?!?"