The first time I had really used a torch, I had no idea what I was doing. I had been show a couple time before, but I always forgot what I was supposed to do. Luckily, it was just sheetmetal going to the scrap yard, but I'm sure I wasted alot of my time, and alot of gas.
Torches are great. They are relatively cheap (have you priced a plasma that can cut 1" metal, or even 1/2"?). They are super portable (220v extension cords can only be so long). They are great multitaskers (cant heat up a bolt with your hypertherm, can ya?). They have excellent depth control (Try cutting only the top layer of 2 pieces of sheetmal sandwhiched together with a plasma). They can weld and braze. (I won't even bother with a comparison.) Plus the are just down right badass, especially since fewer and fewer people take the time to learn how to use them properly. Anyone with opposable thumbs can make a purty cut with a plasma; a nice straight torch cut makes people ooooh and ahhhh.
I don't hate plasmas, in fact, they are awesome too. You just need both. But with so many tools you need to have to do even light fabrication work, the versatility of the torch makes it a must have for almost any shop. You'll want a plasma too, but if you only have money for one, this is the way to go.
First some safety crap. I do not condone being an idiot and blowing yourself up, or catching you shit on fire. Any results from you being an idiot and ruining your hairdo, eyebrows, and most of your exposed skin, are not my fault. You, afterall, were the idiot.
But what are some idiotic things I should avoid doing? Good question. These include:
Leaving the your oxygen and acetylene tanks open while unattended.
Operating a cutting torch without a fire extinguisher present.
Operating a cutting torch near open containers of gasoline, grease soaked rags, or other flammable material.
Neglecting proper care of your equipment, i.e.: torch head, torch body, hoses, regulators and tanks.
Operating a cutting torch without the proper safety equipment, i.e.: loose fitting full coverage clothing, work boots, thick mig gloves or mechanics gloves, shade 5 safety goggles and face shield, etc.
Using WD-40 or other oil based products to clean the threads on your oxygen tank.
Knocking the valves off the tops of the tanks with hammer.
Using a acetylene bottle that isn't at room temperature.
Cracking the valve on a acetylene bottle to clean out the threads.
Having your acetylene regulator set to above 15 psi.
Operating your cutting torch in the nude.
Picking up pieces of metal that you just cut with a 6000 degree farenheit flame. Idiot.
Two things in that above list I would like to touch on in more detail. Before hooking up your oxygen bottle, you want to make sure the valve is clean. If you use WD-40 or another product with any type of oil in it, you might die. Oxygen is explosive in the prescense of oil. Instead, WITH THE BOTTLE STRAPPED TO THE CART, crack the valve open to release a short burst of gas. Don't put your face in front of the valve. This should blow out any dust, debris, spiders, or whatever that might be in the valve. Again, make sure the bottle is STRAPPED TO YOUR CART. There is alot of pressure in these bottles, and you're a wimp, so if you accidentally open it too much, and create a missile, I don't think you have much chance of holding that sucker down.
Second, ONLY DO THIS WITH OXYGEN. Acetylene is very unstable above 15 psi. Wipe out the valve with a very clean dry rag. And remember, pressures change with temperature. So if you go get a new bottle from your supplier, and its 15 degrees out. And then you bring the bottle into your nice warm shop and start using it right away, the pressure will change. You set it to 5 psi when its cold, after it warms up and expands, it might be 20 psi, and then I hope you have life insurance, and your family didn't like you too much.
Ok, so lets get started. You got your bottles, regulators, hoses, torch handle and body? No? Well, drag em right next to your computer. (Kidding...just print this out if have the memory of a goldfish. Inks not that expensive.)
First, you have to check for leaks. Checking for leaks is a two stage process. You first need to check the high pressure side (from the tank to the regulator) and then the low pressure, or line pressure side (from the regulator to the torches). Basically, you will turn on the tank, let it register on the regulators, then turn the bottle off. Watch the needles, youll want to pay attention to the gauge on the right, the tank volume (high pressure) gauge. If the needle slowly returns to zero, you have a leak. Try tightening the connection between the regulator and tank. If not, break out the soapy water solution, spray it on, and watch for bubbles. The line pressure side is just like the high pressure side. But this time, after cracking the tank open, set your pressure to approx what you would normally run, then close the tank again. Make sure all the valves on the torch handle are closed. If the needle drops to zero, you have a leak either in the low pressure half of the regulator, your hoses, or your torch handle. Leaks arent that big of a deal on say, a MIG welder. Mostly, youll just waste gas, and might get some porosity in your welds if too little gets to the gun nozzle. But a leak can be very serious with torches. There have been cases where a leak forms where the hoses attach to the torch body. Then someone wearing a long sleeve shirt has their shirt slowly fill up with acetylene. Then once they light up on a smoke break, ka-boom. Oxygen likes to "imbed" itself into cloth. The molecules seem to cling inside the fabric, creating a oxygen-rich enviroment that can stick around for hours. Usually our clothes in the shop are greasy, and as we learned, oxygen plus oil equals explosion. Ok, again, don't be an idiot. Moving on.
Here is a picture for you illiterates, The South, I'm looking in your direction :goodfinge .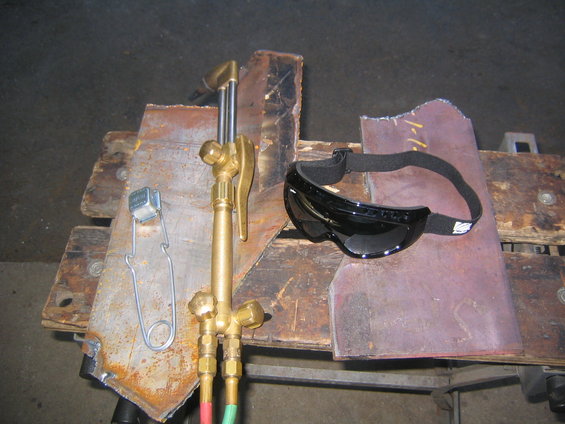 What we have here (from left to right) is some 1/4" plate, a striker, my Harris torch, my ArcOne torch goggles, and some 3/8" plate.
Lets take a look at the torch. The red hose is of course acetylene, and the knob just above it controls the flow of acetylene. The green hose is your oxygen, and the knob just above it controls the maxium amount of oxygen you will unleash when you hit the trigger. The upper valve will control the oxygen "at rest", or when you are just heating things, or before you start your cut.
Lets turn on our tanks, and set our pressure. The pressure will change with the valves closed on the torch, so you want to set the pressure with the valves open, so that when you actually are using the torch, the pressure is correct. Only open your tanks 1/2 a turn at most. If something does go wrong, with the valves open only a little, its quicker to turn them off that way. Set your acetylene to 5-7 psi, and your oxygen to 20-25 psi.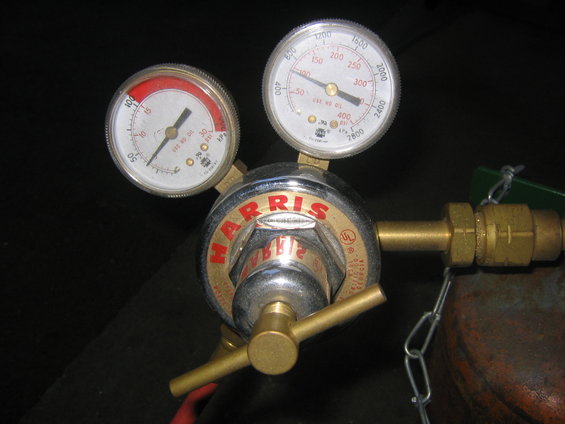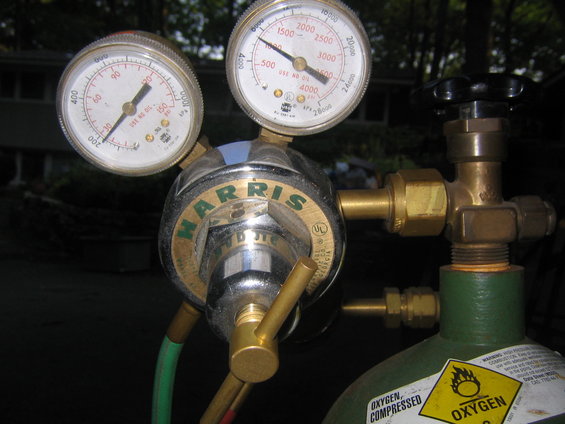 Remember, open your tank a half turn, open your acetylene valve on your torch handle, then adjust your regulator. Close your acetylene valve on the torch. Open the oxygen bottle one half turn, then open oxygen both valves on the torch handle, and depress the trigger, then adjust your regulator. Close the valves on the torch and we are ready to start.
You are going to want to open your lower oxygen valve almost all the way. Make sure your upper valve remains closed. Now, slowly open the acetylene valve on your torch handle. Sometimes you have to open it a bit, before it "cracks" open, but back it off until the flowing very slightly. You dont want to burn all that arm hair thats youve been growing the past 30 years right off. Use a striker to light the acetylene. Please, do not use a Bic lighter. They are plastic, and filled with fuel, and like to explode.
This is a pure acetylene flame: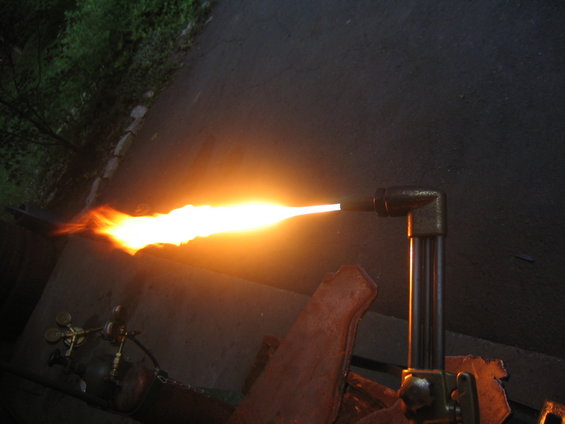 This is about the amount you will want for your cutting mixture. Increase or decrease you acetylene after you have lit it to get it similiar to this. You want to find a happy medium between very sooty, and a large roaring near white flame. One way of achieving this, is to crank the acetylene , so the flame "jumps" off of the tip of the torch. Then, back off the valve slowly until the flame returns to the tip. I find this usually gets you pretty close, and if it needs any adjustment, would be to add a little more acetylene.
Next, you are going to slowly add oxygen. You will notice 3 "feathers", or cones of differently colored flames, one inside of the other. The outer (largest) feather will be a darker blue, the middle inner feather will be a lighter blue, and third (smallest) will actually be a set of small pointy cones about 1/4" to 3/8" long. You want to keep adding oxygen until the middle feather disapears. Periodically hit the trigger to make sure that the middle feather is absent from both the "at rest" and "cutting" settings of your torch. After the middle feather disapears, you will still need to add more oxygen. You will know you have it right when the the outer feather shrinks to about 4-5" long when you hit the trigger, and the cones in the small feather are pretty sharp.
In this picture, you can see the outer feather and inner feather. The small cones at the tip of the torch are there, you just cant see them thru my camera. I might try more pictures later that are shot thru a shade 5 lens.
In this picture, you can see how big my large feather is when the torch is properly set up, and with the trigger depressed.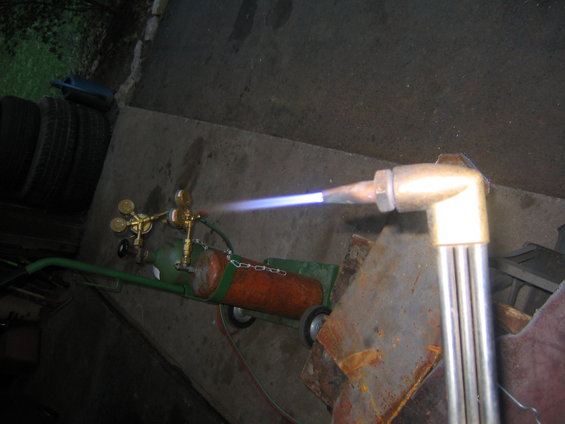 Here is a video of me setting up my torch (12.7mb):
Let's start cutting some shit up. Make sure you have the right size tip. My kit originally came with a tip meant to cut metal around 1" thick. I now use a OO size tip, perfect for 1/8" to 3/8", and does a decent job on even thicker stuff.
Some people "wash" the flame over the path they plan on cutting, preheating the metal where you are about to travel. I think this is a waste of time and gas. It usually just adds unnecessary heat and warpage to your metal, and causes the metal to fuse back together after you pass thru with your cut.
Hold your torch at a 90 degree angle to the metal, about 1/4" from the surface. Brace yourself so you are nice and steady, but can still move your hand along so your cut does not get interrupted. Start at the edge of the metal, and hold the torch there "at rest" (not on the trigger). Wait until you see the metal below turn bright yellow. It will then quickly turn molten, I usually like to start my cut right when it starts to melt. If you wait too long, and too much metal becomes molten, your kerf (the width of the material removed in the cut) will be much wider at the start. Once the metal is yellow and has just started to soften (ready to melt), depress the trigger on your torch and start moving the torch along the cut line.
Travel speed is very hard to teach over the internet, and sometimes hard to teach in person. It will be different for each set of torches, each pressure setting, each flame setup, each thickness of metal etc. You just have to practice. Steel aint cheap these days, anytime you can find some scrap metal, scoop it up, and practice by cutting it up.
One way to judge travel speed, is to watch the sparks falling below the metal. They should be going down, slightly angled back towards the direction the cut started in.
Here is a short video of me cutting some 1/4" plate (18.6mb):

And again with some 3/8" plate (9.4mb):

A couple of tips. When you are getting set to cut, before you light your torch, trace over your cut line. Make sure your arms or hoses dont get caught up on something. Nothing is more frustrating that making a beautiful long cut, only to snag your shirt on something 2" from the end, screwing it up. Sharpies, even silver ones, dont show up well on metal, and practically disappear under a shade 5 lens. Soapstone shows well in the sunlight or thru a cutting shield. Get some tip cleaners and keep your torch clean. Remember, dont abuse your torches. You are working with a bomb, respect it.