Discussion Starter
·
#1
·
Hello again, I've read a lot about this reroute, but I haven't actually seen a write-up on it.
If there is one, then oh well, now there's 2. There's TSB from Ford about the original way
the PCV valve is routed. Basically the PCV dumps the oil\moisture\etc into the last 2 cylinders,
number 4 and number 8, but mainly number 8 and has caused numerous engine failures.
The TSB has us pull the upper plenum, drill a hole on the passenger side of the plenum, tap it,
and run the PCV valve to the new hole. That was entirely too much work for me, so I
decided to reroute it with the brake booster.
For those that want a link to the TSB, here ya go:
http://www.fordfuelinjection.com/files/Reroute_PVC.pdf
Tools:
Pliers (maybe? if you can't get the hose off with your hands)
Beer
Parts:
About 2.5-3 feet of hose for the PCV (I used 11/32")
To get started, pull your PCV valve, including the hose thats run to the intake Plenum, you can
see the PCV here (you do NOT need to pull your engine to do this).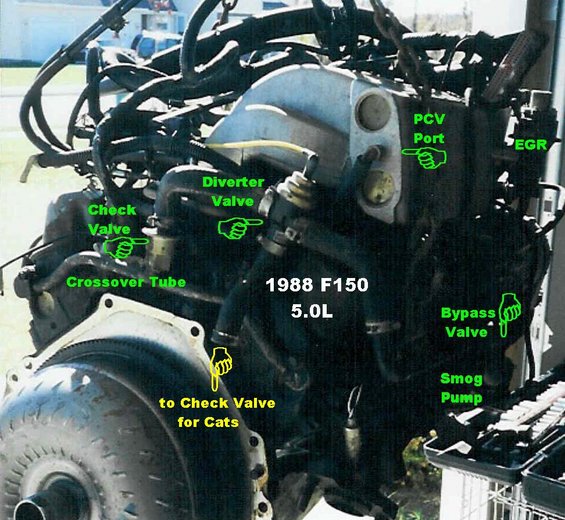 Save your PCV (or replace it if you want), and throw the stock PCV hose at the dog.
First, let's watch some Discovery Channel, it's mating season for the North American PCV valve:
It appears to have found a mate:
After a very inappropriate mating ritual, you have:

Almost done! head back over to your truck and unplug your brake booster hose from the vacuum tree.
Here's a pic of how it is run normally: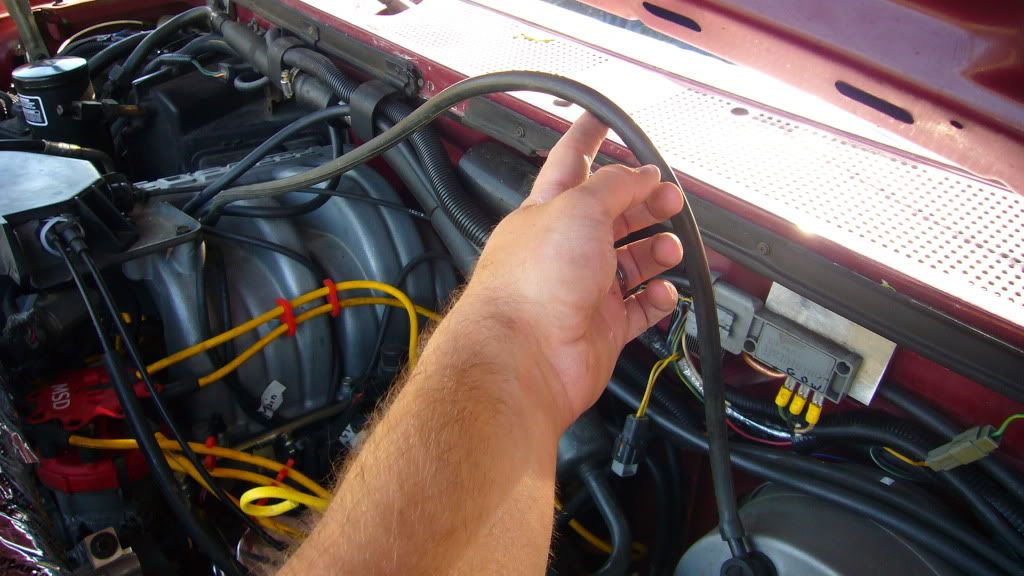 Here it is unplugged: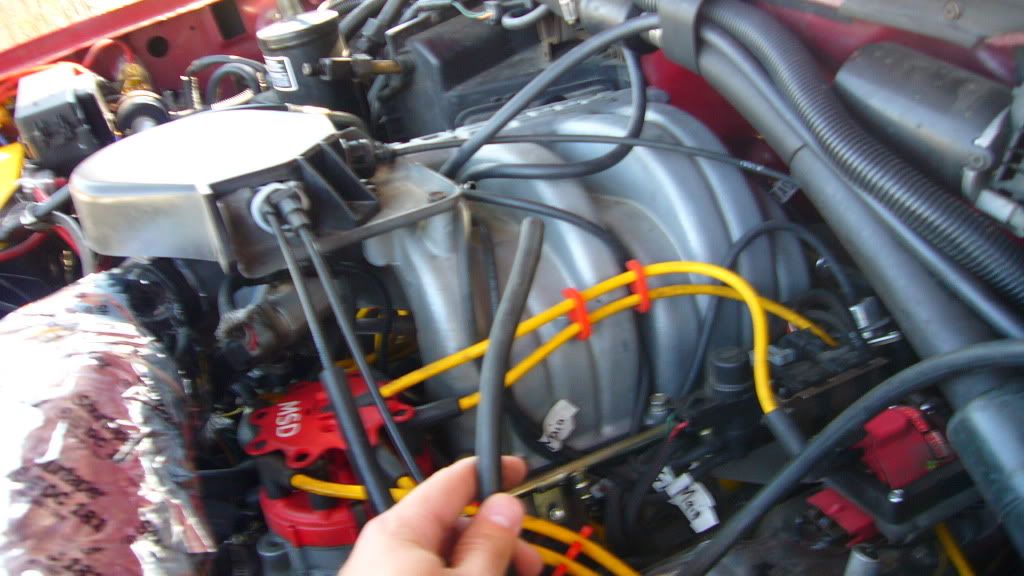 Run the brake booster hose to the back of the intake plenum (where the PCV hose used
to be plugged into) and plug it in.
Take your new PCV valve\hose combination and plug the end without the PCV valve attached
into the Vacuum tree.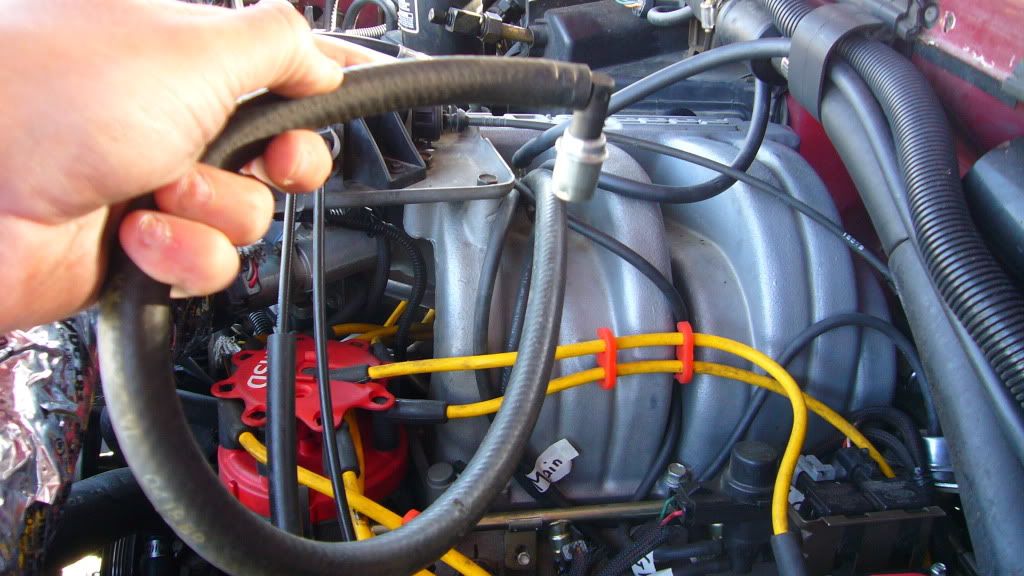 Run the hose around the back of the intake plenum and put the PCV valve back into
your valve cover.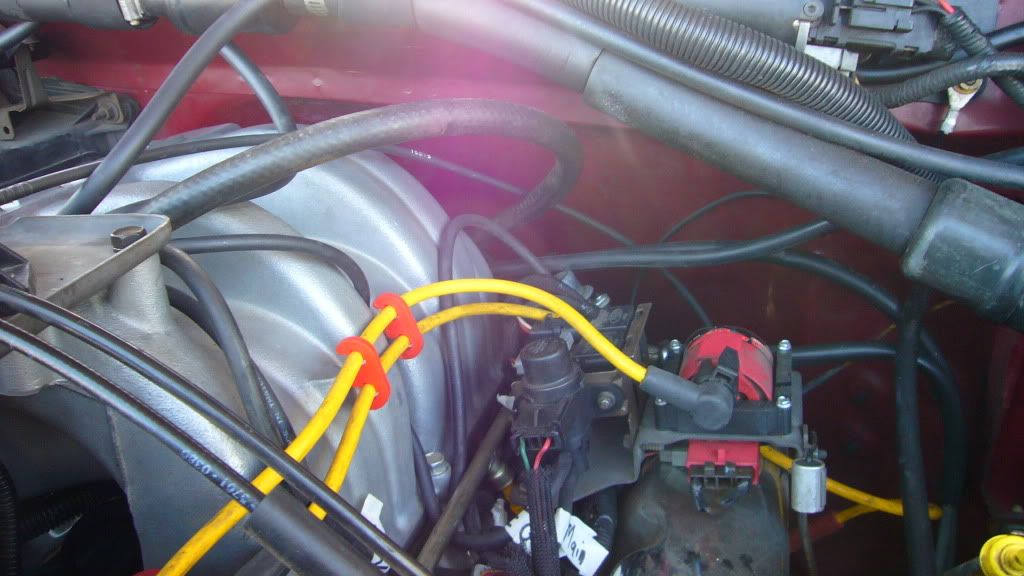 Run into the valve cover, don't mind the RTV, my gromet didn't fit quite right.
Drink beer. Done!