1996 Bronco 5.0/E4OD/BW1356
Discussion Starter
•
#1
•
Well my pickup started life out as a farmer's daily driver, had a camper on it at once point, a college student bought it for a short time and then it ended up in my hands. The truck was flawless, was cared for really well and had every option you could get. The previous owner installed new BJ's, brakes, FRPP shorty headers and true dual exhaust, a K&N FIPK and a bed insert, the truck was a dream for a first vehicle in high school.
Here is an earlier shot of the truck, I had installed a 2" lift and then slid the truck into a telephone wire, hence the missing valance and repaired hood. I replaced the bald tires and cleaned it up. It sure did shine back then-
Then came the 4 wheeling-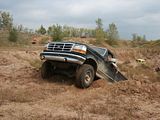 Right off the get go I installed 4.56 gears in the 8.8, rebuilt the trak-loc and in searching for gears for the front, I came across a D50 with 4.56's in it. A little more research and I purchased a power lok for the D50 and installed everything the next weekend.
The pickup then got 34" LTB's and I started breaking axle shafts EVERY time I went one, I seemed to get two runs out of the front joints when I had the BFG's on it.
At this point I was still driving the truck to events and wheeling it like a rental and it had made it home on it's own every single trip. The last trips were no exception-
At this point I had bought my 74' Bronco and been swapping 1 tons and suspension under it, so I let my brother wheel my pickup... :twak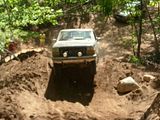 Needless to say he had no idea he caught 3 feet of air, "it was so smooth". Looking back I had it made, nothing like wheeling with the stereo thumping away, A/C blowing ice cold, windows down and a screaming EFI motor that never overheated...
The 3rd obstacle he took the truck on he used too much throttle and exploded my chromoly outers - that was then end of that trip...
At that point I had a fully built trailer queen and an old rig. What to do with a locked and geared pickup truck... I ended up buying a small 7' plow to put on the pickup as I've got a large driveway to clear - after all of that abuse I had given the truck I only ever had to replace a water pump, fuel pump and a fan clutch. I just replaced the front brakes last week :toothless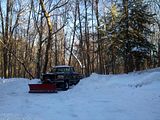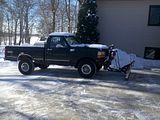 Beating on a truck non stop takes it's toll - I killed two transmissions, at least 8 sets of front axle shafts, one lockout, two leaf springs and countless body panels; I think I'm on my 3rd front clip. On to the repairs -