except for trans ams with chickens on the hood, i've never been a big pontiac fan. too much plastic, mostly show and no real go. but today i saw an ad for the 2008 pontiac G8 GT and i couldn't quite believe what i was reading.
6.0L aluminum block borrowed from the corvette, developing
362hp and 385 lb.-ft of torque
. :shocked it is rear wheel drive and scoots from 0-60 in 5.4 seconds, plus you can shut off its stability control system for some fun in the twisties.
it's based on GM's new zeta platform, too, which is what the new camaro will ride on when it comes out next year.
it's got a suspension that steals a page out of bmw's 5 series, with a macpherson strut front and rear 4 link, with progressive rate coils all around, and according to reviews on edmunds, it handles the slalom slightly faster than the 535i. not bad.
right now it comes with a 6 speed auto, but a manual will be out later on, i'm sure they'll borrow that from the vette as well.
the kicker is it stickers for under 30 grand, and even with all the option boxes checked, it came in under 33K. i think that is a bargain.
and it is actually not bad looking either, kind of looks audi/bmw like to me, what do you think?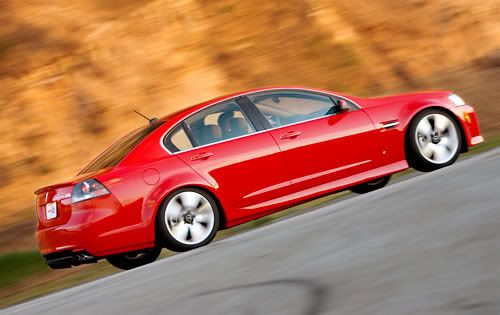 it actually has a decent interior too. not perfect, but not like the el cheapo gm interiors of days gone by.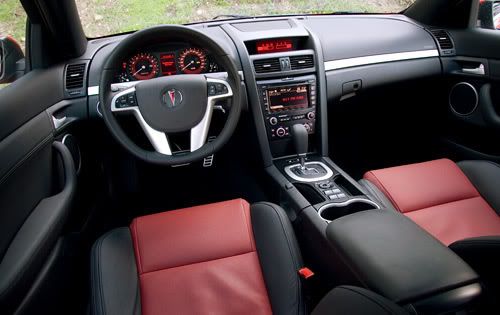 here is a review, which compares it to the new dodge charger, found it a good read.
http://www.edmunds.com/apps/vdpcontainers/do/vdp/articleId=124883/pageNumber=1
i used to think the vette was a good deal, i had C5 a few years ago, and even though they are still a good bang for the buck, they've slowly crept up in price. i think this is perhaps one of the better performance deals out there right now. love to take one for a test drive.