I recently had the opportunity to stop by
Red-Head Steering Gears
in Seattle and meet with owner Harvey Foster. I found Harvey to be a very friendly person that was extremely knowledgeable and experienced with steering gears of all types. He was surprisingly more than willing to spend time chatting and sharing his knowledge.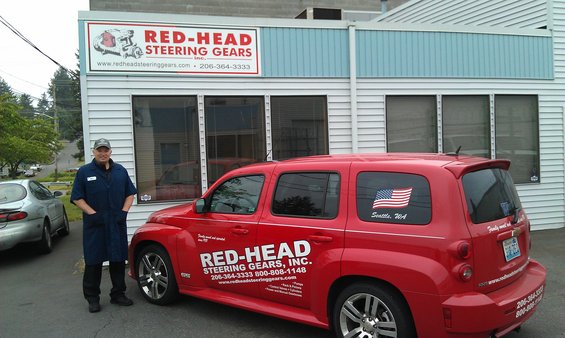 Red-Head Steering Gears
has been a family owned business for over 30 years. It was originally founded in 1981 by Seattle area automotive entrepreneur Warren Foster, who was Harvey's Uncle. The business was later purchased by Tom Foster and eventually by Harvey Foster, who was a full time employee. I observed a well run professional operation with his wife managing the front office and his son working in a well organized shop and warehouse with several other employees. Harvey splits his time taking many calls for technical advice and overseeing research & development and quality control in the shop.
After purchasing the business, Harvey set forward to develop the best custom steering boxes available. With his experience in building and testing almost 50,000 steering gears in the past 26 years, Harvey currently builds boxes with proprietary upgrades that set them far and above factory OEM and mass rebuilt steering gears.
Red-Head Steering Gears
maintains a stock of almost all domestic steering gears from the early 1960s to the present. In the Ford Truck line-up, they maintain most boxes for older F-100 manuals to modern Ford and Saginaw power units. And they ship to all 50 states and nine foreign countries.
After a decline in business in the early 2000's due to an onset of Rack & Pinion, a renewed interest in older steering boxes has once again provided an onset of rapid growth. The interest in quality steering gears for the 4x4 market, especially seen in classic Broncos and Trucks, has helped propel the company to the top of the industry.
Harvey spent the time to discuss and demonstrate his product quality. Probably the most unique and important thing they do is custom fit every single worm and piston assembly with new precision fit steel balls. On a work bench, he disassembled a newly rebuild Ford Steering Gear and re-installed recirculating ball bearings of OEM size. After reassembly, Harvey had me physically torque on the worm gear output shaft in order to feel the OEM lash, or play. He then replaced the balls with his custom proprietary precision bearings and reassembled the gear box. Once again I torqued on the output shaft to find a significantly tighter tolerance that was extremely smooth and non-binding. It was very clear to see how this increases a smoother and tighter steering wheel feel by substantially reducing the transmission of steering shaft lash.
Harvey stated that these precision bearings are custom manufactured to his exacting proprietary tolerances at great expense. This is in addition to every sector shaft being checked to be straight and true, using only the highest quality seals and polishing sealing surfaces to a higher condition than new. The detailed attention that he pays to exacting tolerances provide much more gear box longevity, dependability and a better feel transmitted to the steering wheel. Harvey readily admits that the steering gear is only one component to the entire steering system, but is critical especially in aging trucks and Broncos.
Speaking of aging Broncos, I then asked about proper steering gear adjustment screw settings. He stated that a good steering gear should not have to be adjusted, but if one was compelled to do so it should never be adjusted more than 1/4 turn at a time.
Red-Head
never adjusts by a set amount, but always by feel. Harvey placed a new Ford Steering Gear on his work bench and attached a lever to the worm gear output shaft. He had me move the lever back and forth while he operated the adjustment screw. When properly adjusted, the shaft moved very smoothly. As the adjustment increased, I could feel an increasing intermittent binding or sensation of grating on the outer limits. Harvey then had me once again torque on the worm gear output shaft to feel for lash and it was obviously much looser. Clearly an over-adjustment would cause damage from undo internal friction and over-tightening would actually cause a much looser centered steering wheel. Mmmm... Lesson learned - don't play with the adjustment screw.
Red-Head
will rebuild your steering gear or sell you one with a reasonable core charge. Their customer service is fantastic and you will never find a more liberal warranty than
Red-Head
's standard 12 months with unlimited mileage. Harvey is extremely easy to work with and he states that if a unit has a verified problem, and not been in an accident or in some other way abused, he has been known to replace or discount another unit well beyond this time period.
Finally, I asked where the trademark "
Red-Head
" came from. The founder, Warren, wanted to be able to easily identify his handiwork by simply opening the engine hood. Most of their standard housings are black with a distinguishable red top cover - thus
Red-Head
. This continues to ensure a readily identifiable high standard of quality for both themselves and for their customers. Custom rebuilds can be had with original paint, powder coating, chrome or brushed aluminum top covers or any color scheme you would like.
In summary, the
Red-Head Steering Gear
is the steering box in my Bronco. One would be hard pressed to find a better engineered rebuilt steering gear and warranty than these. The custom fit and engineering is why it is a bit more expensive than a simple "spray and pray" rebuild having only new paint and seals. And I am sure that one could not find a more experienced, knowledgeable and customer friendly person as Harvey Foster.
To find out more, visit
Red-Head Steering Gears
at
www.redheadsteeringgears.com
. Or give Harvey a call at
206-364-3333
or
1-800-808-1148
.
:thumbup
Harvey Foster - Red-Head Steering Gears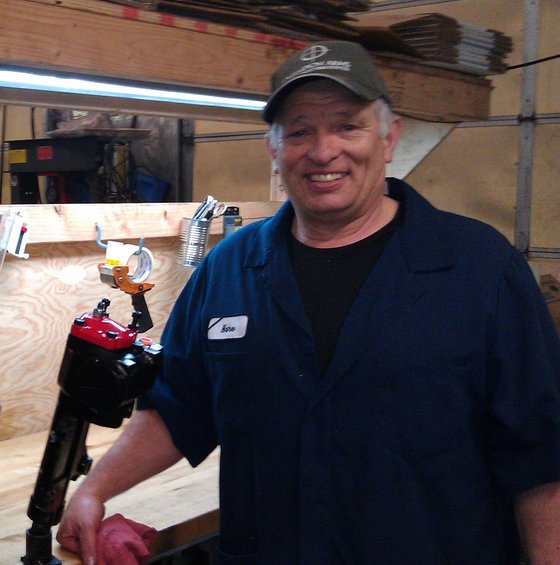 1978-1979 Ford Steering Gear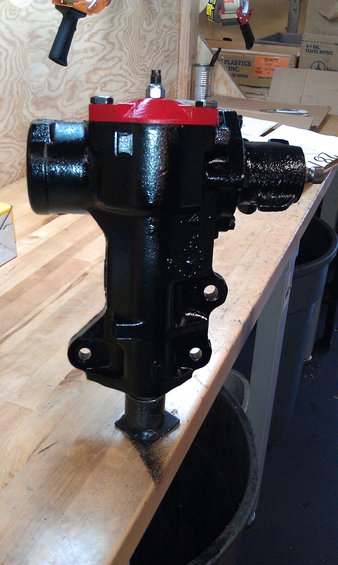 1980+ Ford Steering Gear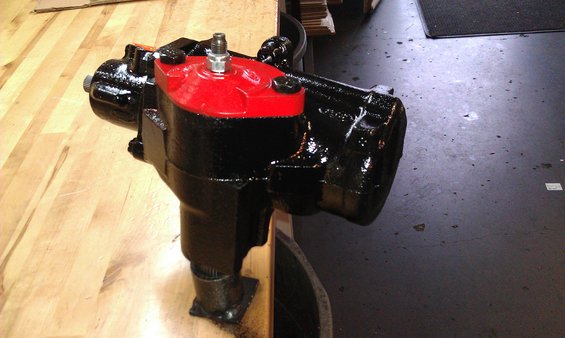 Walls O' Steering Gears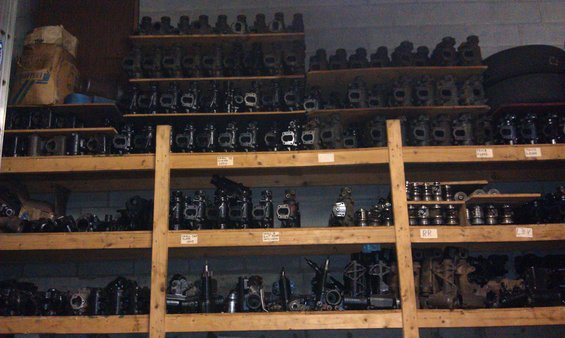 The Seattle FSB Red-Head Steering Gear
:twotu: