Discussion Starter
•
#1
•
Its been a little over a year since I have owned my Bronco. It is a DD and Its on the road about 98% of the time. I use it like a truck and it serves as a great multipourpose rig. Its gone through alot since Ive owned it. Its been a bit frustrating at times, but then I just have to just step back and take a deep breath, and diagnose the problem.
Everything has been done by me and my dad except for the tint. Lately I have been doing some light trails w/ some of my buddies that have other 4x4 trucks. I should have my sliders on pretty soon. The lift me and my dad installed around Thanksgiving.
BDS Lift- It was a project for sure. The rear wasn't to bad just time consuming, getting the new heavy ass leaf pack in there was a challenge for sure. The front was pretty labor intensive and also required alot of measuring in order to drill the bracket for the new extended radius arm. The axle pivot brackets were also a pain in the a$$. Getting them in place was a challenge and we also replaced one of the bushings.
Bassani Headers- These things definitely helped wake up the 302. I'm not sure how bad my old exhaust was clogged up, but the headers combined with the 3' exhaust and Hooker muffler lets it breathe much easier. :beer
-Heat Buster Radiator w/ new Hoses,
-Police Grade Braided Battery Harness,
-New Starter,
-Sixlitre Tuneup
-Added Drain Plug to tranmission pan, replaced fluid
-Blacked out the front grille for a cleaner look :smokin:
-Bassani Headers with Y - Pipe and Hooker Aerochamber 3'' all the way.
-BDS 4 inch lift with extended radius arms, BDS Leaf pack, and 6 Bilstein 5100 Shocks :rockon
-New Sound System (Pioneer Head Unit, 2 amps, 600 watt 4 ch for speakers, and 800 watt Monoblock for subs, Kicker Speakers all the way around)
-Limo Tint in the Rear and 20% in the Front
-33x12.5 BFG AT KO on Centerline Billet 15x10 Hammer Series
-Hefty Front Bumper
-Hefty Sliders w/ a removable step
-Avital Keyless entry, alarm, and remote start
Future Plans
6k HID's (ordering from rescuebronc)
4.56 Gears
8k or 10k winch w/ 2 6" HID lights for the front
New Valve Body from the Punisher
Get seat re-stuffed and fix the armrest
New Locking Center Console and mount my head unit in the console to keep away from thieves
Possibly a new rear bumper w/ the swing out tire carrier
35x12.50 KM2's or some sort of MT
Here is when I first got her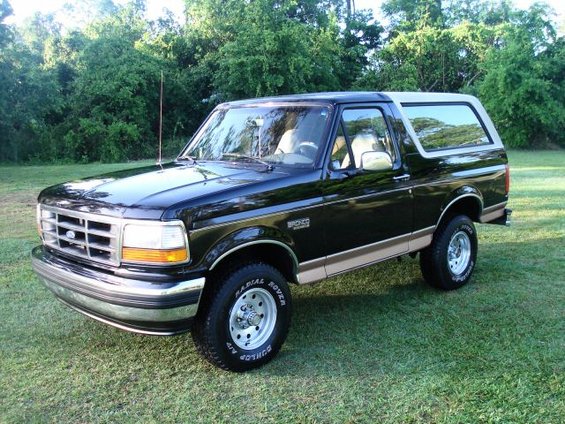 Before the Lift w/ 33's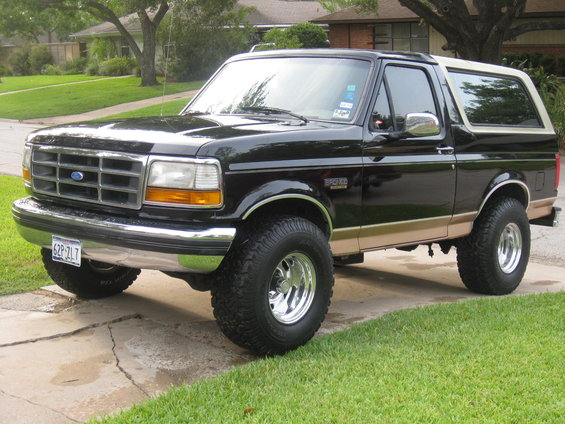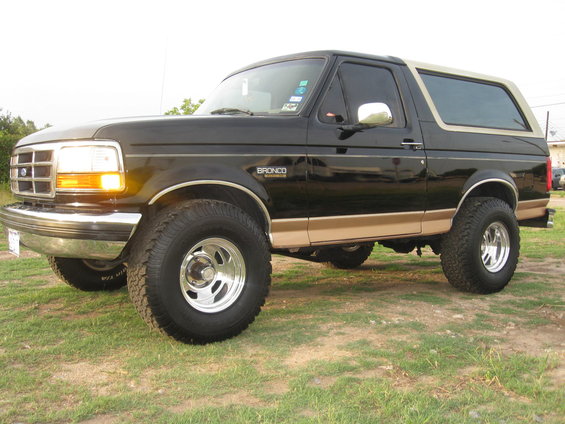 After the 4inch BDS Lift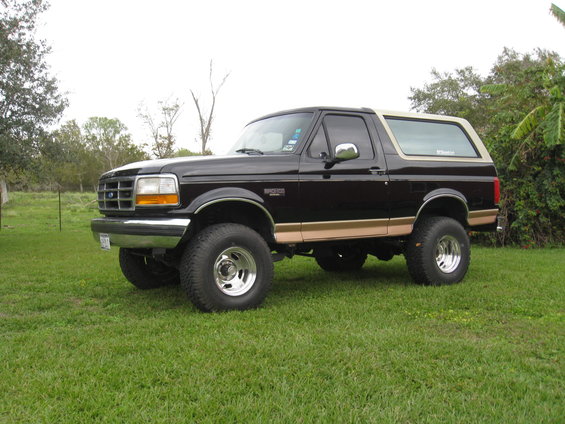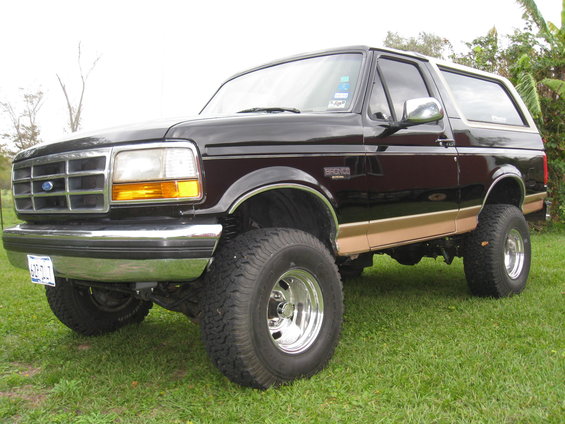 With Hefty Front Bumper