Yo 90,
This is by member Nelbur; "I have spent some time this week trying to set up an air bypass around the IAC valve by cutting away some of the gasket between the IAC in and out air holes, rather than pay big bucks for Fords spacer kit. I cut away the center of the original IAC gasket from the outside of each hole to the outside of the other hole, giving about 1/2" gap for the air to pass through. I noticed an immediate improvement in the engines starting behavior, but it would still die occasionally.
It would rev up and then drop the idle so low it would die unless I would catch the idle with the accelerator. ... ...
I decided that more improvement could be had if I had a thicker gasket, because the original IAC gasket was very thin (0.018"). I had some 0.030" gasket material so I made my own with the same 1/2" cut out. This gave enough bypass to noticeably raise the idle speed and almost eliminate the dying. After maybe 50 starts in the last few days, it only died twice. After so many years of catching it with the accelerator it is darned hard to leave my foot off it. It is clear to me that by trial and error one can tune the air bypass without the need for the expensive Ford kit. I may combine the two gaskets for more bypass, but the idle is about as fast as I would want now, especially for driving in snow."
●
Although no CEL, try a Self Test for Diagnostic Trouble Codes by my pal, BroncoJoe19 @
Code Reader.....
DTC 13 is Cannot control RPM during Engine Running Self-Test, low RPM check. possible causes are:
IAC did not respond properly:
Idle Air Control (IAC) Sludge; Poor Idle TSB 91-25-07 for 85-92 Bronco & F Series & many others; "...Hard cold starts, hesitation and stalls on initial start-up or during idle or decel may be caused by
sludge in the throttle body
and/or idle by-pass valve. Sludge deposits or oil film on the throttle body bore and plate or the idle air by-pass valve may cause one or more of the following conditions. Hard Cold Start, Stall On Initial Start-Up,
Stall During Idle
, Stall During Decel,
Rough Idle, Rolling Idle
, Hesitation During Acceleration. A new idle air by-pass service kit (F2PZ-9F939-A) is now available for service use to correct sludge contamination concerns of the throttle bore and plate only. It eliminates the need to clean the majority of past model throttle body applications. Cleaning is not required on sludge tolerant throttle body designs released for 1991 and newer model years..."
Was the new IAC Motorcraft unit?
●
Lastly, Sticking throttle linkages or throttle body plate is stuck; we had this occur recently in our 96. Sprayed throttle body cleaner on linkage atop throttle body and then light coat of WD 40 on linkage. Don't try to lubricate the cable internally.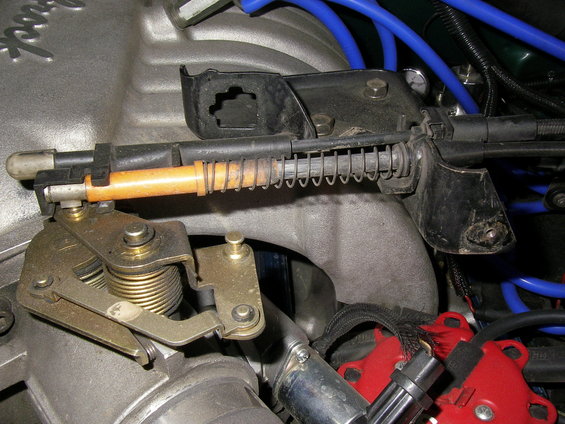 Throttle Body top view pic in an 88 5.0 by jem270