'95 XLT: 5.8/MAF/E4OD/6" lift/4.56's/33x12.5x15
DISCLAIMER: 4xPepe` is by no means any sort of MECHANIC. Infact it could easily be said that he is MECHANICALLY CHALLENGED. Please consider the source when using his information/experience. 4xPepe` cannot be held responsible for the use and or abuse of the following technical information. With that being said… on with the Write-Up!
Installing SUMMIT Shorty Headers on a 1989 Ford Bronco with a 3 inch Body Lift.
Hindsight is 20/20; so let's go over some of the lessons learned before I walk you through the installation…
1. Start with the passenger side, it's the hardest and the drivers side will seem like a relief after getting through the passenger side.
2. Take the passenger side fender-well out (as Rafa said to me). There should only be 2 canister type items connected to it and it is SO WORTH the extra 10-15 minutes!
3. When connecting the headers to the exhaust... hook up the passenger side first. This side is the closest to the CAT and has very little movement already... while the driver side has plenty of movement being so far from the CAT.
4. Get new plugs to install too! Once the passenger side header is on... good luck ever getting to the plugs again! On this same note... you will need at least a 45-degree angle on your plug wire caps (Mine were already 45-degree.)
A cracked Exhaust Manifold started this whole project. My original intention was simply to replace the cracked manifold on the driver side. Little did I know, my Bronco wanted new Headers. I got a set of used exhaust manifolds from another '89 351W, but for some undetermined reason the used manifolds did not match up at all. After fighting with them for a day, I went ahead and decided to get the recommended SUMMIT Shorty Headers. I ordered these and had them sent overnight for just under $200:
PARTS (Where's my DAMN STICKERS?):
Of course the stock standard gaskets didn't look real trustworthy, so I decided to go with the "Mr. Gasket" set instead. $20:
Now on closer review of the Passenger Header you may notice that access to the plugs is VERY limited. NOW is the time to replace those spark plugs, so I went with the BOSCH plugs. These plugs are a bit shorter than the standard plugs and I figure anything to keep them as far away from the heat of the headers is a good thing:
New Headers laid out and EGR tube temporarily installed. Once the headers are installed the tube may require a little bending, but should work just fine:
IN-SIDE: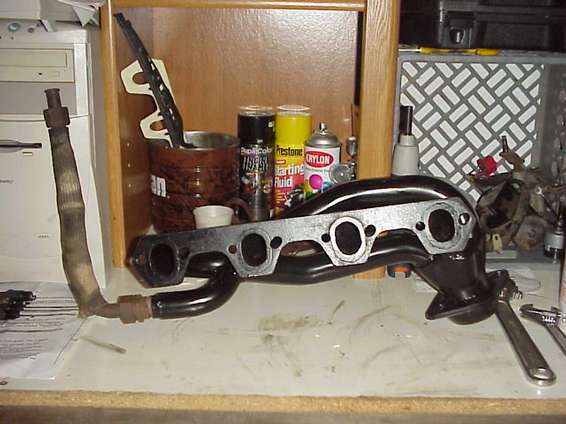 Here are some very handy tools that I was lucky enough to have around. You'll soon see where they play a very important part:
Trying to apply 20 lbs. of torque to the Header bolts was difficult due to access room, but this setup made a real difference:
If your short and fat like me (or just short, or your Bronco is BIG) you'll have a problem reaching into the motor compartment. I used stacked Milk crates work great and their so cheap (as they are generally available during the midnight special sale behind your local grocery store):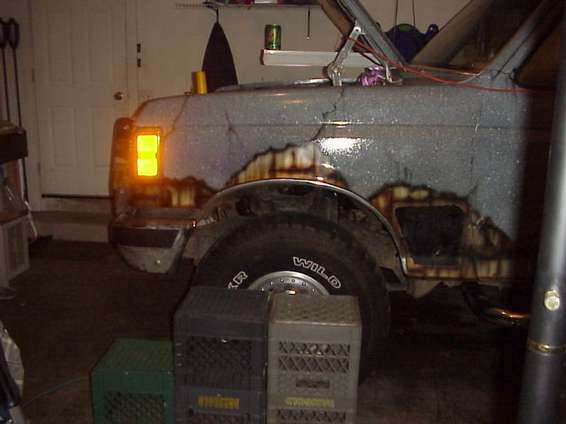 Lighting is always important and here's a clever little setup, if you have a "Customized" paint job:
Now… to the MEAT!
As I mentioned before I had already removed the old exhaust manifolds, so let's just start from there. This is the driver side; it is much easier to access than the passenger side. I left the old plugs in at this point, as I didn't want to break any of the new ones when installing the driver side header. Bare exhaust ports:
Here you can see the driver side header pretty much drops right in and matches up real nice:
Looking like a nice clean fit, except there is no place to connect the dip-stick brackets anymore. Oh well… I'll fix that later: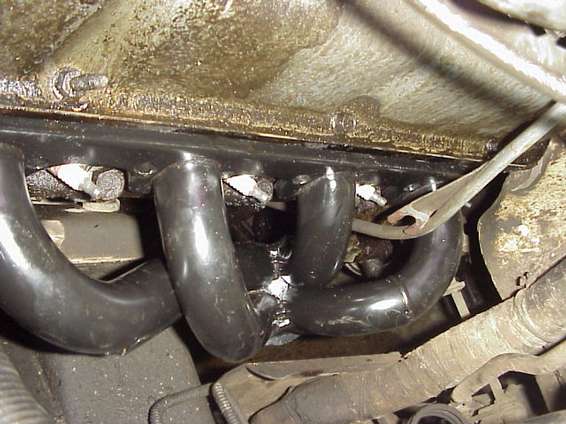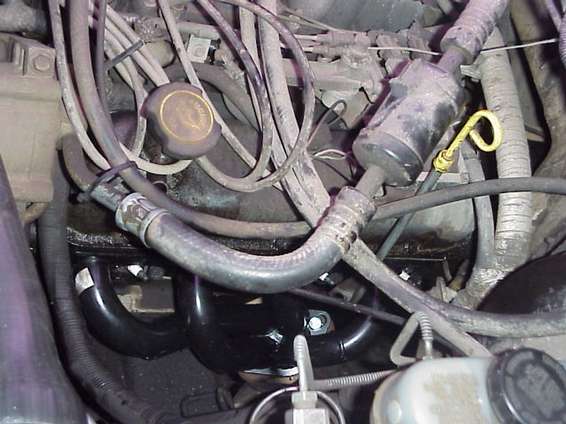 Looks like a go to me! Dropped in the gaskets, got the bolts started and replacing the plugs: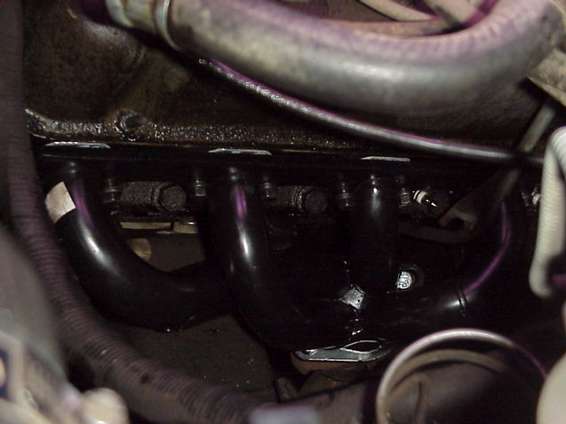 Everything on this side was just too smooth, should known trouble was coming later. Got the Plug boots on:
Decided to use a Zip-Tie to hold that Dip-Stick in place. Notice the convenient bracket I used to anchor too: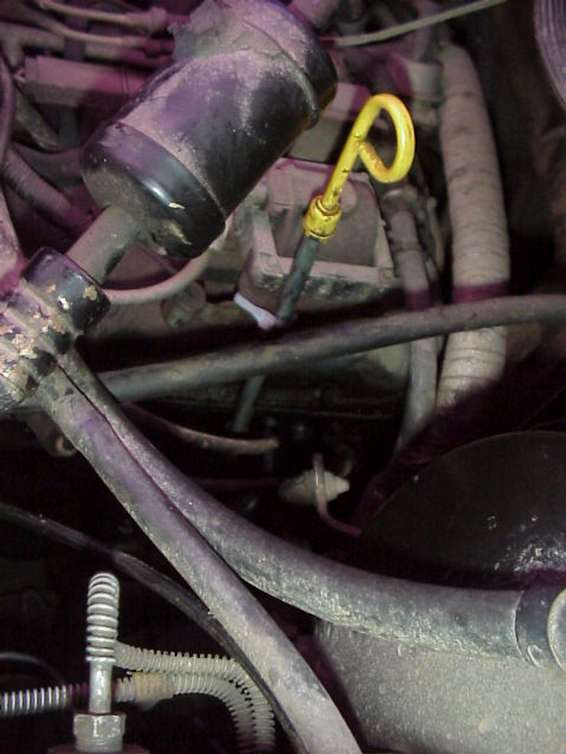 Things are going so well at this point… I think I'll take a little break.
BACK TO WORK – PASSENGER SIDE!!!
So at this point I was still pretty intimidated by all the stuff on the passenger side fender-well and trying to avoid pulling it off, so I changed the plugs with it still on.
Say… do you think I'm leaking any OIL?
So I'm cleaning up the area and getting ready to drop in the passenger header. Before I do that I have to deal with the exhaust pipe nut and bolt that are completely rusted together. They even got to soak in PB Blaster overnight... still wouldn't budge:
Tried removing the tire to access those bolts… still not enough room:
So I break down and remove the fender-well. This was way easier than I anticipated and was a major advantage when installing the header. I'd recommend that anyone do this: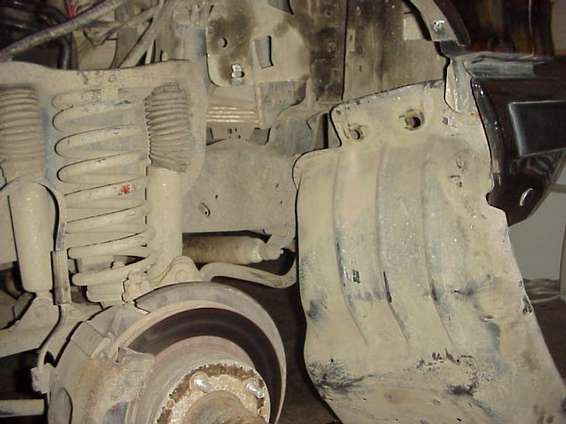 LOOK AT ALL THAT ROOM:
Now I can get to those rusted bolts and a whole lot more!
Taking care of those bolts was easy enough once I could get to them:
So I drop in the header and look at that… good thing I already installed the new plugs:
Now I notice that the header isn't lining up with the exhaust pipe like the driver sided did:
So I crawl back under the rig and detach the driver side exhaust pipe, suddenly with a little push… the passenger side now lines up real easy:
Once that was done I re-connected the driver side, dropped in the gasket on the passenger header. Here I pulled up the little piece from the header, it would melt quickly if left to sit on the header where it used to live. I have no idea what the piece is called, but it's out of the way now:
Here's where I Zip-Tied that little bugger to keep it out of harms way:
I routed the little vacuum lines through the zip-tie to ensure they were also safe and connected the plug wires as well, also making sure they cleared the headers.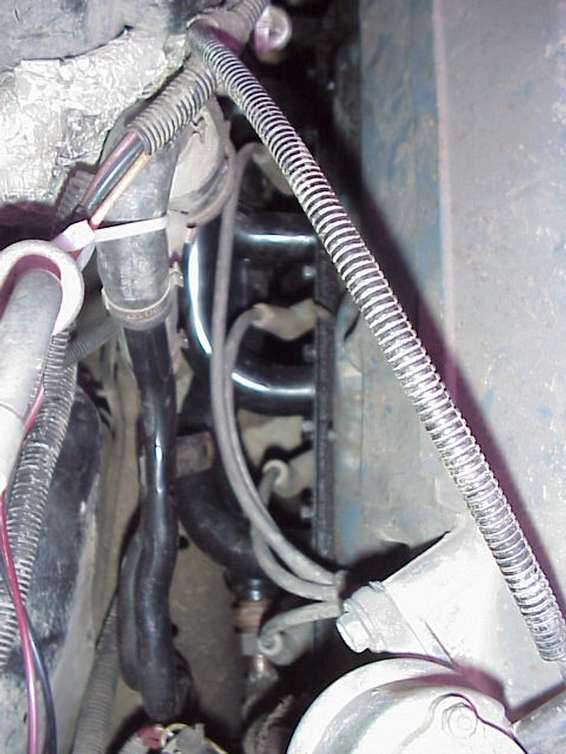 And the passenger side is ALMOST FINISHED:
All that should be left from here is to reconnect the fender-well, torque the header bolts on the passenger side and clean up a bit.
Of course you should take the rig out… run it hard and HOT to burn off the paint (stinky) and then some back and re-torque any bolts that need it.
Come back now and then for the next few weeks making sure the bolts stay torque down and your headers should enjoy and long and successful life!
Summit claims you should gain 15 HP from installing these headers and I have to agree that the feeling is noticeable and the sound, while not any louder is somewhat "throatier".