This writeup is for 1980-86 trucks. Do not know if it will apply to 87-96.
Use this write up during replacement of TFI.
It will not serve as TFI replacement write up.
This write up assumes you are at base timing
TFI Module Quick Removal Without Pulling Distributor 1980-86
Tools needed
:
TFI Model Removal Tool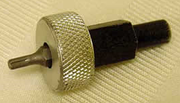 7MM Wrench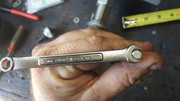 PB Blaster
Thermal Grease – Autozone: Duralast SL203 Compound
*
NOT Dielectric grease
* See post on differences and why you need proper grease.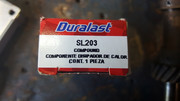 e. Patience, Patience and more Patience
New Parts
:
New Bolts x2: M4 - .70 X25 & 1" 1/8 length and slightly over sized washers.
**Bring new TFI module with when purchasing hardware because the hole sizes in the original module were smaller than the new part. Motor Craft DU2J-12A297-AA 533401 C11HD was my part number so others may have slightly different hole sizes.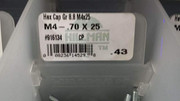 How to remove module (not in depth):
1. Start off by applying timing base marks, Very Important!
2. Remove nut and clamp.
3. Remove distributor. If it will not come out clean area as best as possible and apply PB Blaster to base. Let sit for a while then try again. Repeat as needed until it comes out.
4. Remove old TFI module with removal tool.
5. This is a good time to inspect PIP, Gear and overall condition.
Installation
:
6. Clean areas well and apply thermal grease.
7. Insert new bolts and washers and tighten.
8. Apply some oil to gear and insert distributor.
Done.
Future Removal
:
9. Apply timing base marks, Very Important!
10. Loosen Distributor, do not remove base clamp just loosen.
11. Rotate distributor clock wise a little to position lower bolt out of the way of thermostat housing.
12. Pull bolt out.
13. Slide module off and reapply thermal grease and reattach new module.
Done.
Now you will have bolts to use instead of the special tool as well you will no longer have to pull the distributor to get the TFI module replaced. In the event you need to change it simple as pie.
Hope this helps someone out as it did for me.
Pictures of installation
: