Discussion Starter
·
#1
·
Bite me Spongebob :smilie_slap
Just had the BEST day ever...well, not ever, but in a while. I got to play with the Bronco all day. Tinker around and do those things you've been wanting to do for a while kinda day....
Ever have one of those days where you feel like you got
SOMETHING
accomplished...although it didn't start out that way, it sure ended ok....in my book...
Here's how it went (with pics)

Took my new Lund Visor apart, and found the wiring is crap. No biggie. I'll investigate calling LUND tomorrow. Seen Uncle Stosh mention in another post about calling them and they sent him the lighting kit. If not, I think I can replace the bad stuff pretty easily and put her back together. I just see no point in reinstalling it without redoing all the wiring... Do it right or go home kinda thing.
Sanded her down today with a fine grit, prep solved it and cleaned it up real nice and painted it. I'll have to say, I was VERY SURPRISED with the Paint. It was the Duplicolor Jewel Green (matched the paint code on my door jamb). I mean, it's no Dealer Paint or nothing, but for 5 bucks, I could COMPLETELY see myself painting my ENTIRE truck with that vs spending 4k on a paint job. Here's how she looks now... hopefully a phone call tomorrow will bring me a Visit from "Brown"

Onward and upward....to the topper. I actually painted this TWICE today. :shocked (yeah, I start my days early)
I first painted it with Jewel Green which really IS a GREAT match to my paint job for being aftermarket paint.

It came out nice, but I just wasn't digging the topper the same color as the truck... Sanded her a bit, cleaned her off, ran up and got some metallic Black. :shocked MUCH NICER!!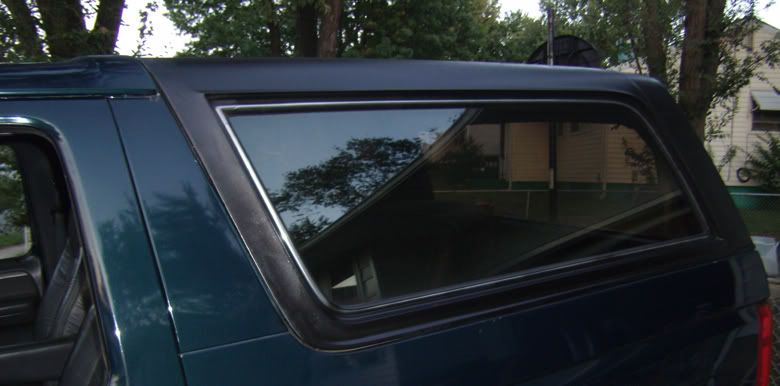 :rockon Ok, enough fumes. Moving on to the wheels...
Booooo.... :cry Nice wheels, (crappy auto hubs - relax BKO'ers, it's on my list) but PO just drove this truck across country and didn't really have any plans on taking care of em...
so a couple hours with a Powerball Mini, Drill & Mothers Mag polish.... Well, it's a start. I REALLY need to take the wheels off to get the center part, but Time just didn't present the opportunity today... Yayyyyy...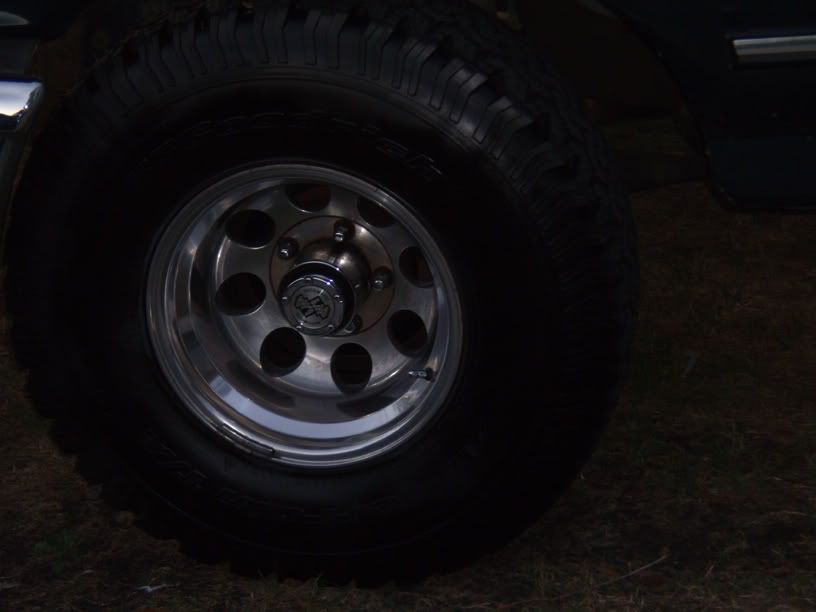 You may have noticed between the 1st pic and 2nd pic of the green vs. black topper I just posted... it DID get waxed throughout all of this
Oxidized REALLY bad and quickly since my last wax job (couple months) so I'm going to be researching what I can do to save what clear coat I have left....
Did I mention I actually painted the fiberglass top while it was on the truck? I've seen that question posted more than once... Simple enough to do. I just got a piece of stiff plastic from a tool thingy I just bought (blister pack material) and slid it between the truck/topper and sprayed... Cardboard would work just fine too! Voila... finished Product. Also removed/painted/replaced spare tire hinges.