Discussion Starter
•
#1
•
I keep seeing all of these questions asking about exhaust setups.
Some people ask for diagrams to see how their exhaust will be different from the stock setup.
I made some diagrams in MS Paint to show people what the difference is between a bone stock setup and a basic new exhaust setup.
This is a diagram of the stock setup: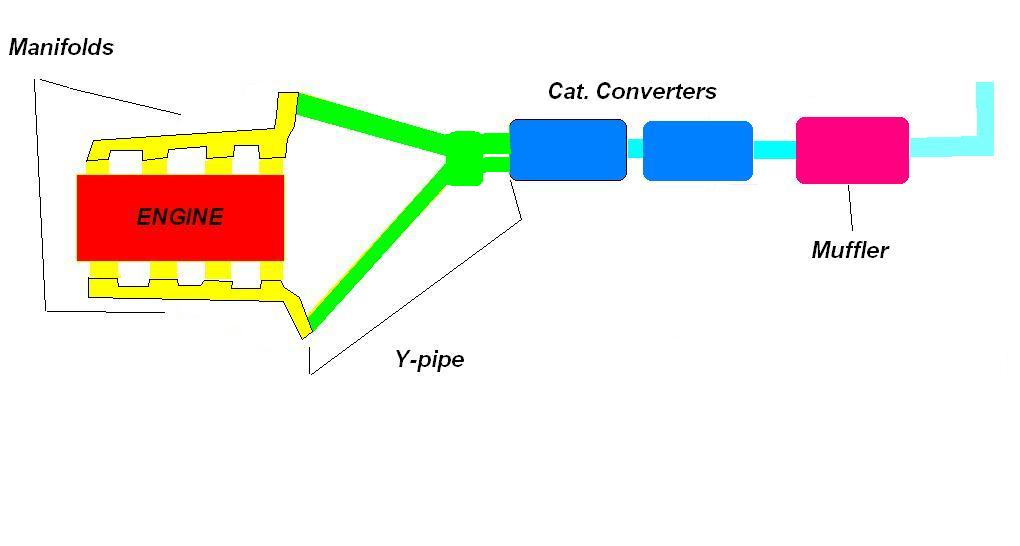 This is a diagram of a basic "dual-out" setup:
The modified setup above is a basic "New" system. Headers, y-pipe, High- flow Catalytic Converter, Single in/ Dual out Muffler, and chrome tips.
Im going to address the Stock Setup and its Common Downfalls first. i will explain parts from left to right in the diagram- starting with the manifolds.
Stock Manifolds
often crack when going through high water. the heating and sudden cooling of the cast is too much for the metal and causes it to crack.
These stock manifolds were not made with performance in mind. they work- but they dont do anything for MPG or HP.
The stock Y-pip
e is a basic thing. besides rust, nothing really goes wrong with it.
Dual Catalytic Converters
are not needed. they block alot of sound and cut down performance. After so many years, they get clogged up and can cause engine trouble such as spuddering.
The Stock Muffler
is pretty basic. many times, these will rust out, and they arent any good for sound.
The stock Tailpipe
often rusts, or the hanger will break- causing the tailpipe to hang lower to the ground. this isnt good because it can drag against speed bumps, and also adds stress to the other exhaust components.
The New Exhaust System.
Headers
(shorties or long tube) will increase performance and MPG. They do so because of the smooth bends in the tubing- which means less restriction of air flow.
New y-pipes
can be either bought and modified or custom made. Exhaust shops will usually need to make a custom y-pipe to plumb a new system. you can buy a bassoni y-pipe and modify it to fit also. you CAN use you stock y-pipe- but you might need to cut and modify it to fit the new components.
High-flow Catalytic Converter
replaces the two stock converters. this high-flow converter will increase performance by allowing exhaust to flow out easier.
New Mufflers
can be single in/dual out or single in/single out- all depending on what you want. you will get a better tone out of an after-market muffler.
Chrome Tips
can be used for a nice appearance- but some people prefer to save the money and just get plain tube tailpipes. this is really just a personal prefrence in apperance.
I, and many others, suggest a 2.5"-3" diameter tubing through the new system to help with air flow and to "open up" the system.
The following is information about the different options in components for a new system.
HEADERS:
there are two types of headers: Short tube ("shorties") and Long tube.
short tube headers are easy to find and are great for people who either have or plan on doing an SAS (solid axle swap).
long tube headers are also fairly easy to find for your application, but cannot be used on SAS trucks becuase they interfere.
You can get headers at Summit racing.com, JEGS.com, Autozone, Checkers, etc.
As for brand names for headers, there are MANY to choose from.
Hooker, BBK, PaceSetter, Summit (PaceSetter with a Summit logo), Hedmen, FordRacing, etc.
Summit
shorty headers are cheap- but the
quality of the product is said to be lacking.
Hooker
is a good brand, but are a bit pricey.
BBK
has a great reputation, but people have had problems with them bolting right up to their truck- you might find the holes to be ovaled instead of circular. BBK is also a bit pricey- but their quality is great.
PaceSetter
is a fair medium. they arent too expencive (around $200-250 depending on where you find them). their quality is fairly good, but have had reports of minor leaking without gaskets.
Hedman
headers are priced fairly for their quality and are common among this site. some boltup issues have been covered recently here.
Ford Racing headers are also a good quality product. a bit pricey- but youre getting what you pay for.
Y-PIPE:
If you plan on having an exhaust shop install your new system- they will most likely make a custom y-pipe for your truck. you can make them yourself, but you need to have WELDING skills.
you can also buy the Bassani Y-pipe or the Catco Y-pipe. the Bassani is mandrel bent 2.5" tubing merged into 3" tubing.
the Catco is compression (normal bend) bent 2" tubing merged into 2.25" tubing.
most people here have said the bassani is better.
depending on the year of your truck- YOU MIGHT NEED AN O2 SENSOR PORT ON THE Y-PIPE.
HIGH-FLOW CATALYTIC CONVERTER:
as with the other components- there are many different brands to choose from.
The only thing you should REALLY keep in mind is to buy the converter that matches the diameter of tubing you are using to plumb your exhaust. YOU ONLY NEED ONE CATALYTIC CONVERTER WITH YOUR NEW EXHAUST SYSTEM. the factory put TWO on- but you will only need ONE high-flow cat.
MUFFLER:
most people go for a single in/dual out muffler because it is hard to run "
True Dual
" exhaust (a setup involving an 'X' pipe instead of a 'Y'. giving each header its own muffler)
Flowmaster, Magnaflow, Dynomax, Borla, and Flowtech are just SOME of the brands to choose from.
Things to keep in mind are:
Cost
Interior sound preference
Exterior sound preference
Diameter of tubing
Number of exiting ports
you may want to consider going to your local exhaust shop and asking them about different mufflers to find one that best suites the sound youre looking for.
CHROME TIPS/ TAILPIPES:
usually- people dont go for a "name brand" tip. the local exhaust shop has them for sale, and so does your local parts store.
you can run your tailpipes MANY ways:
dump before the rear axle (hidden pipes)
exit behind rear tires (side exit- behind bumper)
exit straight out the back (routed around the gas tank)
there are pro/cons to each of these:
dumping before the rear axle:
Pros- some people dont like seeing their exhaust- and you have less of a chance of damaging the exhaust while wheeling.
Cons- if you have weak floor pans- you might get exhaust fumes in your cab...not good.
exiting behind the rear tires:
Pros- you can use chrome tips and make it look nice. you also have the protection of the bumper and tire.
Cons- the tire can kick up debris and possibly damage the tips. They get dirty EASILY.
exiting straight out the back:
Pros- alot of people like the look.
Cons- if you ride with your rear window down- prepare to suffer!
there are many other ways to run the tail of your exhaust (depending on your state's emissions standards)- these three are most common though.
i PERSONALLY run
PaceSetter shorty headers with custom collectors
custom y-pipe (2.5" through out)
Magnaflow High-Flow Catalytic Converter
Magnaflow "Wide Open" single in/dual out muffler
21" long/ 3.5" opening chrome tips
The tips exit at ~45degree angles between the tires and rear bumper.
I used 2.5" tubing through the system.
I hope this will answer some questions, if you still havnt seen the answer to your question- use the search to look through past threads on the subject.
GUYS WHO ALLREADY HAVE A NEW SYSTEM- POST UP YOUR SETUP SO OTHERS SEE THEIR OPTIONS!
Ace