Discussion Starter
·
#1
·
Throttle Position Sensor (TPS) Testing, Replacement and Adjustment
I chose not to post this under the "
Ultimate Throttle Position Sensor Thread
" and monopolize space as this is long and somewhat detailed. But I hope others can find this information helpful. Lots of specs, tips and pics.
___________________________________________
I was having a hunting idle issue along with a hesitation on acceleration and after transmission downshift. I pulled Diagnostic Trouble Codes and all I could find was a DTC 334 (EGR closed valve voltage high). My EGR was clean and visually controlled by the PCM, EVR and EVP tested good. My Idle Air Controller (IAC) was new and I had recently installed all new Silicone Vacuum Lines that repetetively tested good as well.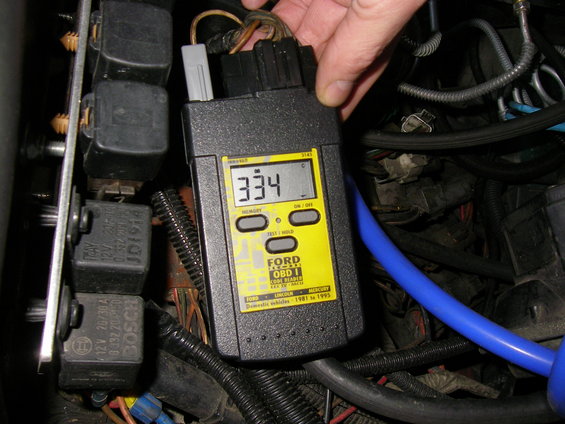 I then decided to test the Throttle Position Sensor (TPS). As a side note, back probing the TPS Harness Connector is challenging to get both probes to contact at the same time. It was then extremely difficult to hold the DVOM probes in place while manipulating the throttle. I am not a fan of piercing the wires with pins due to damage or future corrosion of the wires. At any rate, the values that I am looking for are as follows:
KOEO TPS Values
KOEO TPS Reference Voltage - 5v
KOEO TPS Signal Voltage - <1v to <4.8v
Unplugged TPS Resistance - <4k ohms to >350 ohms
KOEO TPS Testing
KOEO TPS Reference Voltage - VREF and SIG RTN
KOEO TPS Signal Voltage - TP SIG and SIG RTN (while rotating Throttle)
Unplugged TPS Resistance - TP SIG and VREF (while rotating Throttle)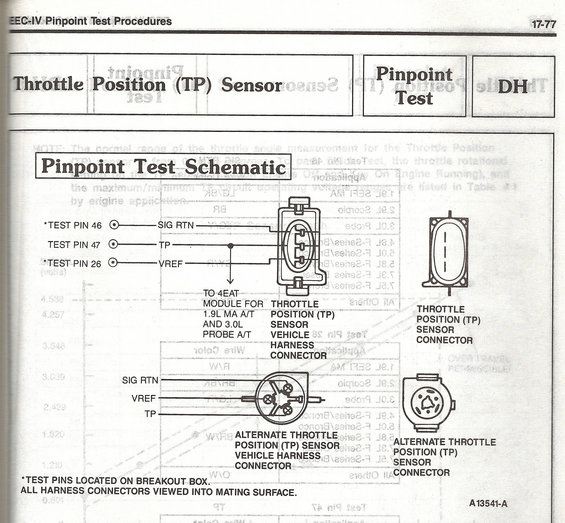 Before testing, I first had to remind myself of the proper wire colors. They are as follows:
1988-1991 TPS Wire Colors
VREF - Orange/White
TP SIG - Dark Green/Light Green
SIG RTN - Black/White (My 1990 is actually Red/Gray)
1992-1996 TPS Wire Colors
VREF - Brown/White
TP SIG - Gray/White
SIG RTN -Gray/Red
Motorcraft TPS Wire Colors
VREF - Orange
TP SIG - Green
SIG RTN - Black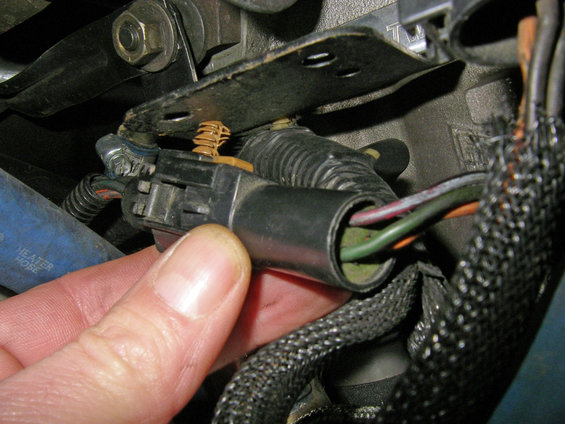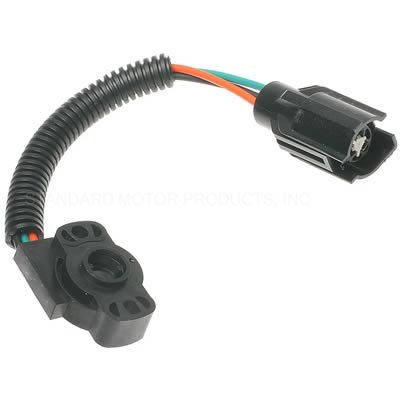 I found that I had good Reference Voltage of 4.78v but the Throttle Body Closed Resistance was only 3.01k ohms. Upon opening to Wide Open Throttle (WOT), I was only receiving 299 ohms which is outside of acceptable values. I had a difficult time in performing the important TPS Signal and VREF Resistance Throttle Rotation Test due to not having any assistance. The proper way to do this test is with an analogue Multimeter as a digital DVOM has an inherent delay in indicating dead spots during Throttle rotation. Regardless, either tool will work for this specific test considering an analogue Multimeter would be more responsive for the lesser trained mechanic.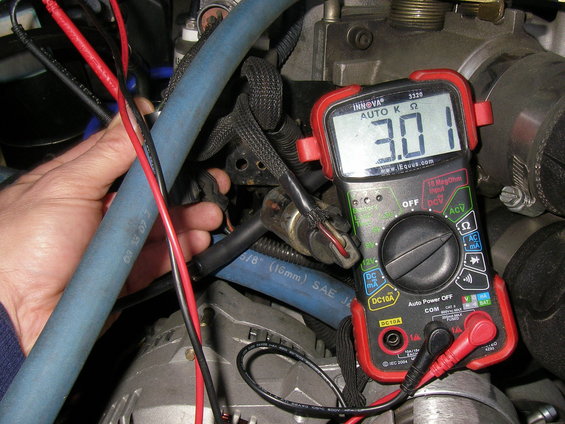 Knowing that my TPS was not performing as expected, I purchased a new
Motorcraft TPS (PN E7TZ-9B989-D (CX-1228)
). The resistance tested at 3.75k to 356 ohms so I new that the old one was suspect.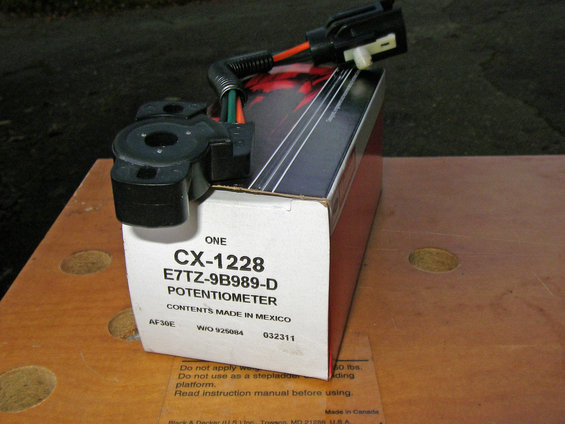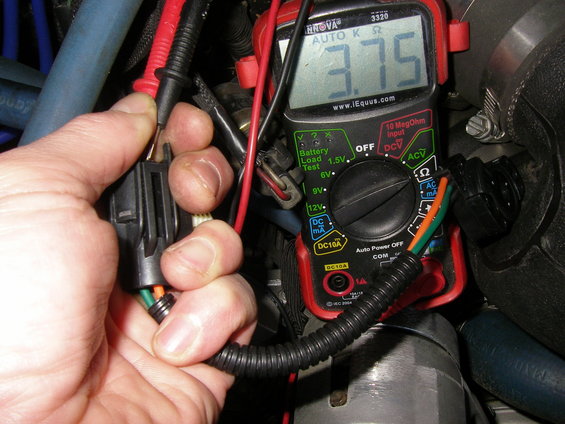 Now I am ready to begin. First I removed the Throttle Cover to expose the Accelerator Cable and the Throttle Mounting Bolts...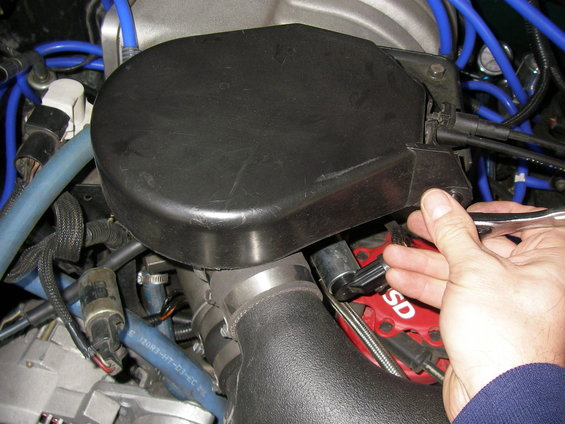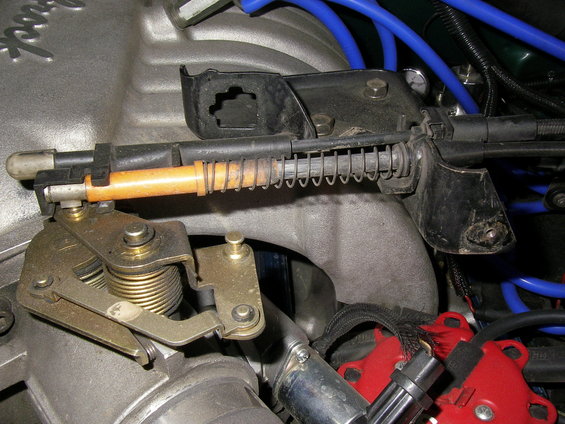 Then I removed the Throttle Cable by prying it upward with a screwdriver...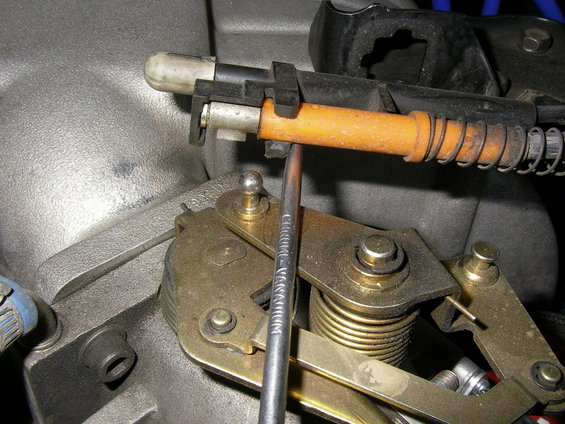 I disconnected the IAC and the TPS Harness Connectors and began to remove the Throttle Body...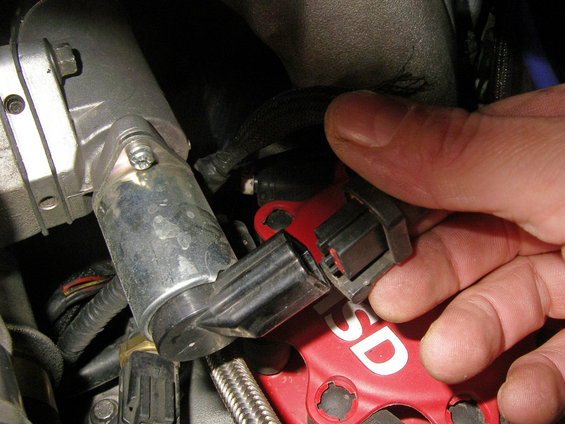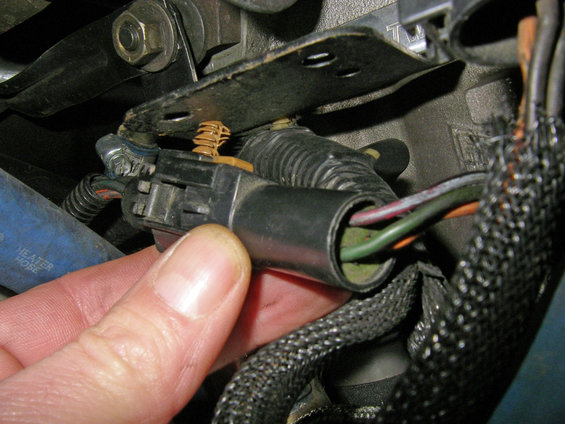 My BBK 56mm Throttle Body is attached by four ARP 1/4" hex bolts, but 6mm hex should work just fine. The upper Throttle Body Coolant Bypass Line and Canister Purge Solenoid (CANP) Line came off easily, but the lower TB Coolant Bypass Line was a challenge due to it's location. I decided to simply disconnect the lower Coolant Bypass Line at the Engine Coolant Temperature (ECT) Tee on the Intake Manifold instead. I stopped the coolant flow by first opening the Radiator Cap to release pressure and then installing a rubber Vacuum Line Cap on the tee.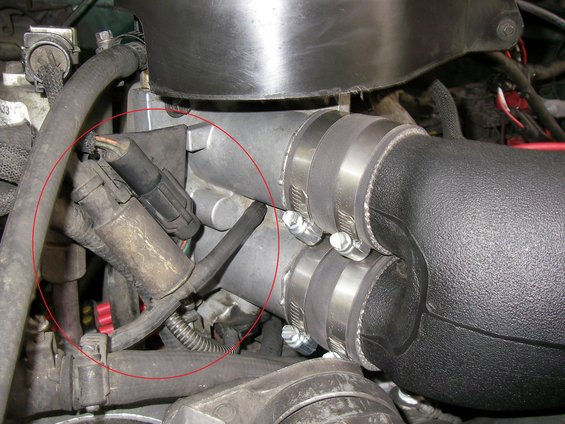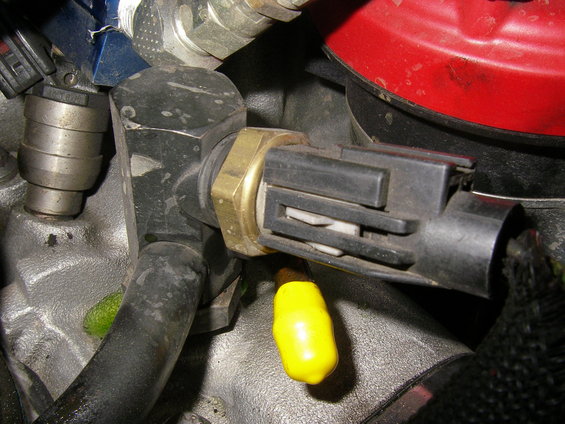 After removing the four Throttle Body attachment bolts, off it came and I was in business.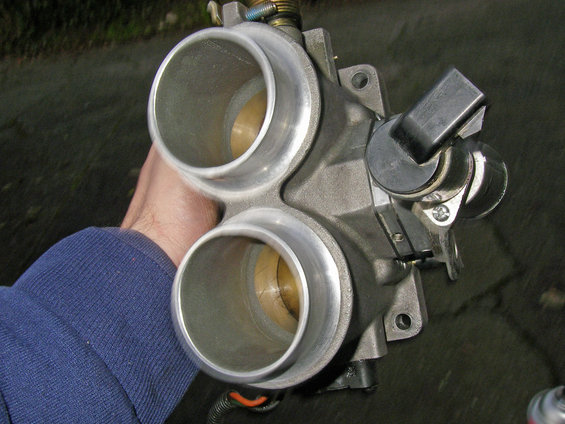 Next was time to clean the TB with Throttle Body Cleaner. It was not very dirty but I did pay special attention to the Butterfly Valves and contact surfaces to prevent a sticky throttle plate. While I had the Air Tube off, I also carefully cleaned the MAF Sensor with Mass Air Flow Sensor Cleaner. Now would be a good time to replace or clean your IAC, but mine was almost new with no signs of contamination. If you do clean your IAC, remember to use only Carburator or TB Cleaner and avoid the sensitive Electrical Solenoid. Here it is, all clean...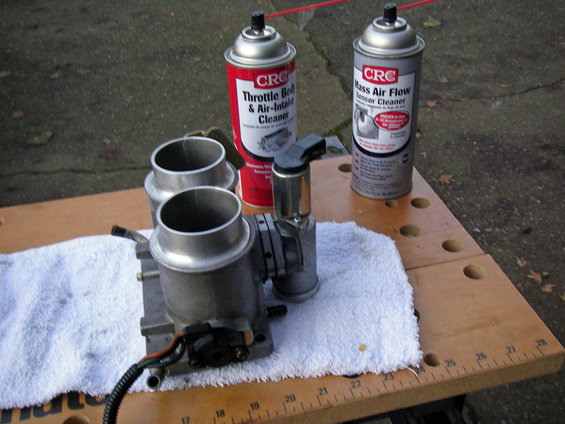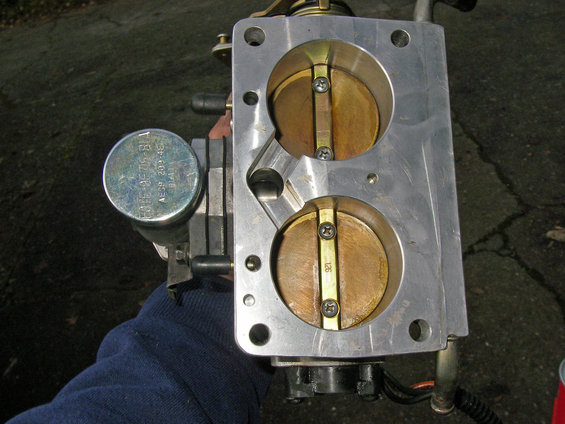 Now for the task at hand. The TPS is attached at the base of the Throttle Body by two screws. Note the orientation of the harness for future install as some are orientated in different directions. The EEC-IV TPS is self-calibrating but the older pre-EEC-IV TPS may be adjustable by indication of oval screw mounting holes. If this is the case, you would then need to scribe the position of the TPS to the TB for a good base starting point.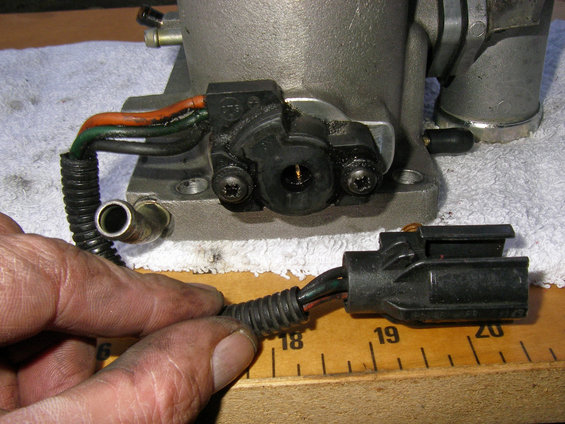 After removing the TPS, I compared the new and the old. Note the shim ring on the old TPS and not on the new. When I mocked fitment of the new TPS to the TB, I noted that it was very loose and difficult to align. Using a screw driver, I carefull removed the shim ring and installed it on the new TPS. Fitment and alignment was then perfect.
When aligning the new TPS, the tabs should be in contact with the TB Shaft Tang with the upper tab to the left side and the lower tab to the right side. The TB Shaft Tang will turn the TPS in a counter-clockwise direction (viewing from the base of the Throttle Body). This is why you install the TPS slightly retarded and rotate it clock-wise into contact position. It is spring loaded to always keep it in contact with the TB Shaft Tang upon return to idle. Wiggle the TPS a bit to ensure that it is seated correctly and install the screws.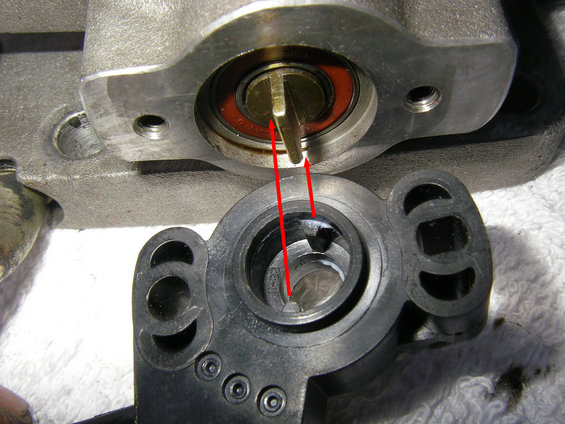 Ensuring a clean TB mounting surface, reinstall the TB using an inexpensive new
Throttle Body Gasket (Felpro PN 60845)
to prevent a vacuum leak. A little tricky as you will need to maintain gasket alignment by using the two upper TB Mounting Bolts. Do not use Edelbrock Gaskacinch or other gasket adhesive.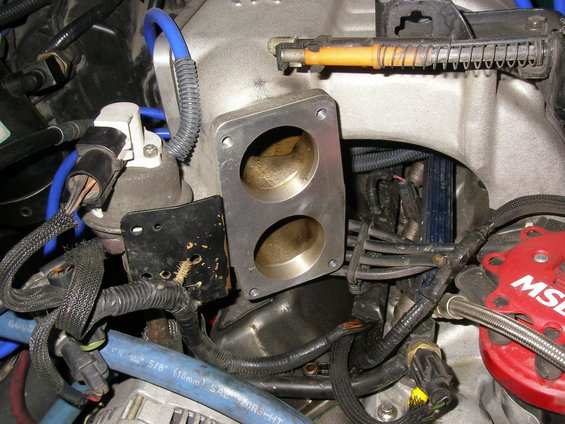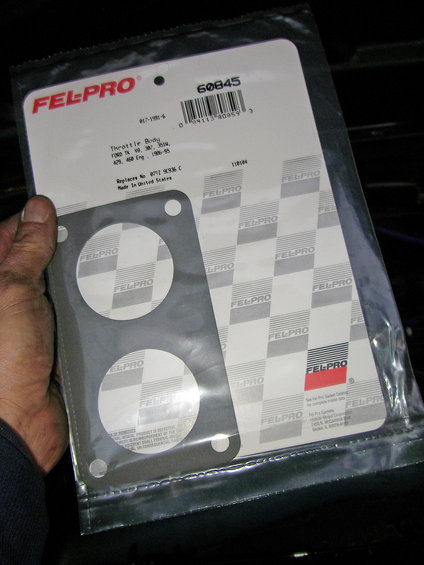 Once I had the TB reinstalled, I checked the TPS Signal Voltage and found .758v at Closed Throttle. This
should be fine
as my 1995 PCM is looking for at least .65v. The Factory Self-Calibrating TPS Range is as follows:
TPS Settings
1990 Bronco 4.9L - 0.73v to 1.22v
1990 Bronco 5.0L - 0.73v to 1.22v
1990 Bronco 5.8L - 0.73v to 1.22v
1995 Bronco 4.9L - 0.65v to 1.28v
1995 Bronco 5.0L - 0.65v to 1.28v
1995 Bronco 5.8L - 0.65v to 1.28v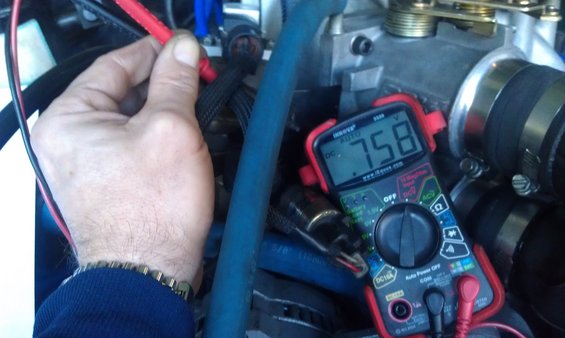 I reinstalled the Air Intake and MAF Sensor, then I disconnected the battery with headlights on to erase any adaptive memory. When I reconnected power and started the engine, the PCM clearly was searching for good idle parameters. After 15 minutes idle, a test drive showed a good low end but a "heavy" feeling WOT. I know it takes time for the PCM to readapt, but the hunting idle was still there.
Time to retest the TPS to see if anything had changed. But first, I was tired of digging with the DVOM probes to back probe the harness connector. I remembered that I had once procured an old TPS Harness at the Junk Yard after seeing a post by
broncoflorida
. I had to dig for a while, and then I finally found it!!! Thanks BF!!!
I cut, spliced and soldered the wires to make a handy TPS Test Harness that would make this much easier, especially when working by yourself and trying to open the Throttle. (Note to self: get alligator clips for even easier use). :thumbup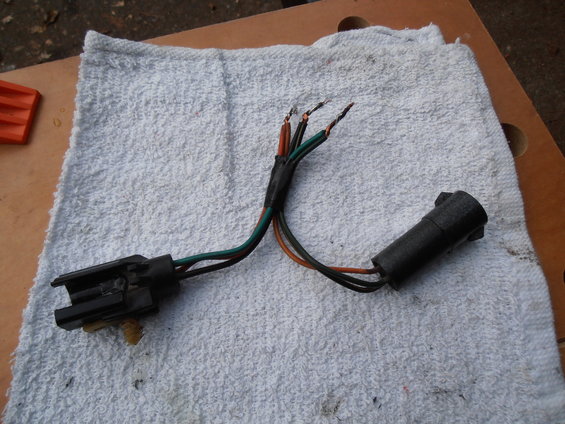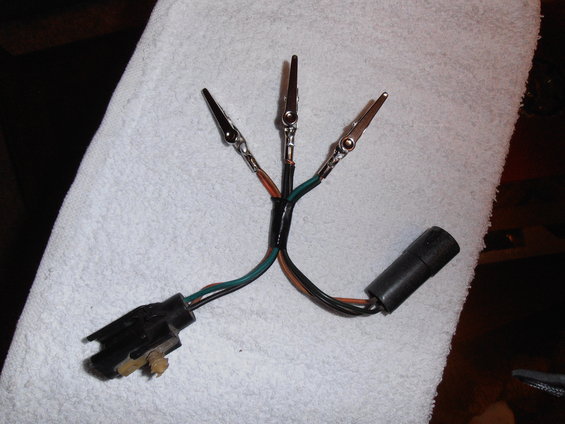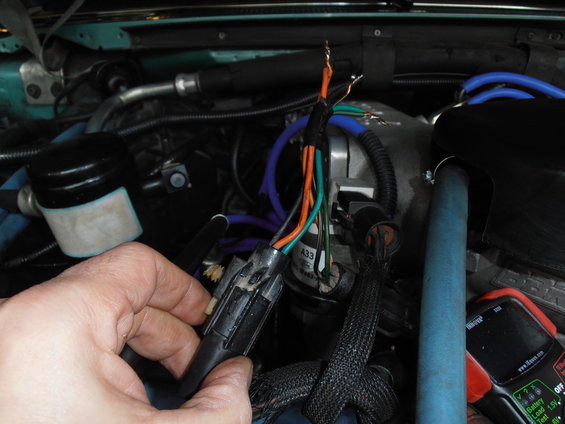 After easily installing my new custom TPS Test Harness, here are the values that I received:
4.93v Reference Voltage - Good.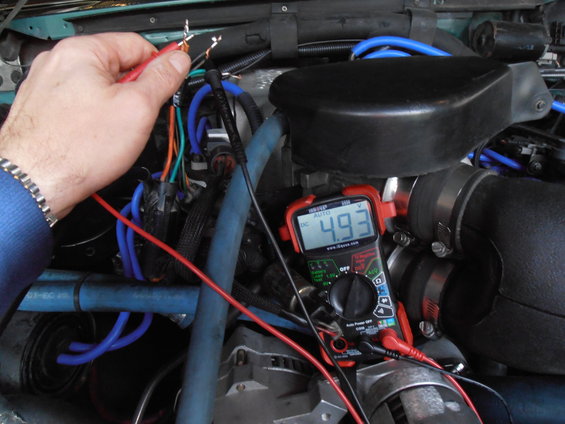 .758v Closed TB Signal Voltage - Good.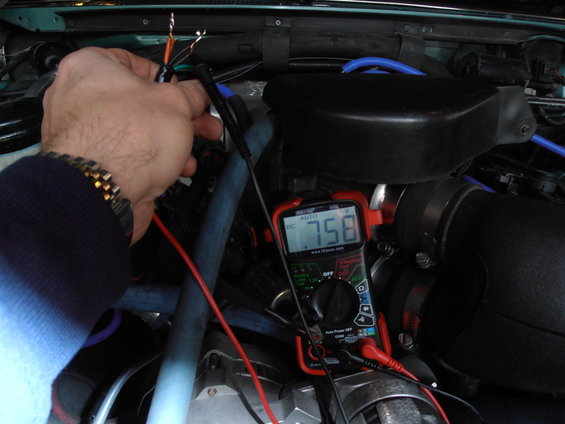 Mmm... The TPS Closed Throttle Body Signal Voltage is very close to the base parameters. Could this be a problem if it dips under tip-in? I decided to adjust my TPS to more center it within specifications.
First, I once again removed the Air Intake and Throttle Body. After wiggling the TPS to ensure that it was seated correctly, I removed the sensor and used a drill to elongate the TPS screw mounting Holes. Be sure you elongate the correct direction, bottom of the left side and top of the right side, in order to rotate the TPS slightly more clock-wise to increase voltage.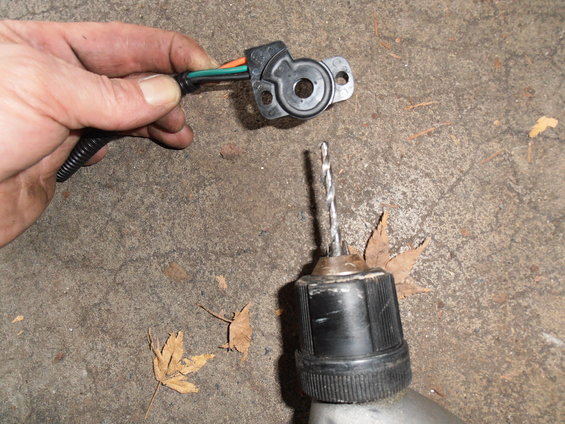 I then reinstalled the TPS with loosely torqued screws and layed the TB on top of the engine. After reattaching my TPS Test Harness, I retested with KOEO. This took three attempts, each time enlarging the TPS screw holes a little more and retesting on the Throttle Body connected to the harness. I finally achieved this:
.983v Closed TB Signal Voltage - Good!
4.61v Open TB Signal Voltage - Good!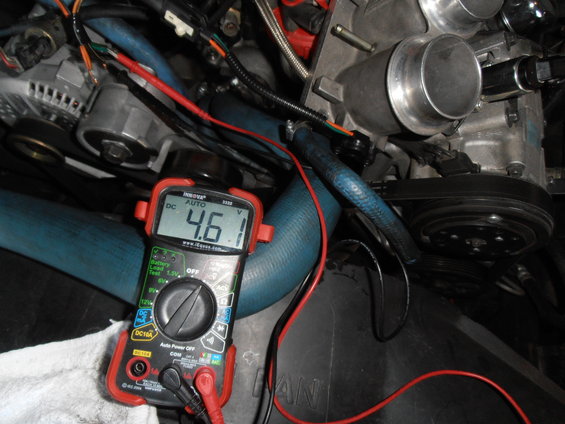 I reinstalled everything and tested once more...
.981v Closed TB Signal Voltage - Great!
4.61v Open TB Signal Voltage - Great!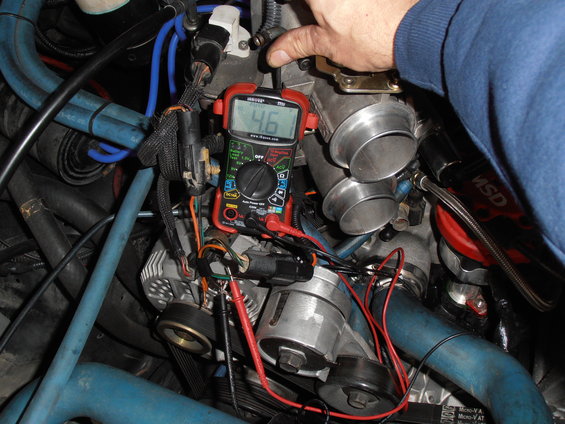 My TPS was now adjusted away from the edge of the lower tip-in value. After once again disconnecting the battery with headlights on for 30 minutes to erase any adaptive memory, I started the engine and let it idle for 15 minutes to allow the PCM re-establish a relationship with the new sensor. I took it for a drive and then tested for Diagnostic Trouble Codes.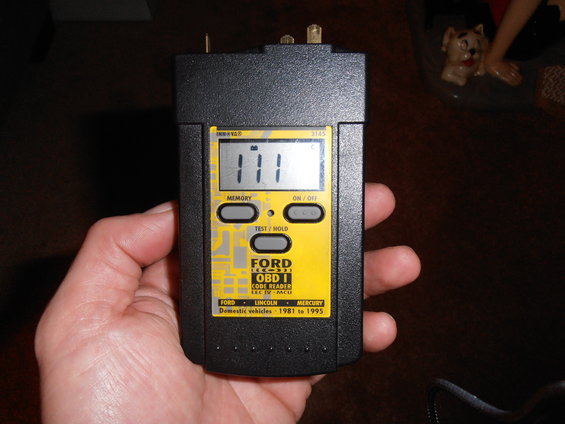 Surprise! No more hunting idle, no hesitation on acceleration or after transmission downshift and the power was now smooth and light! And the exhaust smells better too!
Lessons learned:
EEC-IV TPS is self-calibrating, but stay away from the edge of setting specifications. In other words, centering is good.
Always completely test your TPS for Reference, Signal and Resistance.
A home made TPS Test Harness is worth it's weight in gold!!!
Use the opportunity to clean your Throttle Body, IAC and MAF.
It takes time for the PCM to fully adapt to the new TPS. Give it substantial idle and driving time.
Remember your Idle Mixture and IAC are non-adjustable as they are controlled by the PCM. Adjusting your TB Idle Adjustment Screw will cause a rich condition forcing the PCM use the limitations of the IAC to "hunt" for the programmed idle.
Time for a beer... :beer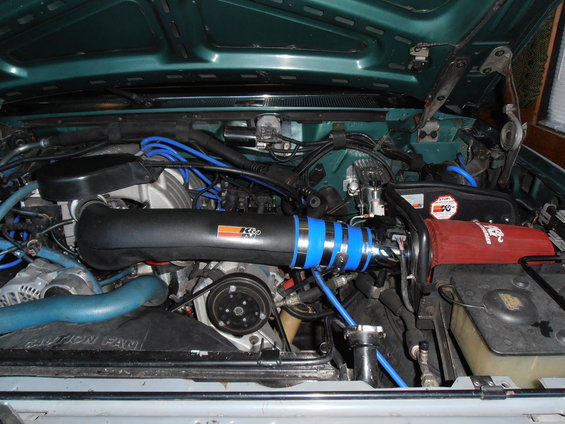 For more information see this link:
Throttle Position Sensor Management