Discussion Starter
•
#1
•
Very Built 357 EFI & "thePunisher" built E4OD, sterling 10.25, KP Dana 60, Cage Arms
I have decided to sell all of the parts that I've been collecting and building for the last several years. Project seems to continue to grow with no end in sight and frankly, I'm burnt out. No time, no energy, etc. Looking to sell this stuff so I can purchase a rig already built.
Everything here was purchased, built or ordered with the highest quality and reliability in mind.

1st up is my 357w
The block is a 93 that I bought from Prime Performance in Dallas, TX. and had shipped to me. I had Reeve's Performance
(http://www.reevesrpmperformance.com/)
in Warner Robins, GA assemble the engine. Only mods at that time were CompCam camshaft, GT40 heads and Edelbrock intake. After putting 1500 miles on it, I decided I wanted more power and I wanted to drop the engine in MAF Bronco so I decided to pull it and research exactly what i wanted to do.
I called up Scott @ Coupe Performance
(www.coupeperformance.com)
in Covington, GA as he was recommended by a good buddy of mine who is into mustangs. After consulting with him for a few months and this forum, I decided to outfit the non-roller block to a roller block. The engine now sits on a stand ready to be dropped in. Here is the new specs of the 357w.
-93 block bored .30 over retrofitted w/ linkbars to convert to a hydro. roller
-Custom Ground Camshaft (Specs: 218/228 @ .50 duration, .558/.558 lift, ~114 lobe seperation)
-Cloyes Gear Double Roller Timing Chain (Summit Part #
9-130
)
-GMB High Performance Water Pump (Summit Part #
125-1670P
)
-Elgrin Pushrods
-PRW 1.7 Roller Rockers (Brothers Performance Part #
PRW-0330207
)
-Aluminum TrickFlow Twisted Wedge 170 (61cc) Heads (Summit Part #
TFS-51400004
)
-ARP Head Bolts (Summit Part #
154-3603
)
-Hypertech High-Flow 180* Thermostat (Summit Part #
1018
-Cometic Reusable Head Gaskets (Summit Part #
C5511-075
)
-ProForm Tall Black Wrinkle "Ford Racing" Valve Covers (Summit Part #
302-003
)
-Fel-Pro PermaDryPlus Valve Cover Gaskets (Summit Part #
QVS13264T
)
-JBA Black Shorty Headers w/ EGR up-pipe (Summit Part #
1628S
)
-Trick Flow Header Gaskets (Summit Part #
TFS-52400901
)
-Custom Wrinkle Painted Edelbrock Performer EFI Truck Intake
port matched to heads
(Summit Part #
Edelbrock 3881
)
-New Standard Motor Products EGR Valve (Summit Part #
EGV613
)
-Edelbrock Intake Gasket Set (Summit Part #
Edelbrock 3833
)
-Professional Products Powerflow Fuel Rail Kit (Summit Part #
10607
)
-BBK Twin 56mm Throttle Body (Summit Part #
3501
)
-MSD Billet Distributor (Summit Part # 8584)
-Ford Racing Red 9mm Spark Plug Wires (Summit Part #
M-12259-R301
-Ford Racing Bosch 32lb/hr red top injectors
-Pioneer Automotive Engine Mounts (Summit Part #
A2564
)
-Pioneer Automotive Street Performance Balancer (Summit Part #
872008
This engine was balanced and blueprinted and specifically designed for a Bronco in mind that could produce some good hp #'s with torque in mind. The intake, gaskets, and heads have all been port matched. Below are some cell pics of the engine.Only thing not included in the pics are the spark plug wires but they are included. Looks much better in person. iPhone doesnt take the best pics and my wife doesn't allow the Nikon DLR inside the garage. The engine is painted Ford slate gray. Only things needed to slam this into your truck/bronco are spark plugs, accessories (A/C, PS, Alt) and accessory brackets. For a little extra I can include a new, never used 200amp alt painted to match engine and a new A-1 Cardone Saginaw power steering pump with both brackets needed to mount to engine.
ENGINE HAS BEEN SOLD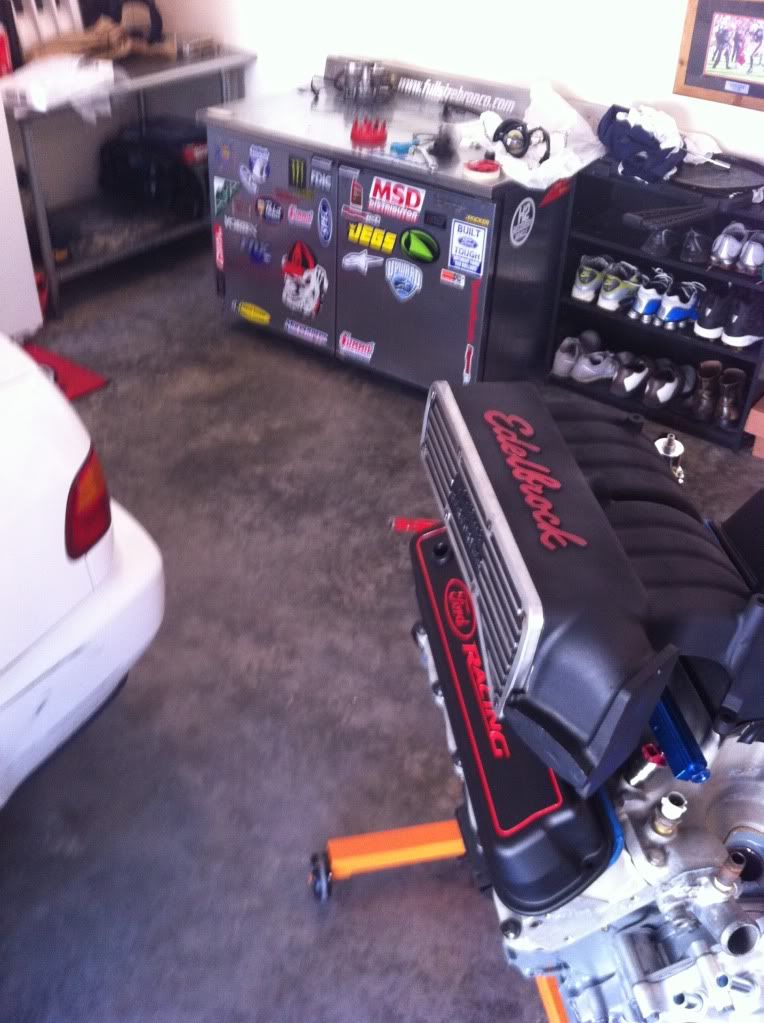 I have almost $6k into this. The block, headers, and intake are the only things that are not brand new. They were leftovers from the first 357w I built that I pulled at 1500 miles. So, they might as well be new but I want to be completely honest. Looking for
$3500
. Stand is included in the price. Willing to meet halfway if you live in GA. Willing to ship but not sure how to go about it.
2nd up is my built E4OD
Not to much to say about this but I wanted an E4OD that would be able to handle my abuse from wheeling and this engine. I thought about calling a local shop and just doing a basic rebuild and ordering one of "thePunisher's" valve bodies but I decided that I wanted the best. I decided that if I was going this far with the engine, then I needed to duplicate that with the trans.
After reading several testimonies on NLOC.net from Paul's(thePunisher) VB's and trans builds, I contacted him and told him I wanted a total E4OD build. This trans is outfitted w/ the newest hardened internals, his valve body, and several other upgrades that I can't remember.:brownbag. I bought this back in 2009 so I cant remember all the details. But, he gives you a lifetime warranty. He claims this transmission will not overheat. He said its built to handle 600 hp. Possibly more but his Gen 1 lightning that he has puts out 600rwhp so his tranny's haven't seen higher than that. He daily drives his "L". When talking with Paul, I asked him what my options were as far as different stages for the trans. He said, "I only build my transmissions one way....strong." At that point I knew this is the guy who I wanted to build my trans. I paid $2500 plus $500 shipping and core from CT.
If uncertain of his abilities, I challenge you to research him here and more impressively on NLOC.net.
In my search for the best torque converter, I again succumbed to the advice of Paul. Without missing a beat, he said if you want the best contact Precision Industries. So I did. I knew this company was legit as soon as I called. They have you fill out an "application" of sorts. They just don't send you a torque converter for an E4OD. They custom build you a converter based on your engine, truck, tire, and gear specs and how you plan to use the truck. After talking with them I decided on The Stallion. Its a 10.5" Billet Multi-Disc Lock-Up E4OD (2400-4000 RPM's)
http://www.converter.com/stallion.htm
. I paid $1000 for this converter plus shipping. It has 0 miles on it.
I will also include a rebuilt BW1356 Transfer Case to complete this drivetrain. Stock rebuild w/ 0 miles.
If you know anything about E4OD's, then you know to do just a basic rebuild is very tedious and difficult for most shops. Ask around for quotes from a few reputable shops near you. You'll hear anywhere from $1800-$2800. And they just rebuild it back to stock specifications and dont have any specific expertise as to how finicky E4OD's can be.
I'm looking for
$2800
for trans, converter & TC plus shipping. Below are a few pics. Sorry for the quality. The trans is under the Bronco but just held up by the cross member and a strap/jack stand. It has 0 miles on it.
His "Signature"
3rd is a Sterling 10.25 rear axle
. I will include RuffStuff's disc brake conversion kit. It has 3.73 gears. Unfortunately, no pics. Its just your basic 10.25. Personally, I would clean and paint it but it can be installed immediately under your Bronco with the addition of brakes. Also have brand new Yukon 5.13 gears and Master Install kit
Looking for
$375
plus shipping for everything or
$135
for just the axle and disc brake brackets or
$100
for just the axle.
4th is a pair of weld on CAGE arms w/ C's
. Stock pic, but same color and condition. No rod ends included.
SOLD
Looking for
$600
plus shipping.

5th is a HP KP Dana 60 from an 88 F350 SRW.
Currently sits as just the housing but have all new interior pieces except stub shafts, carrier and lockouts. I have stock 30 spline inner shafts, brand new outer seals ($70), stock spindles, stock diff cover and brand new drilled/slotted rotors. Will get pics shortly.
$500
plus shipping