Discussion Starter
•
#1
•
Well Thursday was a sh!tty day. My rottweiler of 7 years died of an unknown type of cancer. So we think we didn't have the thousands of dollars required to do all the testing to figure out what it was. She was fine 3 weeks before she passed and steadily went down hill since. She rolled over on Thursday morning about 11 or so looked at us and went to sleep. She died 15 or so minutes later :cry
So after her passing I got caught up in playing video games on my xbox 360 I acquired on trade a few days earlier to try and not think about it. But she still had a lot of life left in her and the fact that in 3 weeks went down hill so fast we weren't ready for it. The vets said 2-6 months and they were surprised on how quickly she went down hill.
So now I am looking for a new dog to help fill the void she left behind. I know I am going to be hard pressed to find another rottweiler that was as calm and gentle as she was. But I am looking for another rottweiler about 1-2yrs old, female. But I think I want a bit of a mix in her and not a purebred. Only time will tell on that though.
But the biggest pita I've come across though is that all the shelters that have rotties want us to sign a contract that if they deem it necessary that they can take the dog back plus require us to pay an additional $500 "return" fee when they demand the dog. The other thing is what really irks me is that right in the contract it say the following
From Contract said:

You do not "own" the dog, you in fact are sponsoring the dog for his/her life. If at any time that we deem that the dog is in an unsafe living condition or for any other reason we will demand the dogs return to us plus and additional $500.00 recovery fee.
That is just
[email protected]
and can't believe that they can get away with it. I understand the occasional check in, hows the dog, etc but wow. That and they require weekly visits for the first 6 months then monthly until the first year then yearly. :whiteflag WTF is this
[email protected]
? They think I am going to torture the poor thing? I've delt with rotties in the past I know what they are capable off and with the right training they can be so gentle its surreal. When I got my rotty she was 5-6 months old just barely crate trained let alone house trained or anything else. I raised her so even a baby could be around her and she wouldn't snap, bite, harass or anything. So now I am trying to find one that doesn't have that stupid contract attached (which appears that 99% in my area does :banghead)
Now some photos of her.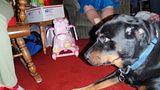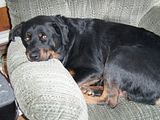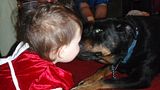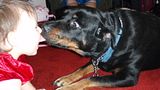 and a slide show of all choppers photos