Discussion Starter
•
#1
•
Okay, this is kind of in reply to a post in another thread and once I started writing it just kept getting longer and longer and I decided it was then way off topic so I decided to just start a new thread. :toothless
so, off topic question. Are these old volvo's easy to mod and get parts for?
Yes and no. They are cheap and easy up to a point, then they get hard and expensive. So you can mod them with basic stuff and a lot of junkyard/backyard mechanic type stuff works really well up to around 250hp/250tq. After that you have to be very knowledgeable, have REALLY good resources or have money to blow.
There are less than a handful of places that specialize in Volvos and make parts for them. The place where I work is largest hardcore Volvo performance shop in the USA,
R-Sport International
.
We do a lot of performance motor stuff and sell our own forged cranks, forged rods and forged pistons, cams and some valve train components. We also have a flow bench and do a lot of custom headwork. We build 1-2 motors a month and they are usually in the 400-600hp range. They range from $3k for a "built" bottom end up to $10k ish for a very serious long block. The highest hp we know of with our internals in 1152rwhp out of a drag Volvo in Sweden.
We have 2 cars right now that are in the $15-20k estimate range for work being done. Both will be in the 500hp range with a grocery list of stuff being done to them.
So we do everything... sell parts, fab custom parts, design parts, basic maintenence and repairs on cars, modifications on cars, restorations and just about anything you can dream up for us to do for $60 an hour.
I guess it's easier to show you and everyone likes pictures...
This car came to us already painted outside with a stock 100hp ish non-turbo motor. We have stitch welded the engine compartment, modified the inner hood, installed an intercooler in the core support, matched the exteriors 3 stage pearl paint job, built a 2.3L motor with forged rods and pistons, Stage II head rebuild and porting, used the owners contrast color (Saffron, a rare volvo color) and detailed the engine compartment, built a header, built intercooler piping and plumbing, building the down pipe including tieing in the wastegates' outlets, the complete exhaust sytem, installed our coil-overs and fully detailed the front suspension.
About 60% done:
About 80% done (and still working on it):
______________________________________________
This car is getting a used late model Volvo FWD 5cyl turbo motor swapped into it to replace the 4cyl turbo during stage 1 of the build. After it's running and driving and has all the bugs worked out, it will get a custom rebuilt motor with our forged rods, pistons, a fully ported head and custom cams. The transmission was imported from Europe as that's the only place that sold manual transmissions that will bolt up to this block. We modified countless items on this motor to make it all work properly. We also built custom motor mount brackets that use our Poly motor mounts, a custom header with external wastegate, gt30 turbo with Tial SS exhaust housing, plumbed turbo with hard lines, new downpipe to mate to current 3" exhaust, mounted the aftermarket intercooler, made all the intake plumbing, built a cold air box and installing a Wolf fully programmable EMS.
The car:
Original motor: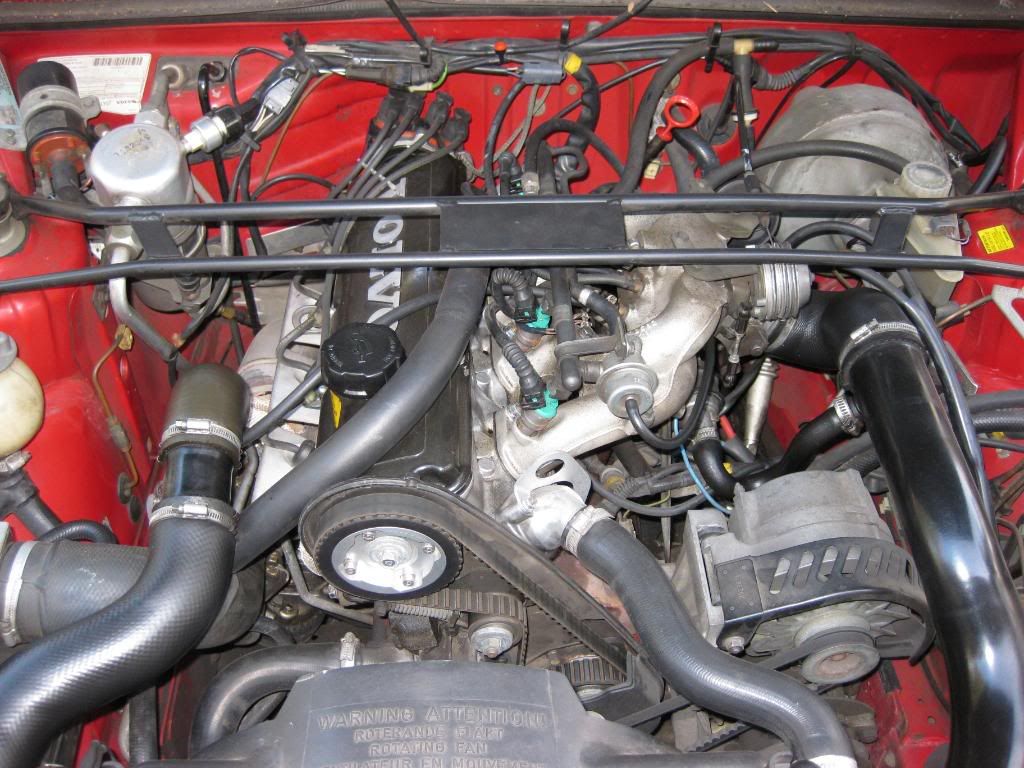 Test fitting header and engine: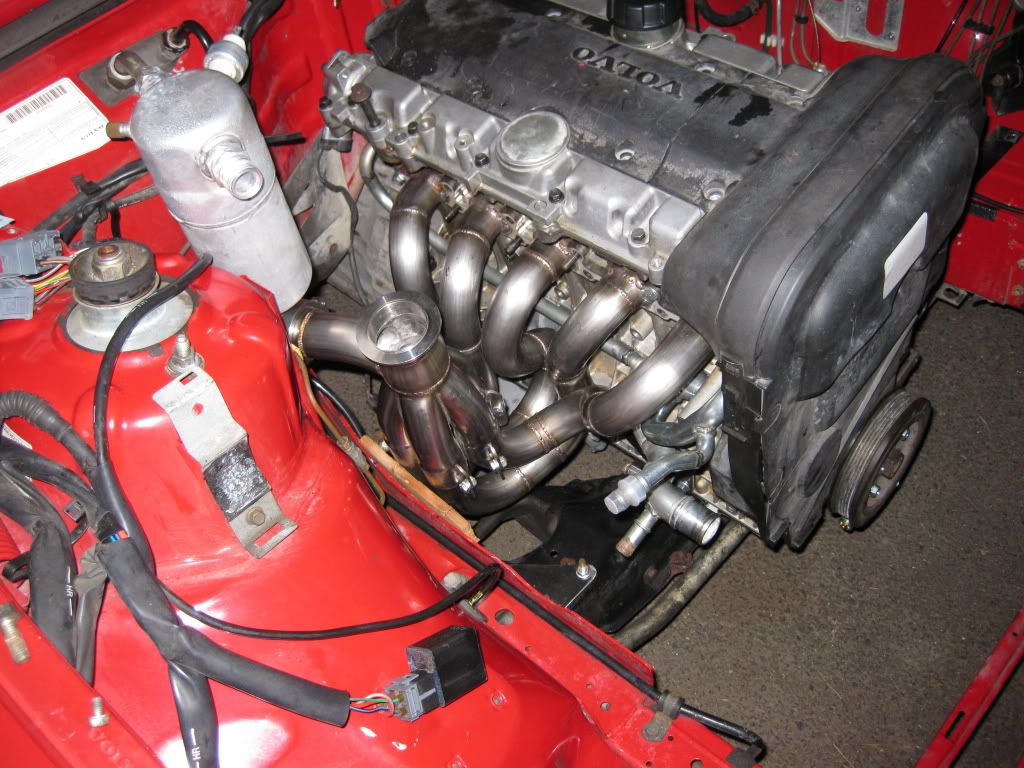 Pics are mid EMS install: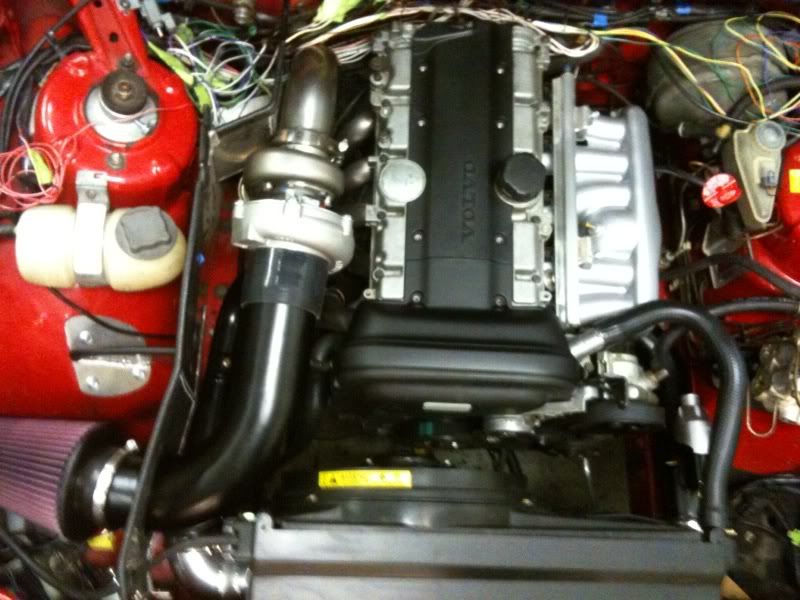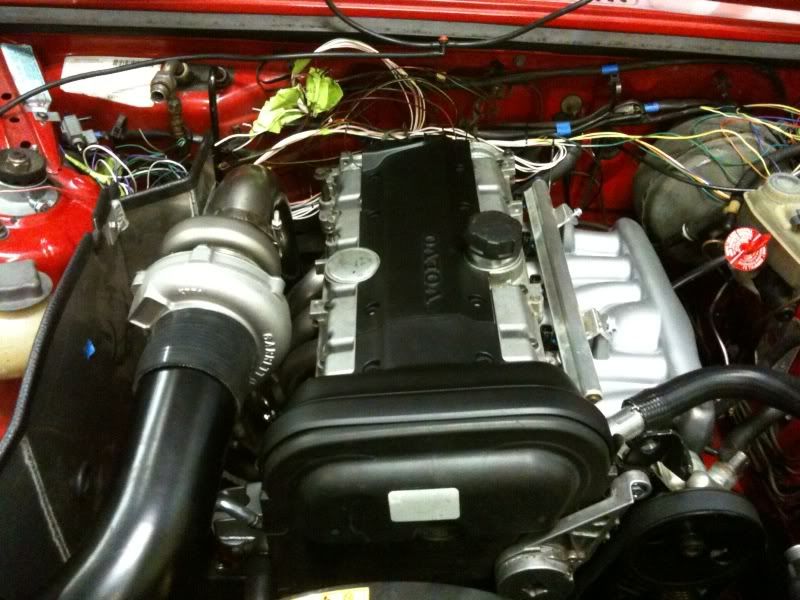 ____________________________________________________
This car was your basic mostly stock good used car we bought off of craigslist for our customer. We did a "Rest of World" front end swap (fenders, core support, hood, grill, headlights and blinkers all get sourced from various US years), full stage 0 mechanicals, installed a K cam, upgraded fuel pump, NPR intercooler, late model intake manifold swap, tuned ignition and fuel injection to be able to run 22psi (210rwhp/257rwftlbstq), welded diff, new shocks/struts, full paint including jambs (subbed out to paint shop), mild interior restoration, our 18" wheels we are trying to get made and some dress up goodies under the hood.
_____________________________________________________
Engine compartment paint I did for my best friend's race car a couple weekends ago...
Before:
Sanded:
Primered and sanded again:
Painted:
After:
_______________________________________________________
Also everyone at the place I work has race cars except the main fab guy who is still relatively new:
Owner #1's car:
________________________________________________
Owner #2's car: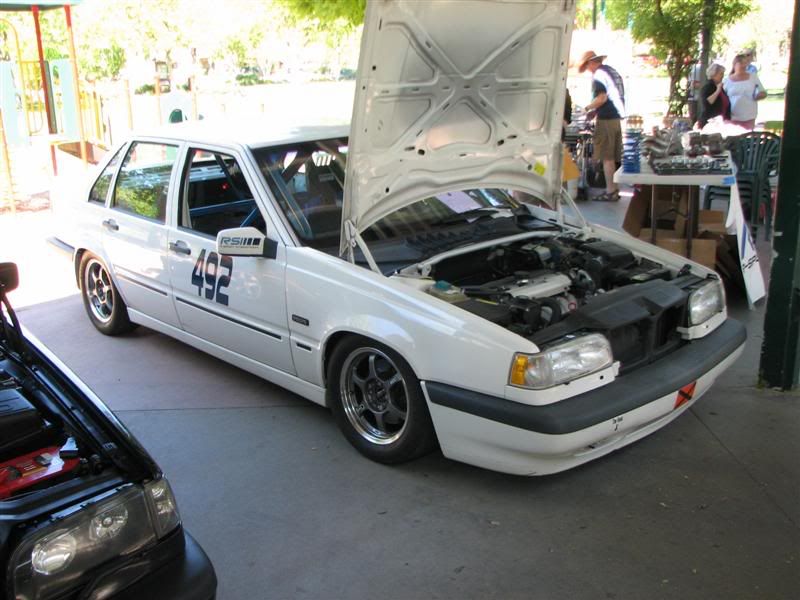 _____________________________________________________
And to finish this super long post off, my race car:
Almost done:
My first novice race: