Discussion Starter
•
#1
•
Hey guys,
First off, I apologize for the length here. I like to be thorough and my hope is for this to be THE resource for a noob (like myself) to be able to swap in a ZF 5 transmission from start to finish for a 1980-1986 Bronco, a year-set I have not seen covered yet. Please feel free to ask any questions or suggest better ways to do things. Before I get into it my personal suggestion on how to go about the swap is to purchase a parts truck for the transmission and pull some of the manual components from a JY truck.
FULL DISCLOSURE: I HAVE FINISHED THE ZF 5 SWAP BUT AM PUTTING THE FINISHING TOUCHES ON MY ENGINE SO I HAVE NOT DRIVEN WITH THE ZF 5 YET. WILL UPDATE THIS POST WITH ANYTHING I LEARN AT THAT POINT.
A. FINDING A PARTS TRUCK
B. PARTS LIST
C. ZF 5 REMOVAL
D. JUNKYARD PARTS TRUCK
E. C6 REMOVAL
F. ZF 5 INSTALLATION
G. CLOSING THOUGHTS
A. Finding a Parts Truck
So the first thing you want to do on this project IMO is to find a late 1987-1997 4x4 F250+ with a small block engine (300, 302, 351W) and the transmission (duh). A couple points. Firstly, it is entirely possible to do this swap by purchasing the transmission and the rest of the needed parts as you go, but IMO it's a lot easier to have everything from one spot and to be able to see how it came off in order to swap it over. Secondly, there are actually 2 sub models of the ZF 5, the S542 which was used from late '87-'94 and the S547 on '94-'97s. I won't go too in depth here, but from what I understand there were some small improvements to the construction of the transmission that lead to the S547. At the end of the day both will work, but for more specifics I suggest your own research. So a quick intro on Ford's Door Panel Stickers. They are located on the inside of the driver's side door panel and look like this: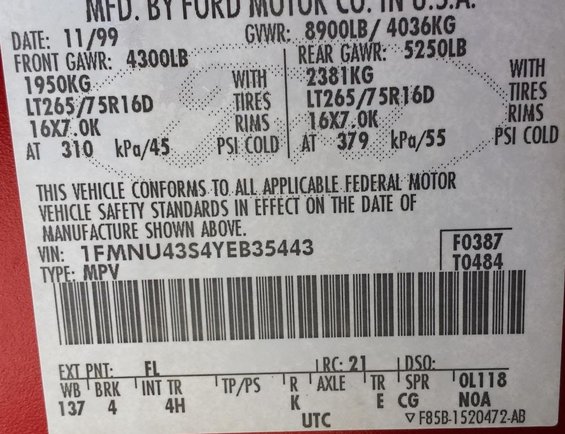 So what we are looking for here is under TRANS (lower right) we want to see a "W". I've also heard of a "Z" or a "2" being there but have never ran across one myself. Be careful to confirm it's not an "M" which is the M5OD tranny. The ZF 5 also has a very particular cross-pattern design.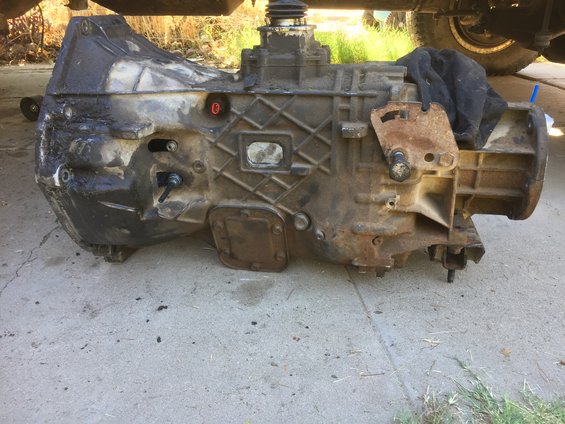 I suggest searching images of the M5OD so you can tell the difference. Also, yes, you could theoretically get 4x2 model tranny and switch it over but it's really not worth the hassle.
Once you've found one make sure to shift through all the gears and make sure it's still shifting smoothly. I'd also suggest to examine the exterior of the tranny for any cracks, specifically around the bellhousing area. Ask me how I know.
B. Parts List
So I'll prime this by saying you'll need quite a bit of specific things from specific places (you'll see what I mean). Included is my suggestion of where to acquire each part. If you're not sure what something is read through the installation section where I tried to have pictures of everything. I sourced my new parts from
@RockAuto
so I'll include part numbers of what I used where applicable.
Parts Truck= 1988-1997 F250+ Truck
JY Truck= Late 1983-1986 F150+
New= source these parts for usage in 1988-1999 F250+ trucks
*note* some parts from the JY truck can be acquired from an '80-'86 F150+ while others need to be from late '83-'86 when Ford converted to the hydraulic clutch. I'm going on the assumption you are pulling them at the same time so I'd suggest to limit your search to an '83-'86*
-ZF 5 Transmission (Parts Truck)
-Shifter/Boot/Bezel (Parts Truck)
-Shifter Plate (Parts Truck)
-Crossmember (Parts truck or any M5OD equipped F150+)
-Manual Engine Dust Cover (Parts Truck)
-Manual Starter (Parts Truck)
*note* Manual and automatic transmissions use different starters*
-Clutch Pedal Assembly (JY Truck)
-Steering Column (JY Truck)
*note* steering column isn't necessary if you don't mind having a non-operational gear selector on the column
-Backup Light Indicator Wire (JY Truck)
-Flywheel (164 tooth) (New or Parts Truck) Brute Power 50735
-11" Clutch Kit (10" is okay too but not as heavy duty) (New or Parts Truck) Brute Power 90284
-Internal Slave Cylinder (New) Brute Power 37897
*note* Although not a requirement you'll be kicking yourself if you have to take this whole thing apart to replace the cylinder*
-Hydraulic Hose (New) Brute Power 85203
-Transmission Mount (New) Westar EM2557
-Driveshafts (see note)
*note* If stock you should be able to use the front driveshaft from your parts truck, rear will require a custom built driveshaft or a M5OD driveshaft from a Bronco*
-Master Cylinder (New or parts truck) AMS M0706
I'd suggest to by the pre-bled master/slave cylinder if you can find one. These things aren't too fun to bleed yourself. I used these parts for my S5-42 transmission so make sure to double check all parts before buying!
Note: Regarding the transfer case, you have 3 different options. The simplest option first, you can use your existing NP208 case, but you'll need to source both the correct shift linkage and shifter plate from the JY Truck. These years utilized the shifter plate for both shifters so you wouldn't be required to cut the hole for your transfer case shifter. Next you could buy a BW1356 from a post 1988(I believe) Bronco. And lastly the option I went with: use the BW1356 from the parts truck with some modification. The reason for the modification is that the rear shafts were different on the F-Series trucks and BKOs transfer cases. It's not a terribly difficult swap, but if I had to do it over I'd probably just go with option 2. You will require the driveshaft from the post 1988 era if you go with option 2 or 3. The differences are highlighted in this.
http://www.fullsizebronco.com/forum/21-noobie-bronco-tech-questions-flame-free-zone/38886-b-w-1356-manual-transfer-case-rebuild.html
C. ZF 5 Removal
Alright now for some nitty gritty. Let's get that ZF off the parts truck!
Start by placing the truck into neutral. Then begin removing the 4 screws on the shifter bezel.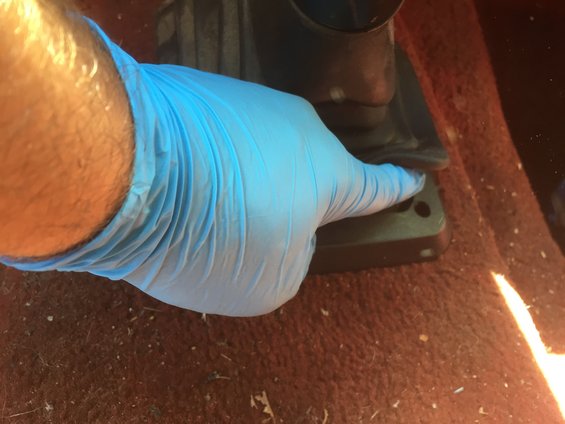 Remove the 4 5mm Allenhead screws from the shift tower cover and remove entire shifter assembly.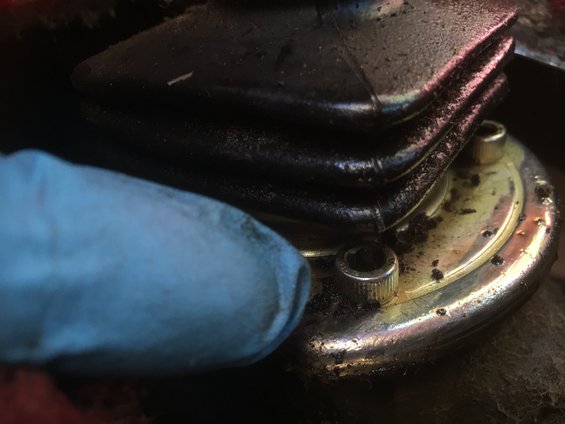 Remove the 4 screws from transfer case shifter bezel.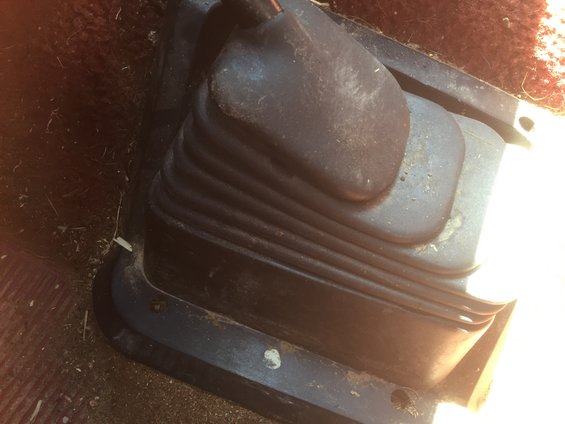 Remove the 2 8mm bolts securing the transfer case shifter.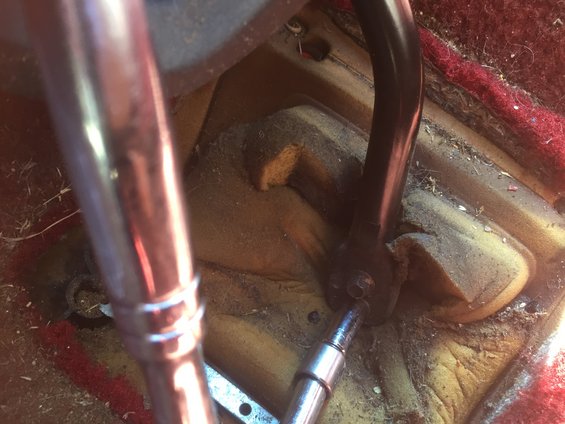 Pull back the carpet to reveal what I'll refer to as the transmission shifter plate.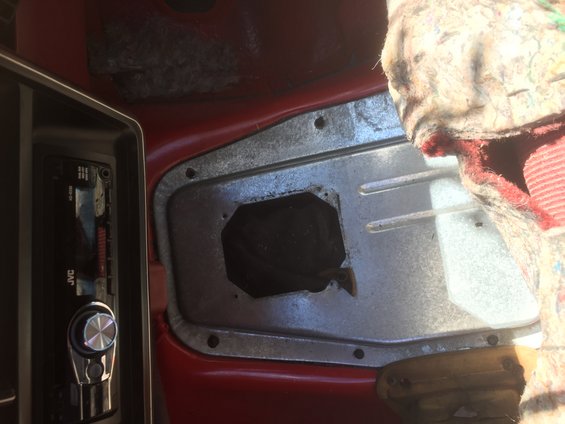 Remove the 9 8mm bolts and remove plate. This will give you a lot better access to the top bolts on the transmission.
There are 6 bolts in all that actually secure the tranny to the engine. Red are the bolts, blue are the 2 alignment dowels.
I'll take a quick tangent to suggest you pick up one of my favorite tools. It's the Bostich rotating handle ratchet from Wal-Mart ($20) and it made this whole job easier. Instead of working with the limited space to try and turn your ratchet, you just crack the bolt and twist the handle. Personally I can't recommend this thing higher. I have zero affiliation with Bostich just love this ratchet.
For those interested:
https://www.walmart.com/ip/Bostitch-Rotator-Ratchet/49021388
So from up top remove the 2 5/8" bolts. You'll need an extension or 2.
Now head underneath the truck! Remove the remaining 4 5/8" bolts on each side of the tranny. Keep these bolts for reference as I suggest you get new ones.
Next disconnect your relay to starter wire from your starter. Then remove the 2 ½" starter bolts and remove the starter.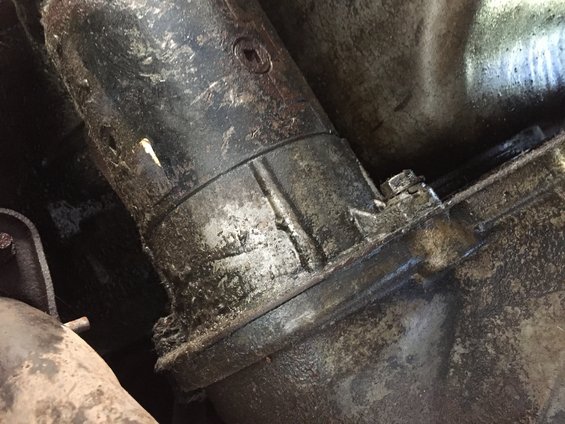 Disconnect the backup light indicator wire (blue circle), speedometer cable from the transfer case and any other misc. wires.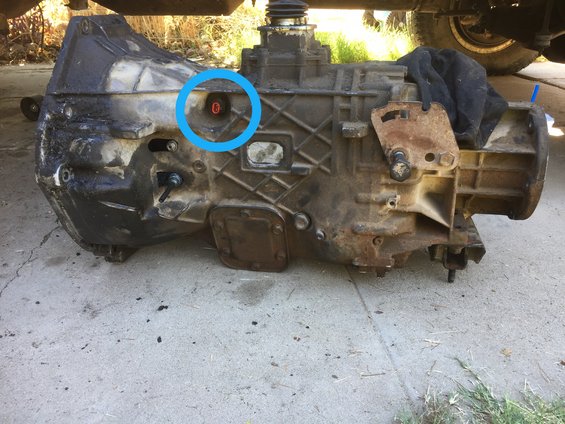 Now mark (so they'll stay balanced) and remove both driveshafts. You'll need to put a screwdriver between to keep it from spinning. Each U-joint has 4 nuts. Nuts are ½"
While not necessary, I suggest draining the ZF 5 and your transfer case to make removal a little easier.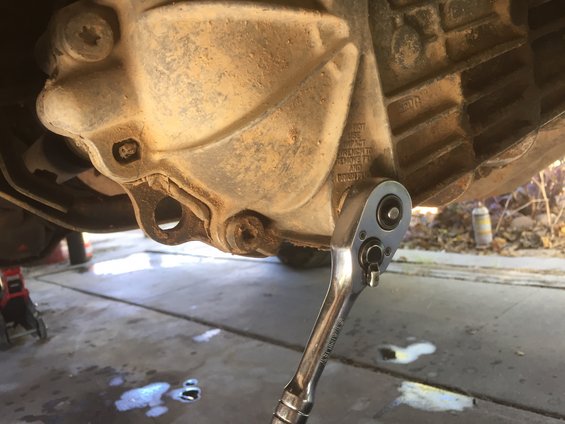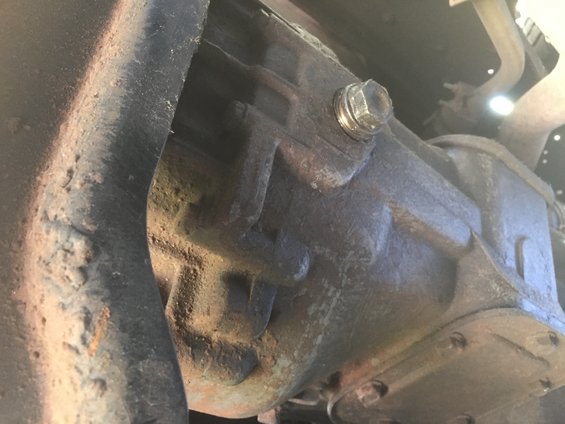 Remove the 2 ¾" tranny mount bolts.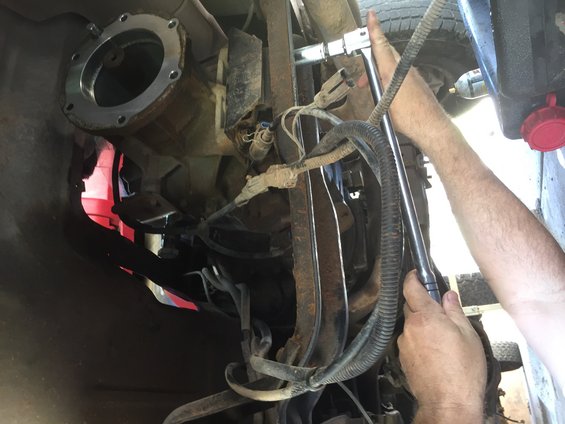 Next you'll want to start removing your crossmember. It actually consists of 3 separate parts, the actual crossmember and two gussets. Pictured below are the C6 components but you get the idea.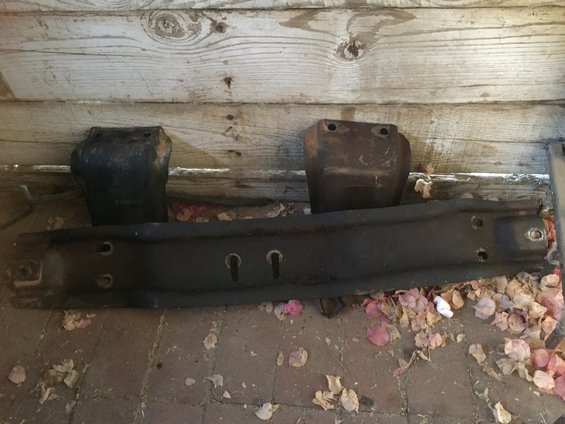 You'll want to remove the bolts from the gussets first. Because we are switching the whole thing over, they need to be completely removed. Position a tranny jack or whatever you're using to get this thing out. I've seen some people use an engine hoist positioned in the door with some heavy-duty straps around the tranny. Others make a custom wood-made tranny jack, or you can use an actual transmission jack. Whatever you're using position it so you can raise the tranny up.
After you do, remove the bolts on the crossmember.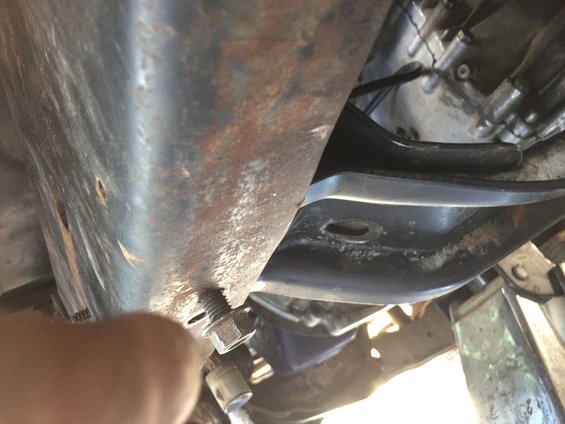 Slide it back, pull the driver's side back and rotate the crossmember until you can clear the frame and remove.
Make sure to disconnect the hydraulic line since you have access now. Now you know why the suggestion is to swap out the slave cylinder while you have it out! You should have tool with your new hydraulic line and/or slave cylinder that lets you detach the connection. Looks like this.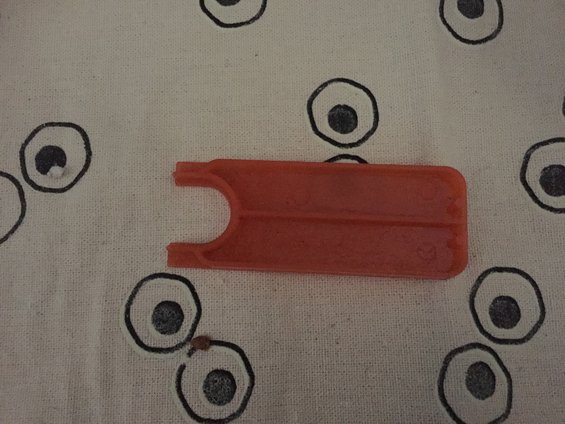 Now you should be able to claim your tranny! I jacked the truck up to be able to clear the frame.
But you're not quite done yet. Remove the 6 bolts on the clutch pressure plate and remove. Careful, it's heavy!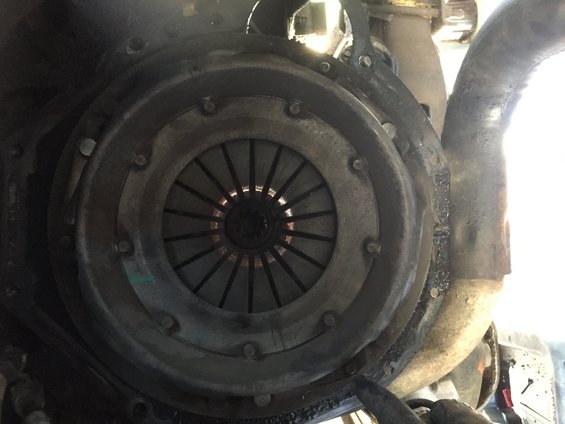 Now remove the 6 bolts on the flywheel. An impact wrench makes this job infinitely easier. Make sure you're holding on to the flywheel as you do this as it can easily fall.
Now you should have access to the dust plate. I didn't take a picture but it's basically a bellhousing shaped metal plate with a hole for the starter.
Next dump the truck into a fiery abyss cause you're all done with it!